Bridges targets middle class by committing to changing income tax brackets in line with inflation; Robertson says Bridges has found Joyce's fiscal hole in his backyard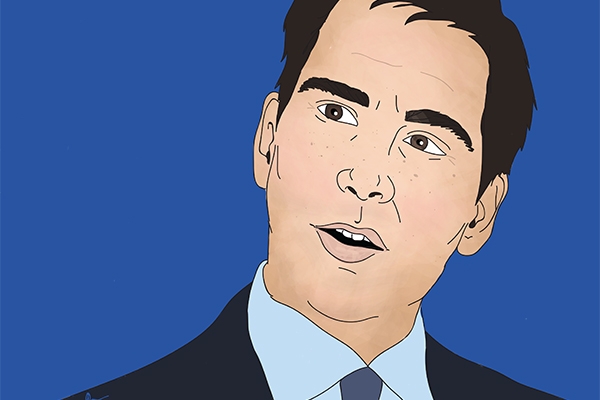 National is committing to adjusting income tax brackets according to inflation if elected into government.
The idea is to prevent taxpayers from moving into higher tax brackets when their incomes aren't keeping up with rising living costs. 
While the change would see taxpayers save money, the Government could lose hundreds of millions of dollars in tax revenue a year. 
Delivering his state of the nation speech in Christchurch this afternoon (Wednesday), Leader Simon Bridges explains his party would amend the Income Tax Act so that within a year after every election Treasury would advise the Government on how the thresholds should be revised. 
"Assuming inflation of 2%, someone on the average wage would be $430 a year better off after the first adjustment, $900 after the second and $1,400 after the third," Bridges says.
"A family with two earners - for example, one earning $80,000 and the other $40,000 - would be $600 better off a year after the first adjustment, about $1,300 after the second and $1,900 by the third."
Bridges expects people earning between $50,000 and $75,000 to be the largest beneficiaries of the change, in proportion to income.
He says the first adjustment would cost the Crown $650 million a year, based on 2% inflation.
"We can afford that by managing the books prudently and spending wisely," he says.
"We will include a veto clause so the Government of the day can withhold the changes in the rare circumstances there is good reason to. But it will have to explain that decision to New Zealanders...
"By 2022 New Zealanders on the average wage will move into the top tax bracket. That's not right or fair."
That fiscal hole... 
Finance Minister Grant Robertson has responded to National's announcement, questioning how it is going to afford it.
"Taking their estimate of $650 million a year for this policy, on top of that Amy Adams needs to find billions of dollars over the next five years to reach her debt targets, there is a massive hole in roading expenditure, and we've got Nikki Kaye saying she's going to spend hundreds of millions more on teacher salaries," Robertson says. 
"It just doesn't add up, unless there are massive cuts to core areas like health, housing and education.
"Simon Bridges seems to have found Steven Joyce's fiscal hole in his back yard.
"New Zealanders will also be wondering if this policy is really worth it. If we take the numbers at face value it is worth $8 per week to the average earner in 2021. For someone on $40,000 a year it would be $1 per week.
"For the cuts to services that would be needed to pay for it, this is small change."
The big picture
Bridges reiterates that if elected, National would also:
Repeal the Auckland Regional Fuel Tax
Ensure no increase in petrol taxes during its first term
Have no new taxes in our first term
Repeal a Capital Gains Tax
"Over the next four years, New Zealanders will be paying almost $10,000 more per household in tax than they would have been under National," he says. 
Given there are 1.75 million households in New Zealand, according to Statistics New Zealand, this would mean the Government would receive $4.4 billion less tax revenue a year under a National-led government. 
Put in context, it received $80.2 billion in tax revenue in the last financial year, and reported a surplus (or operating balance before gains and losses) of $5.5 billion. 
Bridges' has made his tax indexing announcement as the final report from the Government's Tax Working Group, detailing suggested changes to the tax system, is expected to be released in February.