Productivity Commission's proposal for a windfall gains tax on property owners who benefit from public infrastructure gets tick of approval from Auckland & Wellington mayors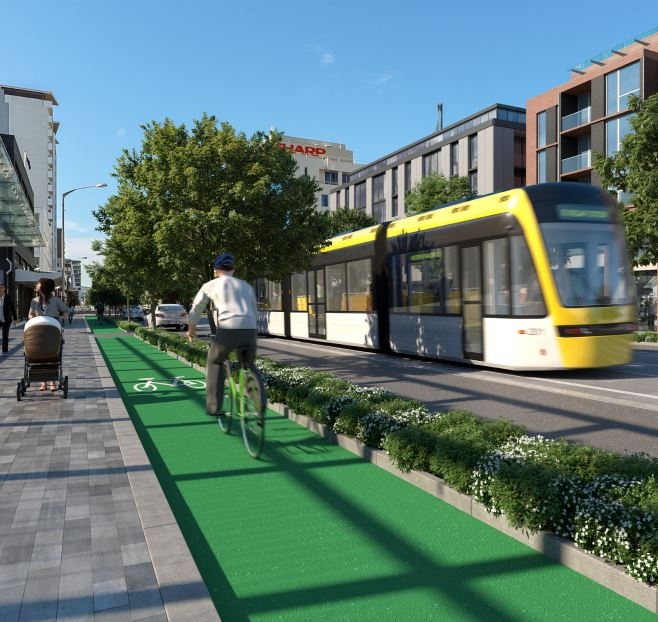 Auckland Mayor Phil Goff and Wellington Mayor Justin Lester say giving local government a slice of the gains property owners make from public projects is a logical way to help fund infrastructure.
But they both agree it could create a legal minefield without the Government's support. The Productivity Commission is calling for new funding options for the country's councils to help them meet a growing range of costs.
The commission's draft report was released on Thursday and looks at the funding and financing of local government. It says the existing rates based funding model is fit-for-purpose and should remain. But it says rising cost pressures on local government to pay for infrastructure, climate change, tourism and growing responsibilities placed on them by central government, means councils can't rely on rates alone to pay for them.
'Value capture' funding; Easier said than done
Funding options outlined in the report include the introduction of special purpose vehicles (SPVs), regional fuel taxes, the establishment of a climate change agency and adaption fund, user pays and accommodation levies for tourism, central government funding for local authorities and what it terms "value capture" funding.
Under the "value capture", or windfall gains model, property owners would pay a limited capital gains tax based on the return they make on their property because of public infrastructure. The report states:  
"This tool would raise revenue because property owners who enjoy "windfall gains" in their property value as a result of nearby publicly-funded infrastructure investment would be required to pay a portion of this gain to the council."
It says such funding tools, combined with congestion charging and volumetric wastewater charges, would help give councils the means to fund growth. Both Auckland and Wellington's mayors support the idea, but agree that it wouldn't be easy to introduce.
"If someone gets a windfall profit on their property through public investment then they should contribute towards the cost of the infrastructure and development that makes it happen," Goff says.
But he admits introducing it would be easier said than done.
"The devil is in the detail. Council lawyers say there would be a litigation risk involved and that's the advice I've got. You could end up spending a fortune in legal fees."
Goff says there's been interest in the idea from successive governments.
"Various ministers have expressed support in principle for it. It would be easier to do with greenfields developments, than brownfields. But finding a way to make it work equitably in practice would be hard."
And it would require Government legislation.
'You need the legislative framework for it otherwise you'll get caught up in litigation'
Goff's thoughts are shared by Wellington Mayor Justin Lester, who's keen to use a windfall gains tax to fund the capital's proposed $2.2 billion rapid transit project announced in May.
"We've already talked about that [Wellington City Council] and it's been discussed at a cabinet level," Lester says. "But you need the legislative framework for it otherwise you'll get caught up in litigation."
The project, which is expected to use an Autonomous-Rail Rapid Transit (ART), or trackless tram system, would connect the central city to Newtown, Miramar and the airport. According to Let's Get Wellington Moving, an initiative involving the Wellington City Council, Greater Wellington Regional Council and the New Zealand Transport Agency, the project will also be used to support urban regeneration.
Lester says the Productivity Commission's report raises a lot of questions and provides a number of potential funding options. He says there's currently a lack of consistency at a national level on how local government is funded and financed.
"It's very interesting and confirms what local government has been saying for years, so there aren't too many surprises there. There are too many responsibilities that are being placed on local government by central government with no funding."
But he says many of the proposals outlined in the commission's draft report would require legislation.
Goff agrees the Productivity Commission's report has provided a number of potential funding options. He says special purpose vehicles (SPVs) and a regional fuel tax have already been introduced in Auckland.
"We created an SPV prototype in Milldale and that's worked really well. And I understand the Government is now looking at legislation to require all developers to follow a model like that."
While the idea of the Government funding councils based on the amount of growth in their area also gets Goff's tick of approval.
"As the region with 55% of the country's growth at the moment we would embrace that with open arms. That would make a huge difference for us in meeting our infrastructure costs." 
He says the council's own targeted rates policy on accommodation providers is currently subject to a judicial review. But the idea of introducing a bed tax in Auckland, like it has been proposed in Queenstown, could also provide council with another revenue stream.
"Our view is if the Government is going to legislate for Queenstown [to have a bed tax] they should legislate for other areas too."
Vacant land tax also on agenda
The Productivity Commission is expected to present its final report to the Government in November.
The commission is also looking at the feasibility of a tax on vacant land. According to the report Finance Minister Grant Robertson wrote to the chairman of the commission, Murray Sherwin, in April to ask for the inquiry's Terms of Reference to be expanded to incorporate the recommendations of the 2019 Tax Working Group relating to taxing vacant land. But no more details on the proposed tax have been included in the commission's draft report.