According to the Reserve Bank it now takes over 220% of median disposable household income to fund a 20% deposit on a house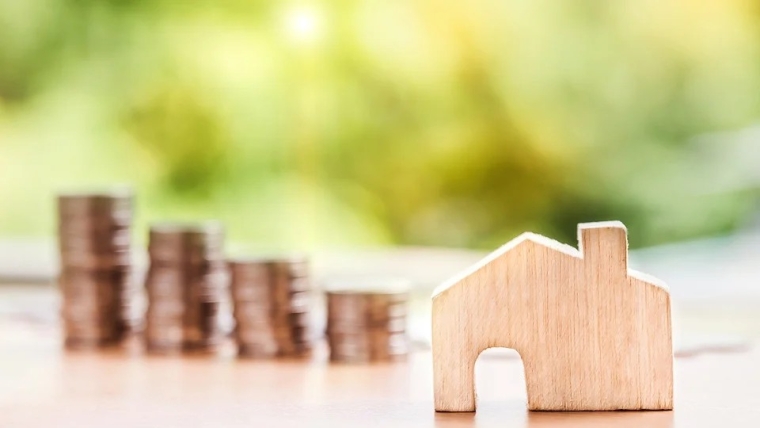 Any wannabe home owner, particularly a first home buyer (FHB), will tell you at length what a struggle it is to get a deposit together to buy a house.
But even they might be a bit gobsmacked by the rate at which it has become even more difficult to get a deposit together.
In material prepared for its latest Financial Stability Report (FSR), the Reserve Bank has produced some eye-watering figures that show just how quickly the deposit requirements shot up in the closing months of last year.
According to the figures, as of the end of June last year it would have taken 175.2% of median disposable household income to get together a 20% deposit on a median priced house.
By the end of November that percentage had shot up to over 200%.
And by the end of March the figure stood at 223.2%.
Needless to say the 223.2% ratio is very much a record high in figures that go back as far as 2004.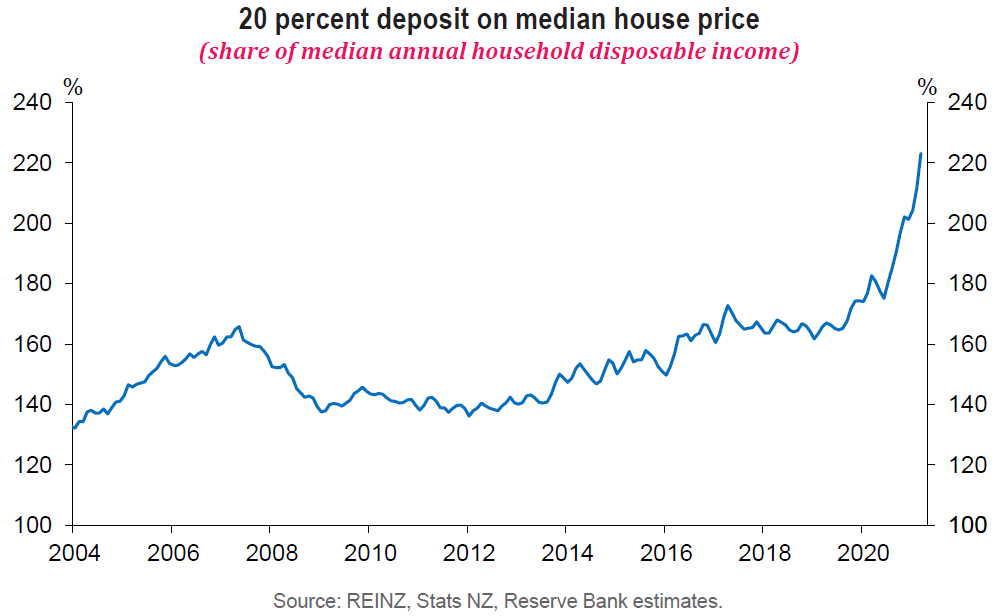 And the figure represents a real break-out from where we've been before, with the ratio of disposable income to deposits having previously hovered in a range between 130% to 170%.
In the FSR document the RBNZ said New Zealand house prices "appear stretched by several metrics, such as house price-to-income ratios and the affordability of entering the market" - by which they refer to the disposable income to deposits ratio.
"The question of house price sustainability has two parts.
"Firstly, are prices deviating from levels implied by their drivers, including both cyclical supply and demand factors and longer-term fundamentals (such as land-use restrictions, tax policy, and global neutral interest rates)? If so, this could signal that houses may be mispriced.
"Secondly, are underlying house price drivers themselves on sustainable paths, and how might they be expected to change?"
Still, it might be said that every cloud has a silver lining - particularly if you have managed to drum up the deposit and are already now in a house.
Separate figures produced by the RBNZ for the latest FSR show that someone getting into their own home in March 2020 with a deposit of 20% - so 20% equity in the property - would have grown that equity massively to 37% by March 2021 and therefore be comfortably above water in the event of any downturn.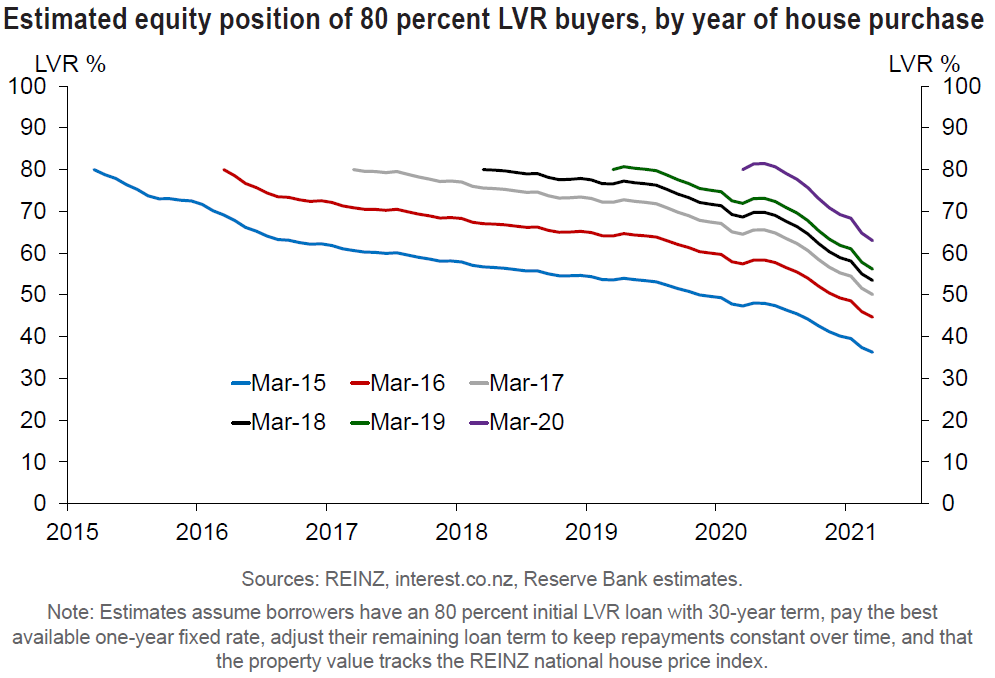 Going back a little bit further, to March 2015, somebody putting a 20% deposit down then would now, according to the RBNZ figures, have just under 64% equity in their home.
So, rising prices are pretty good once you are 'on the ladder'.
Getting on the ladder at the moment, however, seems to be a different story...
*This article was first published in our email for paying subscribers. See here for more details and how to subscribe.