ANZ economists see 'a relatively middle of the road outlook' for a period of weaker-than-average house price growth over 2022, but a gradual return to average over 2023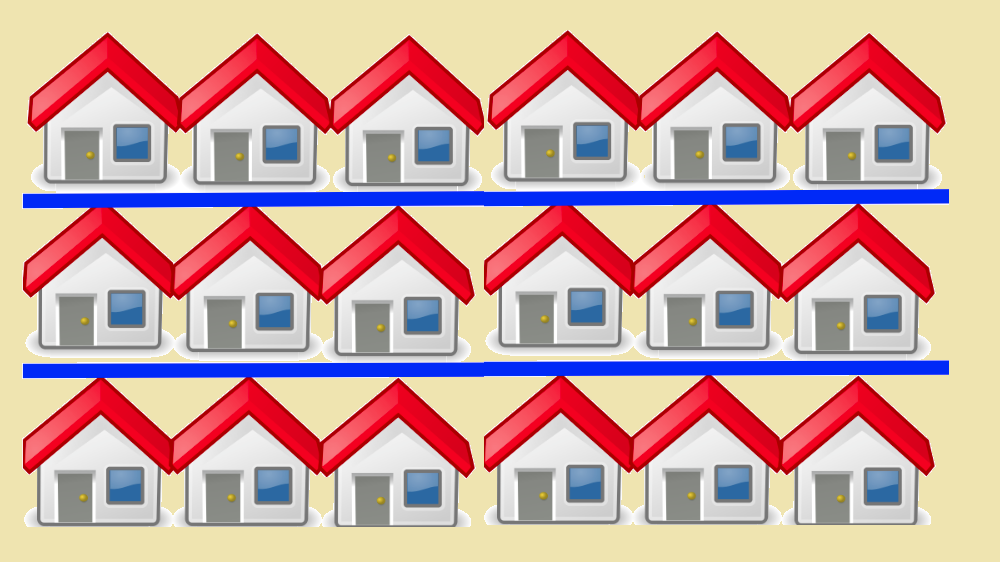 The housing market is vulnerable to a correction, but the very strong labour market is expected to prevent housing from tipping into a significant downwards spiral, ANZ economists say.
In their latest NZ Property Focus chief economist Sharon Zollner, senior economist Miles Workman, economist Finn Robinson and senior strategist David Croy say despite October's strong 2.3% month on month lift in house prices, annual house price inflation is now easing.
They say the October lift in house prices wasn't quite enough to prevent annual inflation from slipping, "but almost".
"On a three-month moving average basis, annual house price inflation slowed 0.2%pts to 30.3%. To prevent further moderation in annual inflation in November, prices would need to rise around 4% m/m – that's more than in any month yet in this cycle, and indeed in at least a couple of decades.
"So looking through the noise, we're convinced we're now past the peak of the current inflation cycle, but the pace of moderation from here remains very uncertain," they say.
"We're comfortable that October's acceleration in house price inflation was more noise than signal. While we've 'banked' the stronger starting point, we're still of the view that 2022 will bring much weaker price gains (including a few months of price falls as higher interest rates bite)."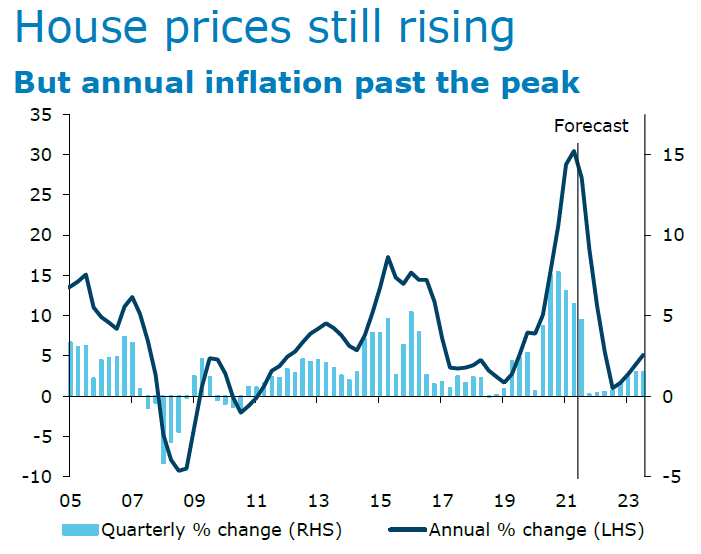 The economists say in terms of significant headwinds for the market, these include tightening financial market conditions - including rising mortgage rates, tighter macro-prudential policies, Government policy changes, increasing housing unaffordability and the closing gap between housing supply and demand thanks to a booming construction sector.
"That's a lengthy list of headwinds, and they may manifest faster than we assume."
So what's keeping the market from "rolling over" already?
The economists cite three reasons.
Firstly: "House prices are determined at the margin (where a very small share of the overall housing stock turns over). Currently, there is a very limited supply of houses available for sale. As spring wears on listings are lifting, but on a seasonally adjusted basis they are still very low. That could change, but there's no sign of it yet."
Secondly: "FOMO (fear of missing out) is a common characterisation at the moment of the housing market's "animal spirits". Animal spirits is a catch-all term for thinking about the impact of human instincts and emotions on the decision-making process. Right now, FOMO appears to be exerting additional cyclical pressure on the market that cannot be explained by the fundamentals and policy settings alone. But with rising rates, and an eventual confirmation that the market is slowing, this sense of urgency could quickly go the other way."
Lastly: "Perhaps the biggest (and more sustainable) floor under the housing market is the strength of households' balance sheets."
The economists say the very tight labour market and solid income growth means lifting interest rates are "broadly manageable".
"With employment very strong, it doesn't look like a household income shock is about to force the sale of properties and drive a price correction any time soon.
"However, with housing debt having lifted very strongly over the past year or so, it'll be a long time before such risks dissipate."
But they also note that construction has become a larger share of employment in recent years.
The tight labour market is "certainly more exposed" to housing than it was before this pandemic crisis.
"Balancing the lengthy list of headwinds against the remaining tailwinds, we land at an outlook for a soft landing in the housing market.
"That Goldilocks scenario certainly has risks on both sides, but at this stage our assessment is that there isn't enough evidence to suggest prices are about to fall off a cliff, nor are there any indicators suggesting we're about to get a second wind. That leaves us with a relatively middle of the road outlook for a period of weaker-than-average growth over 2022, but a gradual return to average over 2023."
The economists add, however, that "there's a lot that has to go right" for their forecast to come to fruition. And, on balance, "given the ridiculous starting point" of the market, they continue to characterise the risks as being skewed to the downside.
"All up, the housing market (and broader economy for that matter) still has a lot of transitioning to do to get through the Covid crisis and its policy response unscathed. It's unlikely to be smooth sailing on all fronts, but at this stage we remain optimistic that a soft land is at least achievable."
On the construction industry, the economists say this has definitely been an outperformer in the New Zealand economy over the past 18 months.
"The sector has been booming, but with interest rates rising and the housing cycle looking like it's peaking, there's a risk that we could see a hard landing in the industry, dealing a blow to the rest of the economy along the way.
"But while there are many challenges facing the industry at present, that's not our central view. After all, there is a lengthy pipeline of activity for the industry to work through, and a lingering (but improving) supply-demand imbalance. That said, construction tends to be a bit more cyclical than many other industries, so we'll be keeping a close eye on developments.
"...With inflation now so high, and entrenched in both business and consumer expectations, the RBNZ needs to keep hiking interest rates to get ahead of the curve. The more inflated things get, the more they will need to tighten monetary policy – and the higher the risk of a hard landing in the construction industry (and housing more generally).
"The risk of such a hard landing is very real as interest rates rise, and annual house price rises look peaky. Looking at history, the construction sector tends to have a much more volatile cycle than the rest of the economy."