Bernard Hickey changes his view on whether to fix or to float his mortgage. He also looks at what the economists are saying. Your view?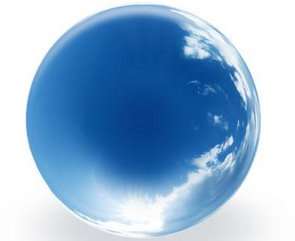 By Bernard Hickey
Now we've heard from new Reserve Bank Governor Graeme Wheeler for the first time and we've seen the housing market burst back into life, it's worth revisiting the eternal question of whether to stay floating or to fix your mortgage.
The short story is that economists and the financial markets are divided on whether the Reserve Bank will cut or hold the Official Cash Rate over the next year or two. Overall, inflationary pressures and the economy are subdued, but house prices are surging again and the new Reserve Bank Governor seems to be taking an orthodox approach to policy and interest rates, which means he is less likely to cut.
That means my views on Fixed vs Floating are changing. While Reserve Bank Governor Alan Bollard was in charge of setting the OCR and the housing market was lukewarm, I thought there was a greater chance of a cut in the OCR. But I've seen enough now of his successor Graeme Wheeler since he started at the end of September to believe there's a greater chance the OCR will be flat or even be hiked in the next couple of years.
The Reserve Bank has a big dilemma at the moment. The economy is subdued and inflation is below the Reserve Bank's 1-3% target range. All other things being equal, there'd be a good case for the Reserve Bank to cut the OCR, which should in turn drag floating rates lower and make floating more attractive than fixing. But house prices are taking off again and any OCR cut risks pouring yet more petrol on the fire of record low interest rates under house prices, particularly in Auckland and Christchurch.
One way for the Reserve Bank to get around this dilemma would be to use other tools to try to control the housing market, incluing limits on Loan to Value Ratios (LVRs). Other central banks and bank regulators in Israel, Canada, Hong Kong and Singapore have used such LVR limits, but Wheeler said early in November he would not use a LVR limit yet, even if he had it. See the full article and video here.
That means Wheeler is more likely to use the blunt instrument of the OCR to try to keep inflation around the 2% mark he has agreed to target in his own Policy Targets Agreement. If he worries about the housing market getting too hot then the one way (in his view) to knock it on the head is to hike the OCR. That's why I'm tending towards floating half and fixing half of my mortgage in coming months, rather than floating it all.
Everyone is different though, so it's worth running through the pros and cons of fixing vs floating and look in depth at the various factors at play. It's also worth spending some time on it. As I'll show lower down, it's a decision that could save (or cost) you thousands of dollars over the next couple of years. Here's our Fixed vs Floating calculator to help.
Also, there are many different views, and I've included those views of other economists below.
What the economy is doing and what the RBNZ is saying
Firstly, let's look at what the 'ref' at the Reserve Bank has said recently and what the latest economic and financial signals are saying.
The Reserve Bank's chart below from its September 13 Monetary Policy Statement of its forecast track for the 90 day bill rate, which is typically around 30 basis points above the Official Cash Rate (OCR), tells the story.
The blue line shown is its September forecast with the OCR peaking at around 3%. The red line shown is its June forecast. These forecasts have been dropping for at least a year.
Wheeler said in the Reserve Bank's October 25 decision that New Zealand's economic outlook remained modest and the global situation was fragile. He said he was watching inflation closely and it was expected to head back to around 2% so he saw no need to change the OCR from 2.5%.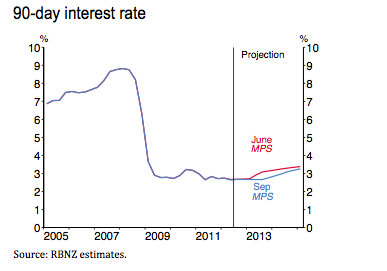 So the Reserve Bank is forecasting a rise (the blue line), but it's very slow and not much at all. If the Reserve Bank's forecast now actually turns out to be fact, then floating mortgage customers would see their advertised floating rates of around 5.7% rise very slowly to a peak of around 6.2% by the end of 2014. Although it's worth remembering that those customers with plenty of equity and good repayment records can push their banks for better deals at the moment of around 5% to 5.2%. Those in competitive situations would see their floating rates rise to around 5.7% by the end of 2014 in this scenario. Currently (Novembe 20) 18 month-2 year rates are around 5%, which would mean you'd pay more for the first 6-12 months or so and then less in the second 12 months.
Fixed rates tend to be more closely linked to wholesale 'swaps' rates than the OCR. Swaps rates have broadly fallen this year on increasing fears about a global slowdown and a slow rebuild in Christchurch.
There is a way to test the various scenarios and work out which option is cheaper (although cheapness is not the only factor worth thinking about for many people).
There is a calculator
We have a calculator here that allows you to test which rate is cheaper, depending on three different interest rate scenarios. Click here to go to the calculator.
There are three different rate scenarios. A is the high one with an OCR peak of almost 3%, B is the medium one, which is in line market expectations for a small cut and then a rebound to 2.75%, and C is the low one, which implies some cuts to 2% and then a rebound to 2.5% by early 2014.
Try it out to see which option is cheaper for you, depending on your rates view.
A simple money calculation isn't everything though. Some people put a high value on knowing exactly what their mortgage payments are going to be for the next two years because, perhaps, they have a fixed income or are very nervous about a sharp rise in rates. They may see paying slightly more for a fixed mortgage as a bit like an insurance payment.
Others may want to stay floating because they really believe interest rates will be cut again or not rise and because they don't want to be stuck fixing and have to pay an exit fee if rates do fall. The most recent memories for some people are having to break their mortgages and pay big break fees (or finding it unaffordable to do so) during 2009 and 2010. Others have longer memories of being stung with big increases in floating mortgage rates as the OCR was hiked from 5% to 8.25% between early 2004 and mid 2007. Really old people remember the 20% plus rates of the mid 1980s. I'm not that old. ;)
Everyone has different appetites for those sorts of risks about paying more or missing out on paying less, and different views about where interest rates will go. Those are the main things to consider when fixing or floating.
More than 50% of New Zealand's mortgage lending is now on floating rates, which is just below a record high and a complete turn-around from before 2008. Although there has been a slight move back to fixing in recent months. See Gareth Vaughan's article here. The decision for many now is when to fix.
The bank economists' views
Westpac's Dominick Stephens has argued that fixing made better sense than floating for most of this year. He sees the Official Cash Rate eventually being raised to 6% because of inflationary pressures, although he doesn't see the OCR starting to rise until September next year. An OCR near 6% would see floating mortgage rates around 9%.
We doubt the RBNZ is ready to signal a reduction in the OCR. The Canterbury rebuild represents a potent source of inflation pressure lurking in the near future. And reducing the OCR now might stoke the housing fire. Our view remains that rates will remain on hold until September 2013.
Fixed vs floating: Fixed-term rates out to two years are currently below floating rates, while three-year and longer fixed rates are only slightly higher. With fixed-term rates so low, fixing soon is likely to prove better value than floating over the next few years. Staying on floating would only be the better option if the RBNZ actually cut the OCR. While that's a risk, our central view remains that the OCR will stay on hold for now, and increase steadily starting in the second half of next year.
ASB's economists expect the Reserve Bank to wait until September next year before increasing interest rates. Senior Economist Jane Turner said in a August 17 note is that "some fixed rates are now below or similar to floating rates, offering a window of opportunity (to fix)"
The economic recovery remains gradual and inflation pressures are currently subdued. Recent economic developments highlight the downside risks that remain to the outlook in the near term, and we expect the RBNZ to leave to OCR unchanged at 2.5% until March 2013. Nonetheless, we continue to expect the economy to recover which, along with the Canterbury rebuild, will underpin a swift pick up in inflation pressures. As a result, we expect the RBNZ will need to steadily increase the OCR over 2013 and 2014, returning the OCR to 4% by mid-2014.

For borrowers, this means that floating mortgage rates are likely to remain at very low levels for the rest of the year, although borrowers do need to be prepared for rising interest rates from 2013. A combination of domestic and offshore events has seen the market start to price in interest cuts. This has reduced domestic wholesale funding costs, and lowered some fixed-term mortgage rates. In some cases these are lower or at similar levels as the floating mortgage rate. Our view is these declines may not be sustained unless the RBNZ follows through, and provides a window of opportunity for those borrowers that prefer certainty to protect themselves against further interest rate increases.
ANZ National's Cameron Bagrie sees the economy in a 'grumpy growth' mode that means the Reserve Bank is likely to hold the OCR for some time. See more in ANZ's economics notes here.
The RBNZ is expected to remain on hold until early 2014 and we continue to see value in fixing for 1-2 years. This allows borrowers to save money by fixing and "locking in" rate cuts that may not eventuate.
BNZ Chief Economist Tony Alexander said on November 15 that he would stay floating or fix for one year at 5.25%.
The RBNZ is unlikely to raise the cash rate until over a year from now while the direction for swap rates looks more likely upward than downward but nothing suggests that we are yet close to a decent jump. That is because just as we are receiving better than expected data on the US housing and labour markets plus consumer confidence, and while data from China are getting better, business confidence in Australia has fallen quite a bit as businesses scale back their investment plans, and recent releases for France and Germany have been worse than expected.

Specifically, why won't the RB ease monetary policy because of weak NZ data? First, the housing market is rising already and will become a source of inflationary pressure from next year so cutting rates now and encouraging even more aging investors to quit low yielding bank deposits for residential property investment vehicles will not only hasten and enlarge the housing boom-bust but eventually destroy the wealth of many unsophisticated and unlucky people.

Second, there is no evidence that businesses are refraining from investing and hiring because interest rates are too high. In fact decades of research shows the biggest influence on businesses is their confidence and that is fine currently.

I would either sit floating or fix for one year at 5.25%. But I would also keep an eye open for a discounted long term fixed interest rate in order to get some certainty about my cash flows during these continuing uncertain times and because at some stage interest rates will blip up. But we do not appear remotely near that point yet so borrowers look like facing good conditions well into 2013. Pity us savers though.
--------------------------------------------------------------------------------------------------------------------------
Mortgage choices involve making a significant financial decision so it often pays to get professional personalised advice. A Roost mortgage broker can be contacted by following this link »
--------------------------------------------------------------------------------------------------------------------------