Barfoot & Thompson reports strong sales in January; median and average prices down; more houses sold in under $500,000 bracket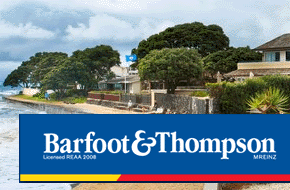 Auckland's largest real estate firm is reporting more sales of houses in the under $500,000 bracket, suggesting that banks may be starting to ease up a little on would-be buyers with low deposits.
And Barfoot and Thompson's managing director Peter Thompson said with listings at low levels at the end of January, he was expecting more pressure on the city's house prices this year.
Both the median and average prices dropped sharply in January from December when they were both at record levels.
The average was $647,207, down from $700,387 and the median price was $580,000, down from $629,000. The median was up 10% on the same time a year ago, which compares with a more-than 14% rise in the December 2013 median compared with a year earlier.
Thompson said the drop was "part of the normal seasonal trading pattern".
Interest.co.nz figures suggest the drop in the average price between December and January is in fact the sharpest fall since 2006.
However, recent average and median figures have undoubtedly been significantly inflated by a drop-off in sales of houses at the lower-priced end of the market. The removal of large numbers of lower-priced sales distorts both the average and median figures.
The drop-off in lower-end sales has been caused by the Reserve Bank's introduction of "speed limits" on high loan-to-value lending since October 1.
Significantly B&T has now reported higher numbers of house sales in the lower price range, suggesting that banks are loosening up their lending a little.
During January the company sold 334 homes for less than $500,000, or 39.1% of all the homes sold.
Thompson said this was the highest percentage of total sales since the LVR limits were imposed.
ASB economist Chris Tennent-Brown said B&T's Auckland house sales rose 10.4% month-on-month according to ASB's seasonally adjusted estimate. 
"That lift comes after two months of declining activity in late 2013. Seasonally-adjusted B&T Auckland sales had dipped 7.4% in December, and 14.5% in November."
He said that "in aggregate" signs could be seen of  a slightly lower level of activity starting to show in both the B&T and Real Estate Institute figures, suggesting the RBNZ's high LVR lending restrictions were having some impact on sales turnover.
"More specifically, seasonally-adjusted B&T sales for the months of November to January have averaged 1047, in contrast to 1150 in the three months to September, a decline of 9%"
But Tennent-Brown said that "in sum", the picture was still one of a very tight housing market constrained by the amount of houses for sale.
"...We continue to expect price increases within the Auckland market, despite the decline in median and average prices within the January B&T data."
Thompson also saw continued buoyant conditions.
'Extremely active market'
"All the indications are that the market is building to being extremely active during the first quarter of the year," Thompson said. "January's sales numbers at 854 are the highest in a January for 6 years."
"The average sales price for the month is up 7.7% on that for January last year, but down 7.6% on December's, which itself was the highest average price ever achieved in a month."
"New listings at 1228 were excellent for a January, sales at 854 were up 4.1% on those for January last year and 4.5% on December's, and we sold 91 homes for in excess of $1 million, which is exceptionally high for the first month of the year," he said.
However, Thompson said the 3371 properties listed at the end of the month was the firm's lowest number in a January in more than 11 years.
"While this number is relatively healthy compared to many months in 2013, to be this low at the start of a year will inevitably increase pressure on prices over the next three to four months.
"Between now and May is normally one of the two high seasons in a year for house sales, and this strong start to the year suggests that the activity levels of 2013 will remain with us," Thompson said.
'Out of reach'
Labour Party's housing spokesman Phil Twyford said the latest figures from B&T along with those from realestate.co.nz were "yet more evidence" that  house prices were getting "even further out of reach" of everyday Kiwis, in spite of  LVR lending limits.
"House sales data show prices continue to increase, with speculators and the big end of town filling the void left by first home buyers, who have been shut out of the market.
"First home buyers know they are missing out on climbing the housing ladder. It is especially galling when speculators, both offshore and domestic, are making a killing.
"National's failure to tackle the fundamentals of the housing crisis has meant that even LVRs cannot dampen the market, leaving the Reserve Bank no choice but to raise interest rates. This will only make the home ownership dream even more of a nightmare.
"Last year John Key said of LVRs: 'I don't think that it's a tool that should be used to write a bunch of higher LVRs for rich people and lock out a whole lot of first-home buyers'. But that's exactly what they are doing.
"National's possum-in-the-headlights approach to housing is creating a generation of renters," Twyford said.