English and Smith hint at new moves in Budget 2015 to free up more Govt land in Auckland; possibly encourating competition for councils in consenting; Child poverty measures downplayed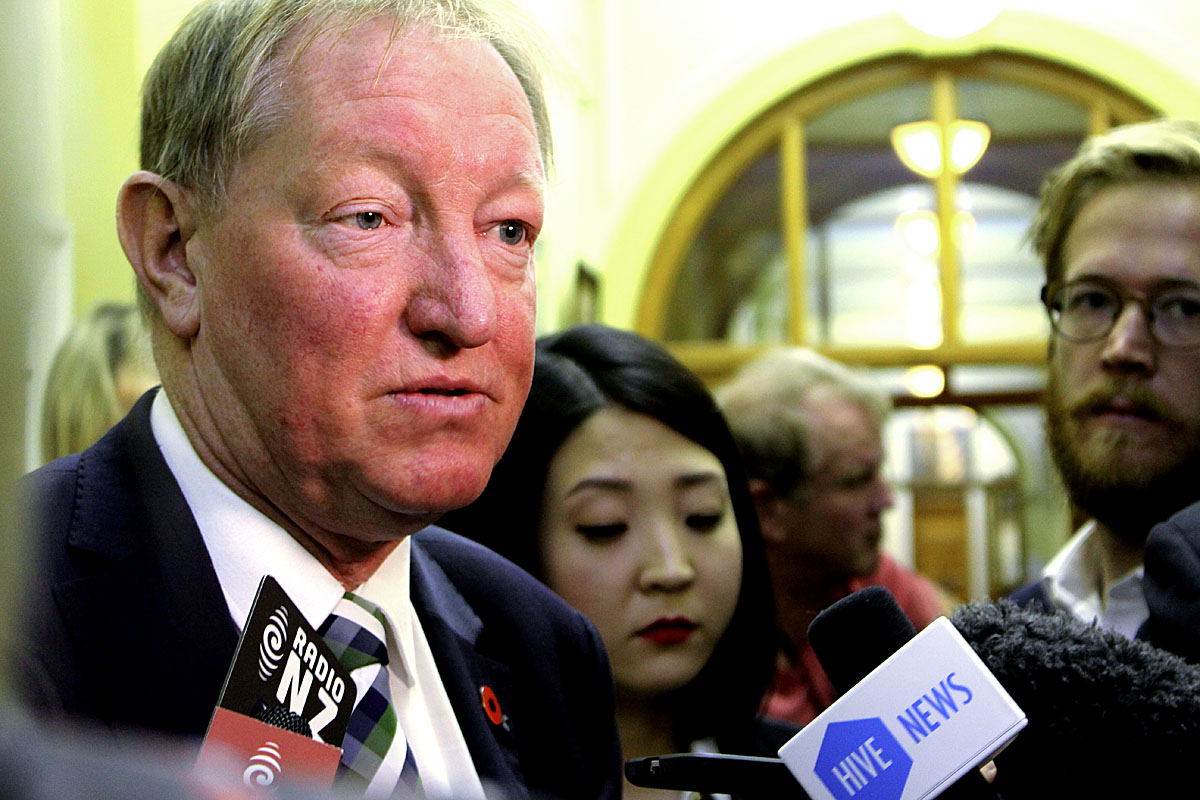 By Bernard Hickey
Finance Minister Bill English and Housing and Construction Minister Nick Smith have hinted Thursday's Budget 2015 could include new measures to free up Government land in Auckland to increase housing supply.
English was asked by reporters at his traditional pre-Budget visit to printing presses at Petone if there would be more measures to address Auckland housing in the Budget.
English said there would be a "bit more there" and confirmed there would be more steps around increasing housing supply "but I don't want to create any substantial expectations here."
"You could look at that in the Budget and say that's a small measure, but when you put together all the announcements over the last three or four months we have a very substantial programme on housing, focused on our top priority on increasing supply, including the Government redeveloping its own (houses and land)," English told reporters.
English and Smith announced on April 30 that the Government would lend the Tamaki Redevelopment Company NZ$200 million so it could ramp up development of Housing NZ houses and land at Glen Innes in Auckland to build a net new 5,000 houses, including some land and houses to be built and sold to private owners.
"You'll have to wait and see but you can expect to see more movement in that direction," he said of more Tamaki-style developments in Auckland. English has previously pointed out that the Government owned 7% of all land in Auckland.
Smith told reporters in Parliament the Government planned to announce more on housing in the Budget at 2pm on Thursday.
"The government has always said there is no single magic formula to getting on top of Auckland's housing challenges. We did things in last year's Budget, we've done things since, and we'll be doing some more on Thursday," he said.
Asked how much Government land was available in Auckland for redevelopment, he said: "I'll be pleased to share that information to you when the appropriate time comes up."
Smith was also asked about the potential for an announcement that competitors to councils could start providing building consents.
"I don't want to speculate on future announcements. You need to wait until Thursday," he said.
Asked if there was more planned for Auckland, he said: "You'll have to wait until Thursday. It's only two more days. Christmas is coming."
Child povery disappointment?
Both English and Key have downplayed expecations in recent weeks that the Budget would include significant new spending to address child poverty, despite raising expectations after the September election.
Key commented on Monday that he did not agree with other measures of around 200,000 (Children's Commissioner) to 260,000 (MSD) children living in poverty, pointing instead to his own measure of 60,000 to 100,000.
"So there will be some measures in the Budget, but again what I would say to you is, we already do a lot, although there is probably more we could do," Key said.
Green Co-Leader Metiria Turei said Key's comments suggested he had invented an entirely new measure of child poverty with much higher thresholds than accepted elsewhere in the Western World.
"John Key promised this budget would be a poverty circuit breaker, but his new 'Oliver Twist' definition of poverty means he is ignoring three quarters of those who are actually suffering," Turei said.
"The Budget is shaping up to be a trail of broken promises. First on reaching surplus and now on failure to address child poverty," she said.
"Poll after poll shows New Zealanders want to see action on child poverty, but instead of doing something meaningful for our kids, John Key's pretending most of them don't exist. That's pathetic."
Labour Leader Andrew Little said the Government's comments suggested it would also disappoint on child poverty measures, having already failed to reach surplus.
"The first thing they said after election day last year was that the child poverty and the issue of hardship would be their priority issue and that they would move on it, so it will be another broken promise if they don't do anything about it in this Budget," Little said.