PM John Key denies non-resident buyers a major factor in Auckland house prices; says Labour's revelation of data on Chinese sounding names shows desperation; won't work politically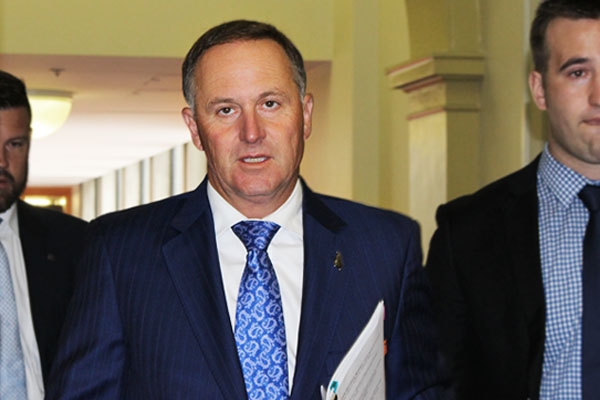 By Bernard Hickey
Prime Minister John Key has returned from a week's holiday in Hawaii to criticise Labour's revelation of data showing buyers with Chinese-sounding names bought 39.5% of homes through Barfoot and Thompson from February to April this year.
Key said any non-resident buying from China was likely to be a much smaller figure than the 39.5% presented by Labour and that the decision to release the data would not work politically. He said the Government would soon have better data on the amount of non-resident buying and remained open to considering actions if necessary, although he personally believed the level of foreign buying was not a significant factor in Auckland.
"It was desperate," Key told Radio NZ in an interview.
"They know the information is wrong and they know the information is misleading," he said.
"They will know the people on that list -- the vast bulk of them -- who have Chinese surnames -- will be residents or citizens -- many of whom Labour will have welcomed to this country, and yet on the same point they're desperate enough to dress that up as some sort of argument around housing."
Key said better information was coming.
He said he believed the bulk of the 39.5% of buyers with Chinese sounding names that bought Auckland property were either residents or citizens of New Zealand.
"It's highly likely. There's not that many people who get up in the morning who live in Guangzhou and say, randomly, I'm going to buy a house in Auckland with no connection to this country at all. There'll be some. Some people on that list will definitely be people with no connection to New Zealand, but not very many. Most people buy property because they have a connection," Key said.
"They either live here or they want to live here or they've got a child studying here, there'll be a range of reasons. But we'll get that information. The Government's always been prepared to be pragmatic," he said.
"I have always said if the data shows there's a real problem, and we if need to consider further steps, then the Government will consider those further steps."
Key said implementing Australian style restrictions on foreign buyers only buying new homes or 'off the plan' homes would not work as it had not worked in Australia.
"Are they really saying we don't want to allow someone who is not a resident or a citizen to buy a property in Queenstown or the Bay of Plenty or the Bay of Islands," he said, asking how Labour would carve out different types of non-residents buying in different regions.
"There'll be a percentage of people on that list who are non-resident, but it will be far lower than they are trying to present," he said.
"And that's why I don't think it's worked because from a political point view. New Zealanders are a fair, even minded people. They know we're a multicultural society and they know the Labour Party I've hung around for the last 13 and a half years in politics has always been the one talking about an open multicultural society," he said.
"So they can see that what they did last week was either so out of character or so desperate, it's hard to believe they even believe it themselves."
Polling suggests otherwise
However, two poll results released over the last three days suggest Labour's revelation of the data on July 11 and a slowing economy are starting to eat into support for the Government and into optimism about the economy.
The monthly Roy Morgan poll of 886 voters conducted from June 29 to July 12 found support for National fell 6.5% to 43%.
Support for Labour rose 6% to 32%, its highest level since March 2014, while Green support was unchanged at 13% and New Zealand First rose 0.5% to 7%. The combination of the three would be enough to win Government.
Roy Morgan's Government Confidence Rating fell 17.5% to 118 points from June, it's lowest point since September 2013, which was just before the introduction of the Reserve Bank's first version of the high LVR speed limits.
Colmar Brunton's opinion poll for TVNZ conducted from July 11-15 confirmed the turnaround in the opposition's poll fortunes. It found support for National fell 1% to 47%, while support for Labour rose 1% to 32% and support for Green rose 3% to 13%. New Zealand First was unchanged on 7%, giving the opposition a combined 52% to National's 47%.
John Key's position as preferred Prime Minister fell 4% to 40% in the Colmar Brunton poll, while Andrew Little's support as preferred PM fell 1% to 8% and Winston Peters' support fell 2% to 7%.
The poll found 41% of respondents thought the economy would deteriorate over the next 12 months, up 10% to its worst level since April 2011. The poll found 36% expected the economy to improve, with the remainder expected it to remain the same.
Key upbeat on economy
Elsewhere, Key downplayed suggestions of a significant economic downturn or the need for a Government response, pointing to the positive effects of the automatic stabilisers of lower interest rates and a lower New Zealand dollar.
"We've got very sound fundamentals. We're a lot more competitive than we were," Key said.
"Just because dairy prices are down a bit and China is growing at a slightly slower pace than we would like, does that mean we should be hitting the panic buttons? Absolutely not."