PM says house buyers expecting unending capital gains in Auckland may get a surprise, just as stock investors have; says RBNZ should have said interest rates won't be low forever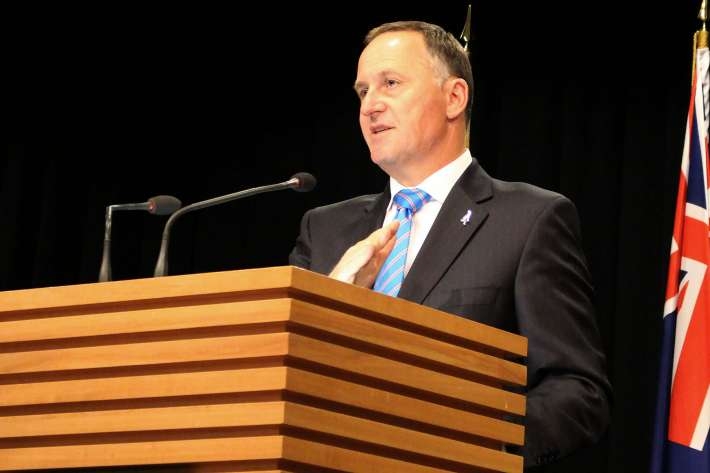 By Bernard Hickey
Prime Minister John Key has warned property buyers in Auckland not to expect capital gains forever, saying interest rates could rise some time in the future and they could be in for a "nasty surprise," just as stock market investors have experienced today.
Key was speaking at his weekly post-cabinet news conference after Chinese stocks fell more than 8% on Monday and after Wall St fell the most in more than four years on Friday on fears about China's economic slowdown. He was also talking after Reserve Bank Deputy Governor Grant Spencer warned that increasing numbers of rental property investors and migrants were increasing the financial risks inherent in Auckland's over-valued housing market. See David Hargreaves' article here.
Key said the bank's comments on Auckland housing were "nothing terribly new" and both the Government and the Reserve Bank were already addressing the housing issues in Auckland, particularly around supply.
"If you look at Christchurch as quite a good example -- when supply starts to meet demand then prices don't go up anymore," Key said.
"And, actually over time, and it's one of the things the Reserve Bank didn't say, but frankly they should have said, is interest rates won't stay low forever," he said.
"So when people go buy houses purely on the expectation they are going to get a capital gain, you've just got to be careful they don't come in for a nasty surprise - just like those people who bought stocks recently, and thought they were always going to go up forever, are in for a nasty surprise today."
Later Key said history showed prices never went in one director forever.
"If people think Auckland house prices are going up forever, they are misguided. History tells you that's not normally the case, that the market goes in one direction forever," he said when asked if the global market slump would hit Auckland housing.
"I remember when the dairy payout was $8.40 and people were saying they were going to the moon and when they were down there at $3.85 before the auction last week they said they wouldn't go back up again. The reality is markets go up and down. But, yes, if the international markets remain volatile that obviously has some impact on consumer confidence and can impact things."
'Not keeping me awake at night'
Asked if Auckland housing kept him awake at night as It was keeping Grant Spencer awake, he said: "It keeps me busy at night, because we have been a very busy government when it comes to addressing those issues - everything from special housing areas, reform of the planning laws to speeding up of the process, and you are actually are seeing that. You've got the most construction happening in Auckland now for a decade."
"So there's a lot of supply coming into the market and there's a bit of frothiness about the Auckland market that I think you might see dissipate a bit, actually. Interest rates are very low and that's partly what's supporting the capacity for people to borrow and fund a house, but the banks and the Reserve Bank have stress tested those presumptions and those assumptions are built into their lending profiles and they are very comfortable."
'Banks well stress tested'
Key downplayed the risks to financial stability from Auckland's housing market, pointing to stress tests done by banks last year which showed they had ample capital to deal with a forecast unemployment rate of 13% and an Auckland house price fall of 40%. He said the stress tests showed capital levels dropped from 11% to 8%, which was well above regulatory minimums of 4.5%.
"Yes, obviously there is some more risk if house prices go up but it is at the margins. The overall health of the banking system is very strong in New Zealand," Key said.
NZ 'not immune to global trends'
Commenting later on the stock market slumps, Key said New Zealand was never going to be immune from international trends.
"But overall the fundamentals of the New Zealand market are still pretty strong and some the things that have been driving the mood down in the US, and to a certain in Asia, are less prevalent in New Zealand," he said.
"The second thing to remember is there is a difference I think about what's happening in China with the construction and investment side versus the consumer demand side. Our exporters are much more heavily focused on the consumer demand side, selling food and a number of other products to them," he said.
"Australia's economy, for instance, is much more heavily focused on the infrastructure investment side. So it's arguably a bigger deal for Australia than New Zealand, but yes it has some impact."
Govt wants modest house price rises
Key said the Government's preferred house prices to keep rising, "but at a very modest level."
"You saw a correction in the (Auckland) median house price last month and that didn't keep me awake at night, so no that doesn't necessarily do that."
He said he did not expect a big correction in Auckland house prices "unless people get carried away."
"But I think you run the risk that there's more of a correction if things carry on at the same price."
'No case to tighten migration'
Key downplayed suggestions of tightening migration targets, which are currently around 45,000 new migrants each year, to help reduce demand for Auckland housing.
He said the record high net migration was due more to fewer people leaving to live in Australia.
Asked if the Government should reduce the 45,000 target, he said: "You can do, but only about half of them go to Auckland and quite a lot of them are already existing. And quite a lot of them have gone through our universities and have a job and so you'd have to take them out of that job, and if they are in a skilled area that may actually hurt the construction market or that may actually hurt the development of the economy."
"So, yes it is a factor, but I think the answer is 'build houses' - that's probably a better way of addressing it and we are doing that."