Finance Minister says Govt expects Auckland Council to approve Unitary Plan that caters for housing supply growth needs; says August vote on Plan 'probably the single biggest issue for house prices across the country'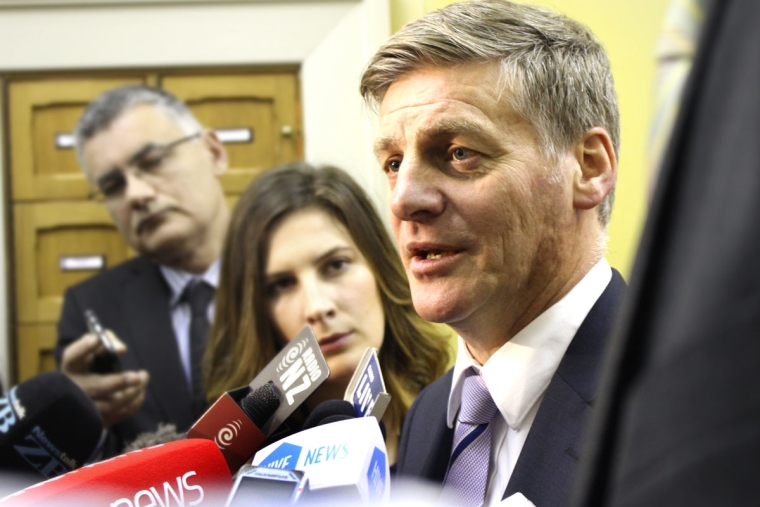 By Bernard Hickey
Finance Minister Bill English has ramped up the pressure on the Auckland Council to agree to a Unitary Plan in August that allows for the city to grow its housing supply in a way that takes pressure off prices and financial stability nationally.
English delivered his annual pre-Budget address to the Wellington Chamber of Commerce on Wednesday and chose to fire a shot across the bows of the Council ahead of it receiving the recommendations of the statutory Independent Hearings Panel (IHP) on the Unitary Plan, which will set the zoning and other rules for house building and town planning for decades to come.
The IHP is due to deliver the recommended plan to the Council in the last week of July and the Council must notify the Plan by August 19. The Council voted 13-8 against its own proposals to the IHP for more intense development rules on February 24, raising fears the Council could reject a Unitary Plan proposal for more intense development and and extension of its Metropolitan Urban Limits.
The Council, which by then will be in the final weeks of an election campaign, could choose to reject all or parts of the proposed plan, which would throw the Government's supply-led strategy for dealing with Auckland's housing shortage into disarray.
English noted that Auckland needed to build an average of 13,000 houses a year for the next 30 years, but had built only 9,500 houses last year. MBIE, the Productivity Commission and the Reserve Bank have estimated the housing supply shortage at anywhere from 20,000 to 60,000.
"The Government's very clear expectation of Auckland Council is that it will approve a plan in August that delivers that kind of supply," English said, referring to the Council's own target of 13,000 houses a year.
"It is for Auckland to decide how and where that target is achieved," he said.
'Forcing councils to release land'
English said Building and Housing Minister Nick Smith was working on strengthening national direction to Councils on housing supply, specifically through a National Policy Statement (NPS) that the Government can make under the Resource Management Act. English said this NPS "would force councils to release more land in response to economic signals and stop the type of problems which have developed in Auckland over the last 20 years or so."
"We'll be scrutinising the Auckland Unitary Plan in a few months. It's probably the single biggest issue related to house prices across the country," he said.
English said these Auckland housing issues couldn't be solved with more Budget funding and the Government's focus was on continuing to work with councils to get more houses built.
Appointing Commissioners not ruled out
Later English told reporters the Government was also looking at other options if the Unitary Plan either did not provide the housing supply room or the Council rejected it.
"We're looking at those options. Nick Smith mentioned one yesterday (National Policy Statement) around the Government being more directive about what the plans should have," English said.
"It's our assumption that the Auckland Council understand what's required for Auckland. It's a growing city. If they want to be a world class city then a plan that allows that kind of growth and supply of land to feed it is what they'd want to produce," he said.
"We're working on the assumption that they'll produce a plan that will work. We might have to cover the option that they don't."
English was then asked if appointing Commissioners to run Auckland was an option for the Government. "There's a range of options and we'll have a look at them," he said, without ruling out the appointment of Commissioners.
You can receive all of our property articles automatically by subscribing to our free email Property Newsletter. This will deliver all of our property-related articles, including auction results and interest rate updates, directly to your in-box 3-5 times a week. We don't share your details with third parties and you can unsubscribe at any time. To subscribe just click on this link, scroll down to "Property email newsletter"and enter your email address.