Gareth Morgan presents fresh case for the taxing of capital and of foreign entities; residential property in the spotlight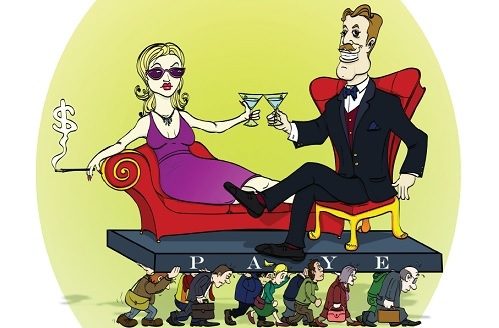 A new report produced by Gareth Morgan aims a fresh broadside at the 'privilege' afforded by the current tax system and proposes again radical overhaul to include a way of taxing capital and of taxing foreign entities.
Residential property would inevitably become the main focus.
The report, titled: "New Zealand Income Tax: Unfair and favours the rich", says several of our taxation structures are able to be exploited and that is exacerbating inequality across society as well as denying New Zealand the economic growth it could otherwise achieve. 
"A growing problem is the tyranny or hegemony of the majority wherein a substantial tract of voters – the property-owning group – is able to extract benefit for no value provided to society. Such rent-seeking is the antithesis of an efficient, equitable society and warrants corrective measures," Morgan says.
The new paper is based on work initiated in the 2011 publication of the book, "The Big Kahuna", by Morgan and Susan Guthrie and updates and refines one side of the tax and welfare reforms proposed in that work. It is part of a project that looks at the need for even wider taxation reform and considers options for reform of social welfare. The intention is to produce a sequel to The Big Kahuna, late in 2016.
Morgan says the new paper covers "just two" of the weaknesses in our taxation regime that are underwriting an unfair and economically inefficient economy.
"The costs of conferring privilege are real – not just financial – but more widely than that socially and politically. It is incumbent on a government to continually strive to maximise the performance of its taxation regime on the basis of neutrality, equity and efficiency.
"...The two topics covered in this discussion on tax are by no means an exhaustive canvas of what can be done to improve our taxation regime. There are issues around tax and charitable organisations and around tax and the Approved Issuer Levy available to those raising money from abroad, which also warrant examination. They, amongst, others will be the subject of future work."
'Glaring gaps'
But on the two topics covered in the new work, Morgan says they are two of the glaring gaps - "deliberate loopholes" - in New Zealand's income tax regime.
"These loopholes have persisted for many decades and have contributed to a rising concentration of wealth, particularly but not exclusively, held in the form of property assets. These loopholes have distorted investment and income, and ultimately undermined the growth potential of the economy. Not surprisingly, these loopholes are of increasing public concern as well.
"The proposal here is reform of the income taxation regime. The reform I suggest is not incremental, it is fundamental. I propose that New Zealand moves from a tax regime that confers privilege and amplifies inequality, to one that supports equality of opportunity, freedom of choice, and higher living standards. Such a radical change will, of course, have to be introduced carefully as there will be important transition issues."
Morgan says the first income tax loophole addressed in  the paper arises from how income is defined for tax purposes. The current definition of income used by IRD excludes from tax, some of the benefit received by owners of capital. Despite being recognised in the National Income Accounts as genuine income, some forms of income are not taxed. The second loophole that is addressed is one that extends to foreign-owned enterprises, "providing them with an easy avenue to dodge their tax obligations in New Zealand".
"Three of the desirable properties of a taxation system are that it be fair, neutral and economically efficient. The New Zealand income tax regime is none of these things," Morgan says.
Turning to his proposal for a "Comprehensive Capital Income Tax" (CCIT), Morgan says Parliament's "decision to turn a blind eye" to the very real economic benefits received by home-owners "instills a massive unfairness in our tax regime".
'Real income benefit'
"The effective income benefit that owner-occupiers enjoy from their ownership of housing is very real yet it's untaxed. If you put $500k into a bank you are taxed on the benefit you receive (interest), but if you buy a house with it you are not (yet the accommodation services received are real). Both are benefits received, why should one be taxed and not the other? The answer, is that our tax system is largely a cash-based system, a significant problem which was recognised in 2001 in the McLeod Tax Review and raised again in 2010 by the Tax Working Group. The limited definition of 'income' that underpins the New Zealand tax system is a likely contributor to the rise in inequality witnessed in New Zealand."
Morgan says the effective average tax rate paid on salary and wages is 18%, that on other forms of income to households averages just 12%, while the effective tax rate paid on corporate incomes, "always hard to measure", appears to be around 16%. These average tax rates are based on government revenue data and income estimates from the National Income (or "GDP") Accounts. "On the face of it these varying rates of income tax are unfair. However they are the reality and one of the two reasons our income tax system is overdue for reform."
Morgan says the proposed CCIT bears many similarities to the tax reforms tabled in the 2001 McLeod Tax Review.
"The essence of the idea is that income is received by people in more ways than just cash, and if a tax regime fails to acknowledge this, anomalies in the way the tax burden is shared are unavoidable."
Arguably the biggest hole in the income tax base is the absence of non-market income, or income that is produced from applying the capital stock in a way that generates a return for the owner, which the owner then consumes, Morgan says.
Disturbing the allocation of capital
"Nobody would suggest that these noncash or in-kind items – which are after all included in the recognised measure of national income - are not real. This single distortion has arguably been the source of the greatest disturbance in allocation of capital in capitalist economies over recent decades. In the property market, the tax wedge favours ownership over renting to a degree that would not exist if both forms of rental income were taxed. Further, this distortion has underpinned a demand for property ownership that is quite apart or separate to any demand for accommodation, resulting in a quite different allocation of capital than would otherwise be the case. The tax incentive has a lot to answer for."
Morgan says the proposition of the CCIT is that own-use of (non-financial) capital provides an assessable income depending on whether the owner lets the capital lie idle, underutilised or enjoys the full benefit of its services. But in all cases, that benefit should be taxed – at least to the extent that the income from it could be at least equal to the risk-free rate the economy is offering.
"Let's illustrate by taking a car as an example – the owner can rent it out, use it in her business that produces a cash income, drive it for pleasure, or leave it idle in the garage. In only two of the four cases is the service the car produces assessable for income tax. Yet in all four cases the owner could reap a benefit.
"The concept of the CCIT is that in all four cases the car's services are available as income for the owner and therefore assessable for income tax. For the two cases where there is no cash income, the question becomes how much assessable income should be deemed. We know what rate of return the owner could earn with no risk at all from the amount she's invested in the car so the assessable income should be set at least at that rate. In a world of long term government bonds offering yields of 5% then, a 5% income on the car is a minimum that could be assessable. The value of the car is available from the statutory depreciation schedules, or market prices, while the owner can only be expected to declare an income that accords to the equity they own in the equipment. If there is debt registered against the vehicle that will already be reaping taxable income for the lender so no need to tax it twice. This approach is an alternative to the tax authority deeming that the 5% rate of return should apply to the full vehicle (depreciated) value but have the interest bill on any debt deducted.
A twofold approach
"The point of this approach to taxation of income from capital is twofold; to ensure that all effective income is taxed (this is the argument for a tax regime that is equitable); and to raise the utilisation of capital (this is the economic efficiency argument).
"In practical terms the tax assessment would require every economic entity to provide a schedule of assets and debt each year. Then for assessable income purposes, the CCIT is applied to the owner's net equity in the asset. So if a 5% return is assumed and the relevant income tax rate (20% for instance) is applied to that deemed income, then each and every year then, the owning entity's CCIT liability is 1% of the aggregate depreciated net (i.e. less debt) capital they own.
"If the entity already generates taxable income that is subject to income tax then that tax can be netted from the assessed CCIT – so the CCIT could be as low (but not less than) zero. This simply ensures that capital-owning business entities pay at least the tax they would by investing that capital at the risk-free rate."
Addressing the question of what asset value the CCIT cuts in at, Morgan says this is ultimately this is a political question "but a minimum asset schedule of $200,000 and a $10,000 per capital item lower threshold, may be a practical floor for individual personal owner/taxpayers".
"For multi-owner (Partnerships or Trust) assets the floor might be $200,000 per capital item. A property worth $5m say with 100 beneficial owners would attract CCIT on $4.8m, irrespective of individual owners' proportional interest. For incorporated taxable entities there would be no need for the $200k exemption."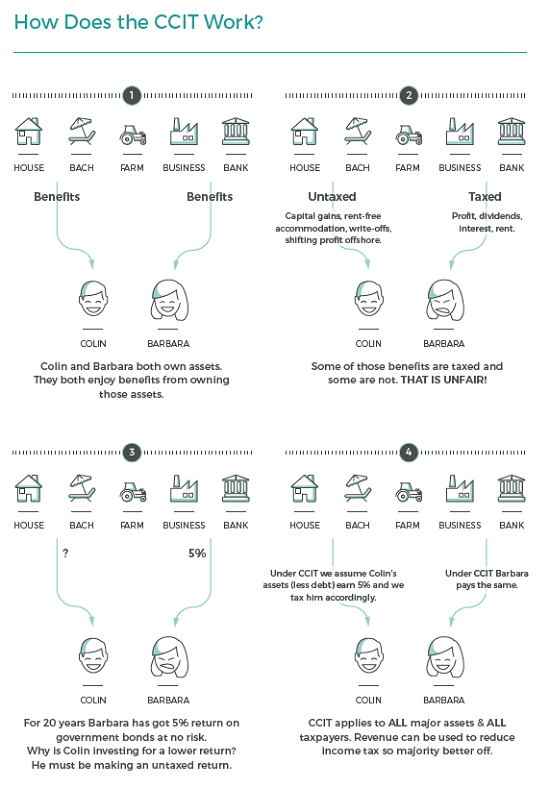 Expanding the income tax base
To illustrate this, Morgan says that a couple who jointly owned one $40,000 and one $8,000 car, and a boat worth $10,000, and had $350,000 equity in a house (say the house was worth $600,000 but they had a mortgage of $250,000), would be assessed as having $400,000 of net worth (the cheaper car would not be counted). Using a risk free rate of 5% and a tax rate of 20% CCIT of $4,000 would be payable.
"A CCIT applied at these rates in New Zealand would expand the income tax base by the order of at least 20%. In other words it could finance a drop in income tax rates across the board of the same – for example, the average tax rate on salary and wages of 18% could fall to something closer to 14%. And of course the politicians of the day would decide exactly who to favour most in that tax cut."
One obvious argument levelled against such a non-cash-based tax would be; how would those liable for the tax meet the payments?
Morgan has answers for that:
"On this, think about CCIT in an analogous way to property rates – but rather than being simply an annual impost on the owner of land and buildings, it is applied to the equity in all productive or non-financial capital which provides a return of some form (in cash or in services) to its owner. Owners of land and buildings have to arrange their overall portfolio so that they have sufficient cash to pay their rates each year. The CCIT requires exactly the same. What we would expect is for owners of currently non-taxed capital to have to rearrange their financial affairs in order to pay tax on the benefit they receive via ownership.
'We expect the price of property to be lower'
"By requiring owners of capital to take into account the cash flow implications of an annual impost under CCIT, we would expect the price of property for example to be lower than would otherwise prevail – the reason being that the after-tax return from ownership will be lowered. This will improve the alignment of house prices with the demand for accommodation, as opposed to the status quo where property prices reflect more the combined benefit anticipated from tax-free capital gain and the tax break afforded the benefit from accommodation received each year by owner-occupiers.
"The cash required to meet the annual CCIT impost can be expected to be available from owners who rearrange their portfolios to include more cash-earning assets. It may well be reasonable to allow owners in certain circumstances to defer their CCIT for a limited period (so long as use of money interest is charged) until they sort their cash flow. This type of circumstance could include a loss-making year for a business, or even a year where profit is made but cash flow is tight because of investment outlays say. Another circumstance might be a homeowner who is waiting for a liquidity event such as an asset sale in order to meet their tax obligations. But it's an important principle to ensure in these cases there is no free ride for the owner so charging them use-of-money interest at market rates would be appropriate. It may be appropriate in some circumstances for the owner to grant the IRD a charge over the asset as well."
So, what happens to home owners who have invested on the expectation of tax-free capital gain?
"This is a question about transition from the current regime to the CCIT regime," Morgan says.
"A related question is by how much we might expect property prices to correct in a world without the tax loophole owners currently enjoy. It will be less than if that loophole were completely removed – the CCIT does not fully tax the accommodation benefit that owner-occupiers enjoy. To do that it would tax the market rental equivalent of the property, whereas under CCIT what is taxed is 5% of the property value. Rental yields would be above the risk-free rate in a world of tax-neutrality, reflecting the risk of the asset class.
How much prices drop by 'depends'
"Anyway, even a partial closure of the loophole (as CCIT brings about) can be expected to lower property prices. By how much depends on how much of the current demand is driven by what owners currently expect to make over time from tax-free capital gain. That depends on location or course and anticipated population growth and buyer pressure. The amount is indeterminate without making arbitrary assumptions around how speculators discount expected future wealth gains compared to current cash flow, or without knowing how much of the return currently is achieved already via taxable means. The greater that is, the less the reduction in capital value that can be expected."
Morgan says the introduction of a CCIT-based income tax regime would adversely affect the capital value of property for some, that fall conferring equivalent benefit to prospective property owners in the form of a reduced cost of entry to the market.
"It is then in essence a wealth transfer, the extent of the transfer will depend on the extent of the proportion of return (financial and other) that is already in taxable form. It is a current market reality that rental yields of higher valued properties are lower – which itself reflects the demand from higher income owner-occupiers for the tax-free benefits and ownership rights over the 'luxury comforts' conferred. On financial grounds alone one might expect then the capital impact of the CCIT to be greatest for these types of property – but it is not a given.
"Unambiguously, demand for housing will align more closely with accommodation needs – how much closer is indeterminate."
Overseas experience
Morgan says there are offshore examples of similar taxes to the one he is proposing.
"The list of countries that do deploy such taxes is extensive and includes Australia, the UK, France, Belgium, Canada, Luxembourg, South Korea, Iceland, Switzerland, Denmark, the Netherlands and Germany.
"Many of these countries procure revenue from these taxes to an extent that the total revenue is at least 2% of GDP. Our estimates of what the CCIT would procure is between 3% and 4% of GDP. Some countries struggle with defining the most appropriate deductible expenses. That reality makes the alternative of applying the CCIT only to the equity held in the asset (rather than the total asset value and allowing interest and other expenses deductible) more appealing. As well, the idea to apply the CCIT to the worldwide balance sheet of the taxpayer (rather than just the New Zealand assets) looks to be far more effective at preventing avoidance.
"The Netherlands is closest to a pure CCIT regime – it uses a combination of a wealth tax and an imputed rental tax. Assets are assumed to have a 4% return, which is taxed at 30%. There is a per asset minimum of c.$NZ40,000 but no overall net asset minimum (debt is not taken into account)."
Taxing foreign entities
Moving on to the taxation of foreign entities, Morgan says that in New Zealand foreign firms have a number of ways of avoiding the tax impost that they would face if they were New Zealand-owned.
"Some are due to regulatory weaknesses, others due to stratagems these firms employ to deliberately reduce taxable earnings.
"On the regulatory front there are weaknesses around the double taxation agreements that New Zealand is party to. In short they allow a foreign firm to avoid New Zealand income tax if it doesn't have a "permanent establishment" here. For online businesses in particular this is a no-brainer. The remedy lies in modernising these tax treaties.
"Given the two common ways for foreign firms to shift taxable profits beyond the New Zealand tax jurisdiction – namely taking on debt-heavy balance sheets, or deploying transfer pricing on their inputs – there are two broad ways to proceed.
"The first is relatively simple but arguably overkill. It would see the IRD deeming a profit for the company as a pro rata share of the company's worldwide profit apportioned by its New Zealand share of global sales. Clearly for taxation purposes the "company" would need to be defined as the general group of companies behind the product or service, rather than any special purpose New Zealand subsidiary set up specifically for distribution here. That does give rise to identification issues and difficulties around partly foreign-owned local operations.
"The second approach is to deal with the profit transferring behaviour of any foreign owned company operating in New Zealand. The remedies here comprise of two stratagems as follows;
1. Thin Capitalisation Leveraging up the balance sheet so that interest costs rise is an easy way to dodge tax – the interest is a deduction and it flows offshore to who-knows-where so the lender (a related party) can collect that money in a lower (sometimes zero) tax jurisdiction. New Zealand moved against this in 1996 by introducing thin capitalisation rules which in effect nowadays attempt to limit the amount of gearing to 60% of the balance sheet assets of the New Zealand-registered company. Of course this still affords plenty of scope for tax dodging via debt and seems little more than symbolic. A more robust way of setting the gearing ceiling would be to get data on industry average gearing for the firm's peers and set the ceiling at that level for all firms whose interest payments flow beyond our tax jurisdiction. Our IRD would probably argue that would be too much hassle and that the 60% rule is 23 quick and more-or-less effective. We'd suggest it's lazy and that the default should be no interest-bearing debt from abroad is allowed unless the taxpayer is able to prove their claim that the interest is a legitimate cost. They could do this only if the debt met particular criteria; for example to get tax relief the taxpayer would have to produce the data on international gearing norms for their sector and, secondly, provide evidence as to why their gearing internationally should be higher than international norms. With this sort of regime the onus of proof for deductibility lies with the taxpayer, not the IRD. If they can't prove it they don't get it. 

2. Transfer Pricing The second tax dodge available for foreign companies is transfer pricing. Companies who play this game "purchase" an input from a related party that sits outside the New Zealand tax jurisdiction (often in a tax haven), effectively transferring their pre-tax profits to that party. Again the IRD does have a policy on this, it's a policy that reflects our signing of international double tax treaties with other OECD countries. But the reality is it doesn't work, we are sitting ducks. Multinationals can shift profits away from where the economic activity occurs to where the tax liability is minimised. Examples are abundant – Coca Cola, Facebook, Apple are just examples of multinationals operating in New Zealand whose practices have come under fire because their tax liabilities are significantly and consistently lower, year after year as a percentage of sales, than any comparable firms operating solely in New Zealand. Prima facie there is certainly a case to put the onus of proof of compliance on these firms. In order to shut down transfer pricing practices firms should pass three eligibility tests before being allowed to claim the costs of imported inputs (materials, royalties, interest, licence fees) as deductible expenses. Importantly with these tests, the onus of proof for deductibility would fall on the taxpayer, and not be up to the IRD to prove an expense didn't qualify. If the corporate can't provide the proof then the costs simply are not deductible for the purposes of stating New Zealand taxable profits. The first test for tax deductibility would be proving that the input being purchased from a non-New Zealand party is not from one that has a beneficial foreign shareholding of say 5% or more in common with the taxable company. 'Beneficial' covers direct and indirect (through third parties) shareholdings. The second, and additional hurdle would be requiring the tax payer to establish that the cost of the input is no higher than would occur in an arms length transaction between non-related parties. If the taxpayer cannot establish Test 2 because of lack of comparable industry data (such might be the case for a royalty for IP say) then the third test is for the taxpayer to establish that the royalty is no more than parties pay for the use of that IP in the IP owner's country. And if the IP owner's country is a tax haven then the taxpayer has to use as their benchmark the average of 3 white list countries to establish the absence of price ramping. Finally, as an alternative to the eligibility tests above, the multinational could instead establish its taxpayer bona fides by simply proving that its overall tax burden across all the white list countries it operates in, is no lower than industry averages. This alternate method demonstrates that the New Zealand tax impost is intended to be no higher (or lower) than the average of white list jurisdictions.
Foreign ownership of homes
On the question of foreign ownership of residential property and land, Morgan says with the exception of "sensitive land" New Zealand maintains an open borders approach to property investment by foreigners – no matter their origin.
"Such a strategy might make sense when it comes to commercial property - the origin of the investment doesn't matter if the result is higher utilisation of capital and greater income and employment.
"The CCIT discussed earlier would ensure that the stock of idle capital would be limited, no matter who the owner."
However, Morgan says when it comes to residential property in New Zealand there now appears to be a shortage of affordable property for prospective first-time homeowners.
"In Auckland, in particular, the price of housing appears to significantly exceed what would be justified solely by the demand for accommodation.
'Incongruous'
"It seems incongruous then that we allow foreigners (i.e. people who don't reside here) to hoard housing here for their own home country reasons (for example, if their own country has poor enforcement of property rights). It's especially unfathomable that we would exempt from reciprocal restrictions residents of countries that forbid ownership of residential property by New Zealanders.
"We surely should at least restrict them to leasehold ownership only. With the deregulation of Chinese capital now underway we can expect capital flight from that country, much as we see from Russia year after year. The sheer magnitude of the inflows could rise to levels quite disruptive, not just in the Auckland market, but countrywide.
"The rationale from these investors is simple – it's a bolthole in which to place savings beyond the reach of oppressive and unpredictable regimes in their home countries.
"To welcome foreign investment is the hallmark of an open capitalist society, but when those flows come from residents of countries that lock out foreign investment as well as constrain the rights of their own citizens, that investment should be significantly qualified –  at least until the investor becomes a citizen of New Zealand or a similar "white list" country," Morgan says.
"The reason is not that we should not welcome foreign investment, but rather that the sheer magnitude of "bolt hole" capital flows can prove to swamp our small market with society wide consequences.
Flows come and go
"These flows come and go (remember the Japanese in the late 1980s, we thought they were going to annex Surfers Paradise at one stage?) and that instability is disruptive for our own residents. Annexation of significant swathes of our property from local investors seems a senseless denial of local citizens' access to their own productive capital – inhibiting employment and income growth.
"In 2015 the UK followed the US, Switzerland, France and Spain by introducing a capital gains tax payable on sale by foreign owners of property. The rationale is that UK residents pay such a tax on their second and subsequent homes, and for foreigners this is an analogous situation. While a capital gains tax is nowhere near as efficient as a CCIT, the intention of these governments is clearly to limit the distortion of residential property markets caused by the activity of foreign buyers motivated by events in their home markets.
"In New Zealand under a CCIT regime foreign investment in property would produce taxable income – the property would need to provide tax equivalent to a return on investment of 5% or the return calibrated in the income tax return, whichever is the higher.
"The foreign investor would be subject to the normal provisions regarding tax deductibility of costs that are required of foreign investors. The impact of this approach is to welcome foreign investment in non-residential property on the same basis as a New Zealand investor would encounter investing in a business. The effective restriction on foreigners would be with regard to investment in residential property which would be restricted to those from "white list" countries."