BNZ's latest confidence survey suggests that for the first time more people are unhappy than happy about rising house prices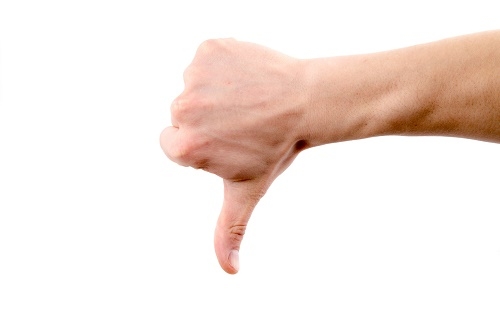 By David Hargreaves
Amidst all the wailing and gnashing of teeth in the past three years about ever-rising house prices and what a BAD thing this is, there's been what might be termed a silent majority.
People have been, just quietly, it seems, actually happy that prices are going up. Since 2013 the quarterly BNZ Confidence Survey has been asking (though the question wasn't asked in 2015) respondents whether they are happy or unhappy with rising house prices. And, without TV cameras on them, or radio microphones up their noses, the respondents have, in the majority, admitted that, yep, rising houses prices, that's all good.
However, the tide has turned.
In the latest survey results out today, more people (albeit very slightly more) have responded that they aren't happy with the rising prices. But it should also be pointed out that the number of people 'indifferent' to house price rises was actually higher than either those happy or unhappy.
BNZ chief economist Tony Alexander said of the 541 people answering this question 186 said they were Unhappy – 34%, 166 said they were Happy – 31%, and 189 or 35% were Indifferent.
"So one can say that most people are not unhappy that house prices are rising – which is why politicians tread very carefully (generally) when they talk about what they would like to see house prices doing.
"Note however that the trend in this measure is downward and that this is the first time we have had more people unhappy than happy about house prices rising since we first asked this question in June 2013. We did not ask the question in 2015."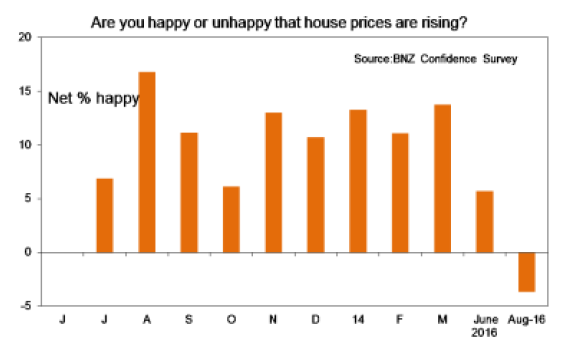 The BNZ Confidence Survey seeks the views of 14,000 recipients of Alexander's Weekly Overview newsletter. He said the latest survey elicited over 570 responses, the vast majority of which were positive.
"Respondents report difficulties sourcing staff, but little upward pressure on costs or selling prices outside of construction," Alexander said.
"That [construction] sector is growing very strongly benefiting a wide range of businesses all over the country. Demand for commercial property space is strong with falling vacancies and yields, while in residential real estate listings shortages continue near everywhere."
Alexander said the Reserve Bank's recent proposals to strengthened loan to valuation requirements (40% minimum deposit for investors) were having an impact.
"...But some investors are pooling resources and sourcing second tier financing to get around the rule," he said. "...But overall the LVR rules are having a dampening effect. In Auckland fewer houses are selling at auctions."
Alexander said rents were slowly rising and tenant demand was firm.
"In farming dairying remains weak but with feelings that the worst has passed. Horticulture is strong as is tourism where capacity issues are becoming more important."
As usual Alexander has produced detailed extracted comments from survey respondents in a variety of industries. The real estate industry comments are interesting as they show that while the market remains firm in Auckland, there are some signs of it plateauing, while in other areas of the country such as in places like Wellington, Hawkes Bay, Palmerston North and Nelson all systems still seem to be very much go. Here are a few chosen comments:
"Real Estate Auckland - very flat and uncertain if the very low volumes will continue. Buyers have no urgency. Big change in the market dynamics from a year ago."
"Residential Real Estate, Central Auckland. Busy with new listings though still not as many as we need. Buyer numbers are definitely down but better quality buyers coming through open homes - not as many lookers. Prices holding firm, still the occasional wow price."
"Great, things are humming in Wellington. House prices are rising and should hit an annual rise 20%+ by end of the year. Multi flat properties are still going well in Wellington Central, the 60% LVR rules are being curtailed by 2nd tier lending and investors investing in groups. There's no stopping it."
"Real Estate - Auckland North Shore: Listings starting to flow through now, but the proposed changes to the investor LVR have already taken effect and dampened the market, Asian buyers struggling to get funds out of China and the local banks excluding overseas income earned relating to lending has quietened down the Asian market a little too. Reminds me of October last year when the market took a 'breather' then bounced back again early this year."
"Residential property - the LVR restrictions seemed to initially make people stop and think, however after the rate announcement things have picked up again. Houses we are selling are not selling as fast as they were this time last year, however are still selling reasonably quickly and for good prices."