ANZ economists say even though house prices look 'out of whack' with incomes, they can't see a sharp downward correction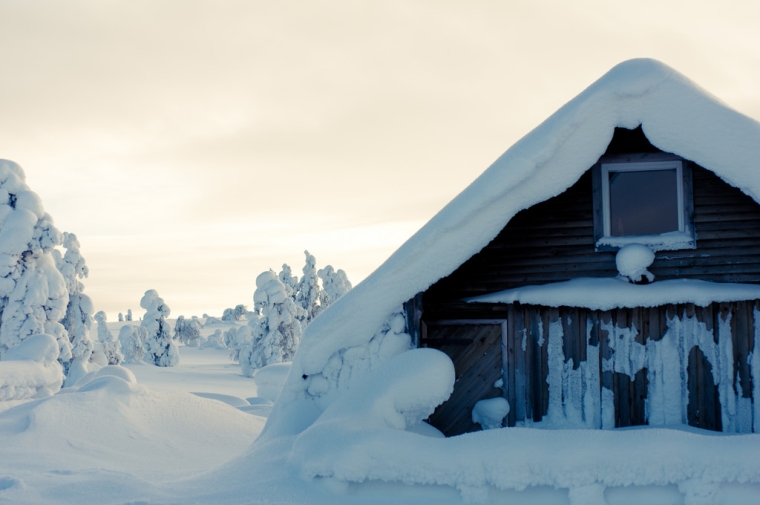 ANZ economists see house prices remaining "on ice" for the foreseeable future with a number of "opposing forces" applying in the market to balance things out.
In the bank's latest Property Focus publication chief economist Sharon Zollner and senior economist Philip Borkin have a look at the various factors influencing the residential property market this year. They don't have a detailed look at how the new Government's policies might affect the market, having done this in a previous Property Focus edition in November 2017.
In summing up the current situation they note that net migration is cooling, but should stay historically strong. Loan to value ratio (LVR) restrictions are being eased, but only gradually. Short-term mortgage rates are likely stable, although there is potential for some modest falls, but longer-term mortgage rates look set to rise in line with global reflationary forces.
"As is often the case with housing market drivers, there are plenty of moving parts. But even though house prices continue to look well out of whack with incomes, especially in Auckland, and the new Government intends to introduce policies targeting speculative housing demand, we still do not see a sharp downward correction as likely," they say.
"That would require a sharp deterioration in debt serviceability and a lift in forced sales, which is not on our horizon. Certainly if the economy was sideswiped by some particularly nasty shock from offshore, that could change the picture, but at this stage we are still of the view that with a number of opposing forces will simply see house prices remaining 'on ice' for the foreseeable future."
The economists say regional disparities in the housing market are likely to persist, which will come down to "the idiosyncrasies of various regions".
"Figure 1 below shows that while the relativities between Auckland house prices and the rest of the country have come back a little, they are still roughly twice the price of the rest of New Zealand. Relative population pressures and housing shortages will see a wedge maintained."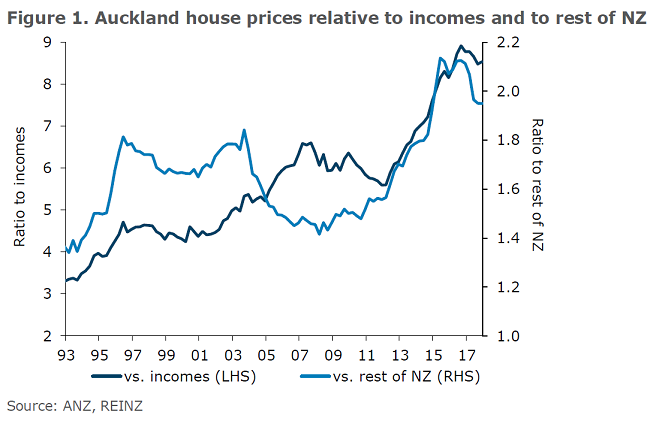 On migration, Zollner and Borkin say they believe net migrant inflows have peaked, given possible tweaks in government policy, a New Zealand economic backdrop that is perhaps not outperforming to the degree it was, especially relative to Australia, and due to natural cycling effects.
"While any migration forecast contains a great deal of uncertainty, we assume annual net inflows will ease to 45k by the end of 2019. While not necessarily a headwind for the housing market, it will be less of a positive influence." 
On Interest rates, they continue to see the Reserve Bank keeping the Official Cash Rate on hold for the foreseeable future.
"That will help anchor short-term mortgage rates at historically low levels."
The economists say that over recent times, what has actually had the biggest influence on bank funding costs has been the ease (or not) with which banks could raise local term deposits (figure 7).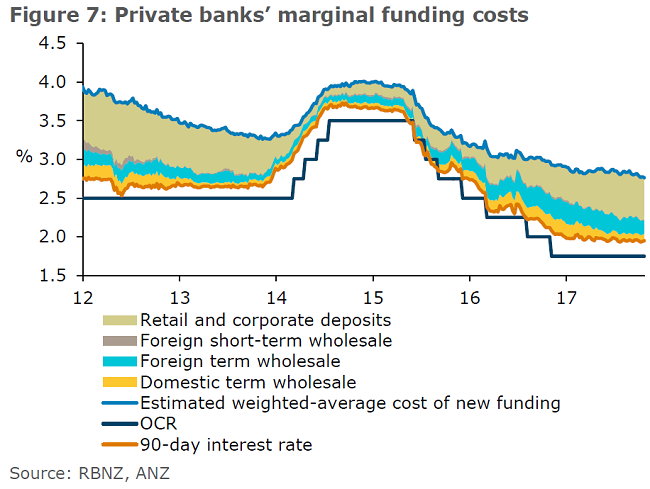 "Up until around 18 months ago, that was a relatively simple exercise, as domestic deposit growth was rising at a similar pace to loan growth."
But they say deposit growth (in this case household deposit growth) began to decelerate sharply – perhaps as the RBNZ cut the OCR and term deposit rates fell.
"At a time of still-strong demand for credit and increased scrutiny of banks' offshore borrowing by the regulator and credit rating agencies, that forced banks to compete more aggressively for domestic deposits, forcing term deposit rates higher (despite wholesale interest rates and the OCR not moving).
"But as credit growth has cooled and deposit growth has lifted, those funding pressures are no longer as intense. As such, we have already seen some term deposit rates (and hence fixed mortgage rates) begin to ease modestly. As long as that 'funding gap' – the gap between overall deposit and loan growth – remains steady, a return of bank competition in the mortgage space could actually see mortgage rates begin to ease off modestly again.
"...In fact, with bank funding pressures subsiding a little, as the 'gap' between deposit and loan growth has closed, there is even potential for competitive pressures in the market to step up a degree triggering modest mortgage rate falls," they say.
"However, longer-term mortgage rates are at the whims of global forces and on the back of these, look to be biased higher." 
On the RBNZ's loan to value ratio restrictions (LVRs), which were eased as from January 1, the two economists say they think these are likely to be eased further, "but only if the market shows signs of ongoing independent cooling (which may or may not be due to the policies of the new Government)".
"In that regard, we don't see any changes having a large influence over market activity and prices over the next couple of years."