Public Policy
/
analysis
Why the tax cuts National is proposing to ease the pain inflicted by inflation is likely to worsen the problem - for now at least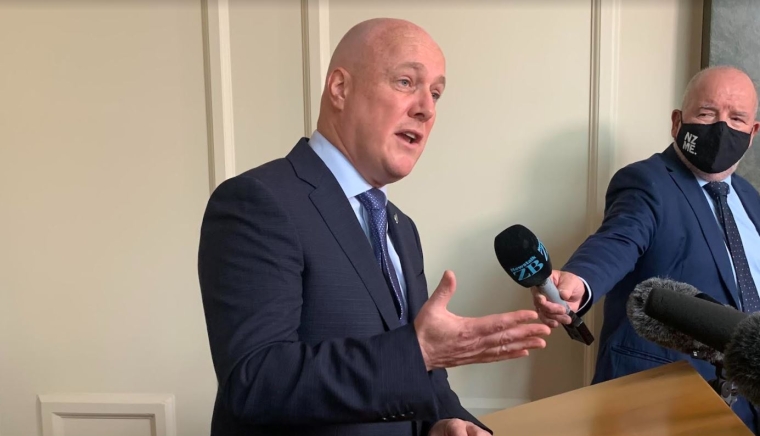 National's pledge to cut taxes can legitimately be characterised as inflationary until the party can specify what spending it would cut to offset the stimulus it's promising to provide.
National leader Christopher Luxon focussed on skyrocketing inflation in his state of the nation speech delivered on Sunday.
He repeated National's commitments to undoing the tax changes the Labour-led Government has made, and lifting income tax thresholds to account for inflation, as per below.

Luxon argued tax cuts wouldn't be inflationary, as they would be paid for using the $6 billion expansion to the operating allowance, Finance Minister Grant Robertson has pencilled in for the year to June 2023.
He said tax cuts would essentially replace some government spending with spending (or saving) by New Zealanders.
Nonetheless, it's impossible for National to specify how much of the $6 billion of new spending it would cut, because Robertson is yet to unveil exactly what he plans to spend the $6 billion on. This will only be detailed at the May 19 Budget, when he confirms the exact amount of new operational expenditure for the year.
Robertson, in his Budget Policy Statement, said the record-high $6 billion would be a "one-off" adjustment, a lot of which would be spent on climate-related initiatives and health reforms. Part of this could include writing-off district health board debt ahead of amalgamating the entities.
Expenditure on health reforms is the only operational expense National's Finance spokesperson Simon Bridges last month told interest.co.nz he would get rid of.
But, we don't yet know how much of the $6 billion will go towards health reforms in 2022/23. Robertson's office declined to give interest.co.nz a ballpark figure ahead of the Budget.
So, at a high level, if the cost of National's tax cuts is greater than the cost of the health reforms in the 2022/23 year, they will be inflationary.
Figures
As for the cost of the tax cuts, there is some murkiness around this too.
The figure Luxon has used when discussing the cost of his party's tax policy - $1.66 billion in 2022/23 - only relates to the cost of adjusting income tax thresholds to take account for bracket creep.
This figure assumes the top income tax rate of 39% for income over $180,000 remains in place, although National has committed to removing it.
The party told interest.co.nz it is yet to say when it would remove this top tax rate, and when it would repeal all the other tax changes it has committed to undoing.
National has pledged it would enable residential property investors to write-off interest as an expense when paying tax, bring the bright-line test back to two years from 10 years, and remove Auckland's fuel tax.
Highly variable projections suggest the cost of National's tax policy would be $2 billion in 2022/23, and lift to around $3 billion by 2024/25, should it have made all its changes by then.
That's a fair bit more than the $1.66 billion Luxon has been discussing (National has briefed interest.co.nz on how it came to this figure). 
Value of tax changes National would make ($m) in years to June 30
 
2023
2024
2025
Source
Address bracket creep
1,660
1,660
1,660
National Party - Mar 2022
Remove 39% top tax rate
None
540
595
Inland Revenue - Nov 2020
Remove Auckland fuel tax
150
150
150
Auckland Council - May 2021
Allow interest deductions
200
350
490
Treasury - Dec 2021
Bright-line test back to 2 yrs
None
None
?
Wouldn't make a difference in first 2 yrs
TOTAL
2,010
2,700
2,895+
 
What's more, the $3 billion tax expense expected in 2024/25 would eat up all $3 billion of new operational expenditure currently pencilled in by Robertson for that year. 
This would leave National no room to increase expenditure on the likes of health (as the population ages), education or salaries for nurses and police.
A mitigating factor for National, is that it has spoken of introducing congestion charging. So, the loss of government revenue from the removal of the Auckland fuel tax would be made up with a new tax.
National is also not saying whether it would halt government contributions to the NZ Super Fund, as it said it would at the 2020 election, and as it did when it was last in government.
Type of spend
While considering the quantum of money entering the economy is important in determining how inflationary a policy will be, it's also important to look at where that money is going.
The question is, is putting more money in all income earners' pockets more inflationary than lining the pockets of contractors tasked with carrying out health reforms?
Secretary to the Treasury Caralee McLiesh, in a speech delivered last month, said that while the Treasury is forecasting inflation to remain above the Reserve Bank's target range through 2022 and 2023, the "net effect" of the Government's fiscal policy is actually "dampening pressure on inflation in the coming years".
"While the extent of fiscal stimulus has been very large, the Treasury's Half-Yearly Economic and Fiscal Update shows a fiscal tightening from June this year, with a return to surplus by 2024 and a negative fiscal impulse from next year onwards," McLiesh said.
"This reflects the wind down of temporary-by-design Covid spending, and solid revenue growth - offset by significant allowances to achieve government's budget objectives, which include tackling climate change and health reform."
Conclusion
Until National can detail how it'll offset tax cuts with lower government expenditure, its policy looks inflationary. It's difficult to see how the medicine it's proposing to give those suffering due to inflation won't simply worsen the problem.  
It would be more accurate, but less politically appealing, for National to promote its tax policies on their individual merits.
With the likes of Inland Revenue, the Treasury and tax accountants strongly opposing some of the tax changes the Labour-led Government has rushed through, there is enough material there for National to continue drawing on.