Guy Trafford struggles with the inconsistent reasons for special restrictions on some religious holidays. He also reviews the latest dairy prices, and notes Synlait Milk's unique issues with supplying A2 Milk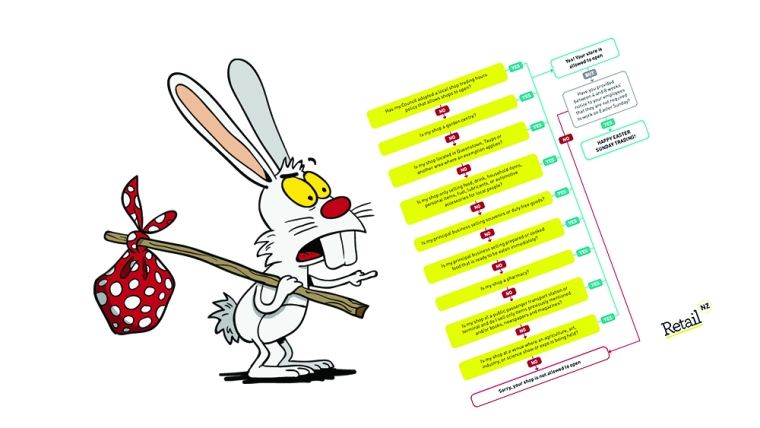 When I was farming, Easter came and went and there was little disruption to the weekly pattern. Animals had to be fed, milked etc. and provided this was done holidays could be adhered to.
Even when I was also in academic circles, Easter was uncomplicated with holidays factored in and taken by most. So, it was 'interesting' being involved with the retail and hospitality sector for my first Easter (last year's was cancelled, effectively).
The general feeling by most I rubbed shoulders with was confusion, with a degree of frustration. New Zealand is defined as being a secular country, that is, having no state religion, where religion and the democratic process are separate. However, we seem to have a very confused set of rules when it comes to religious 'Holy Days'. With our Christian heritage (for many if not most) it is understandable how religious events have permeated our culture and so having commerce shut down on some days comes with little argument. Christmas Day and for different reasons Anzac day restrictions come with little push back by most Kiwis'.
Easter, however, falls into a different category. Most people enjoy the break, and why wouldn't you. But forcing shops to be closed unless they have exemptions starts to get into weird and wonderful territory. In our case, the Christchurch Riverside Market was allowed to have the market shops that were selling staples (meat, fish, cheese, bread veges etc) or takeaway food to be open. But shops that were selling dessert style food, sweets etc. were not. Also venues that sold alcohol without a 'full' meal were not, despite being surrounded by food sellers by the dozen.
On the other side of the alps a plate of chips was considered to meet the 'meal' requirement.
So there is a wide breadth of how the law is interpreted, but my gripe is more about why we have a law in the first place, if we are meant to be a secular society. We don't shut down the country for the Hindu festival of Diwali or Chinese New Year or any number of other religious festivals that happen to be non-Christian.
I heard Mayor of Auckland Phil Goff say the that Auckland Council had decided that people needed to spend time with their families and most Aucklanders would be away at their baches - spoken like a well-endowed person totally out of touch with the reality of most people. Why he thought the Auckland Council should have the right to dictate how its citizens should spend their time is beyond me. Christchurch City Council at least recognised that not only would traders appreciate the additional days (for many) to make a living but also that visitors to the city and locals alike (without a bach [crib] to go to) would like something to do.
Back to things rural. The latest Global Dairy Trade auction came and went with little fanfare. This was a good thing as it basically means little change and business as usual. Overall there was a +0.3% lift with cheese leading the way up +2.2%; WMP unchanged;  SMP up +0.6% and butter +2%.
 Volumes sold were down a little on the previous sale but up on the same sale last year indicating that prices seem to have gained acceptance from buyers especially China. The strength or otherwise of the US dollar may be the biggest influencer in the shorter term. At the moment the NZ$ is around 70.5 US cents, well down from the February high of 74.3 USc.
Fonterra has also confirmed that it has managed to get rid of its China farms. Fonterra has completed the sale of its two wholly owned China farming hubs in Ying and Yutian.
As announced in October 2020, the sale of the farms to Inner Mongolia Youran Dairy was subject to anti-trust clearance and other regulatory approvals in China. These approvals have now been received. The transaction proceeds comprise the original sale price of NZ$513 mln plus NZ$39 mln in settlement adjustments, giving cash proceeds of NZ$552 mln. Fonterra CEO Miles Hurrell said the completion of the sale is an important milestone for Fonterra following its strategic refresh. Perhaps of interest is that shareholder investors seem not to be impressed with the Fonterra share price, with it falling to $4.79 from $4.93 prior to the sale.
Synlait Milk's latest news release highlighted to impact the fortunes that A2 Milk (ATM) has on the fortunes of the company. At the moment demand for a2 infant formula is 'uncertain' and this uncertainty is flowing through to Synlait who are being somewhat circumspect about the financial returns for the remainder of 2021. However, there is nothing to infer that Synlait will not be able to ride out the current problems.
And finally, a footnote to last week; there was some discussion regarding the timber and kiwifruit industry on a report I wrote, and some varying opinion. The kiwifruit situation will run in public shortly and what the options are will be revealed then. The forestry issues are less widely discussed but a worthwhile program to listen to is linked in here. The China actions are arguably quite a rationale but it appears Kiwis are the losers.