Significant parts of the world are undergoing rapid demographic changes which will cap, even reduce, the global population. This will have big implications for food producers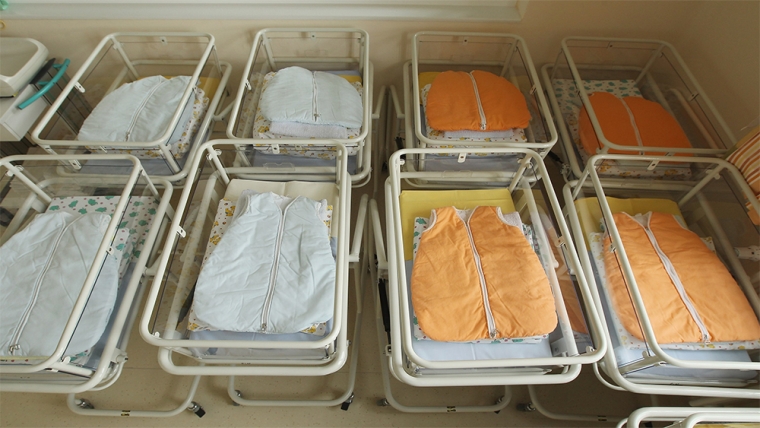 Both global and domestic population growth has featured in the news lately and with the planet bursting at the seams with people, population always makes an interesting study. New Zealand food producers should be more aware than most about how this macro influencer of demand is trending.
In developing countries, notably China and South-East Asia, the increasing middle class has been a major driver of demand for NZ products and up until recently this middle-class growth has been under pinned by a solid population base (good or bad).
However, recently the trends are showing that the population base is looking less secure, or at least the birth rate supporting the population base is. Japan has long been known to have a falling population driven down by the lower birth rate initially, continuing now increasing with an ageing population dropping off at the other end of the scale. Peaking at 128.5 million in 2011, it is now down to 126.5 million.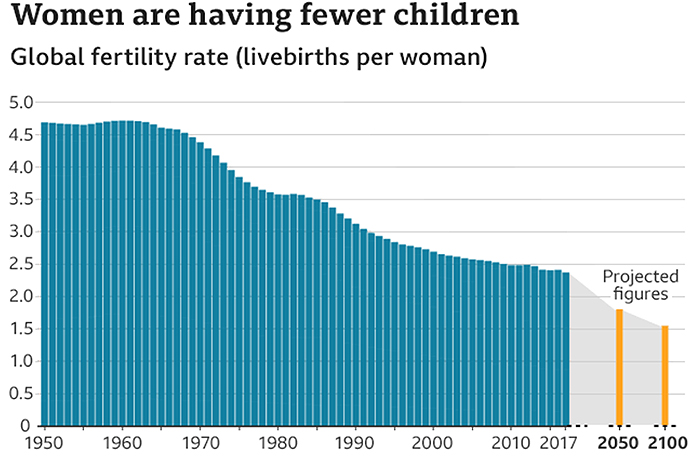 China's population growth has also hit a road bump with the infertility rate rising faster than expected. A new reproductive study showed one out of every 5.6 couples of childbearing age in China is unable to make a baby despite frequently having unprotected sex for at least a year. The infertility rate has grown from 12% in 2007 to 18% in 2020. This is ahead of the global rate of infertility which has increased from 11% in 1997 to 15.4% in 2018. It is largely driven by the increase in the average age that couples first try to have a baby, as well as increasingly unhealthy lifestyles and environmental pollution.
The graph below shows just how China's birth rate has fallen. Going from a peak of 30 million new babies per year in the 1960's to just 13 million in 2020 and continuing to drop.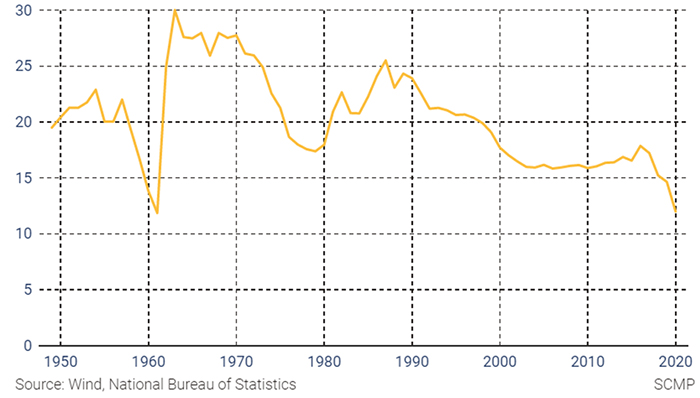 Falling fertility rates mean nearly every country could have shrinking populations by the end of the century.
At least on paper, 23 nations, including Spain and Japan, are expected to see their populations halve by 2100. Japan's population is projected to fall from a peak of 128 million in 2017 to less than 53 million by the end of the century. Italy is also expected to see an equally dramatic population crash from 61 million to 28 million over the same timeframe.
They are two of 23 countries - which also include Spain, Portugal, Thailand and South Korea - expected to see their population more than halve.
China, currently the most populous nation in the world, is expected to peak at 1.4 billion in four years' time before nearly halving to 732 million by 2100. India will take its place as #1.
With the current focus being on economic growth, immigration will continue to be seen as a means to provide workers etc. to stoke the fires of economies. However, as is being seen in New Zealand there is a growing  dissatisfaction with this policy especially when it means there is increasing competitions for domestic resources. When many countries have falling populations, then competition for 'favourable' migrants will increase and the size of queues wanting to enter 'new' countries are likely to decrease.
Some countries are trying policies such as enhanced maternity and paternity leave, free childcare, financial incentives and extra employment rights, but with limited uptake. Given the global problems of overusing natural resources, having a shrinking population does not seem such a bad option. However, the United Nations predictions are still that overall the global population will increase (currently at about 80 million per year) peaking in 2100 at 10.9 billion before the global decrease begins.
Much of the increase comes from growth in the African continent with five of the most populous 10 countries, bolstered by India. The potential growth or fall in population is precarious with small changes in predictions leading to quite different outcomes by 2100. The ranges generally fall between a high of 12.7 billion to a low of 9.4 billion, with 10.9 billion as being near the mid-point.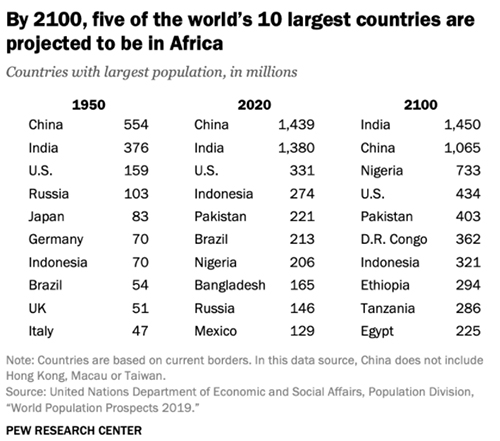 Looking specifically at NZ, the current birth rate is 12.377 births per 1000 people, a 0.69% decline from 2020, which in turn was a 0.69% decline from 2019. Despite this reduction in birth rate the UN still predicts the NZ population will reach six million by 2100. This is based upon at least some continuing immigration taking place (an average of 25,000 per year) plus being aided by an ageing population. (This does differ from Statistics NZ figures).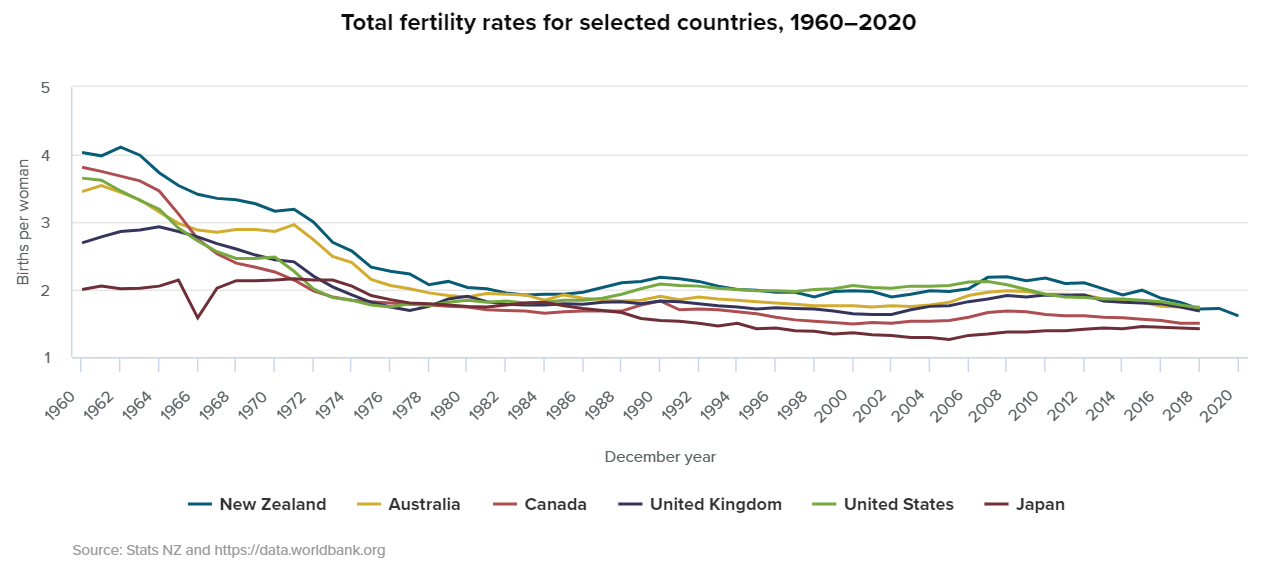 The largest reduction in birth rate took place in women in their 20s. While the other age groups remain at similar levels, the previous high weighting of the 20s age group had a large impact on current reductions.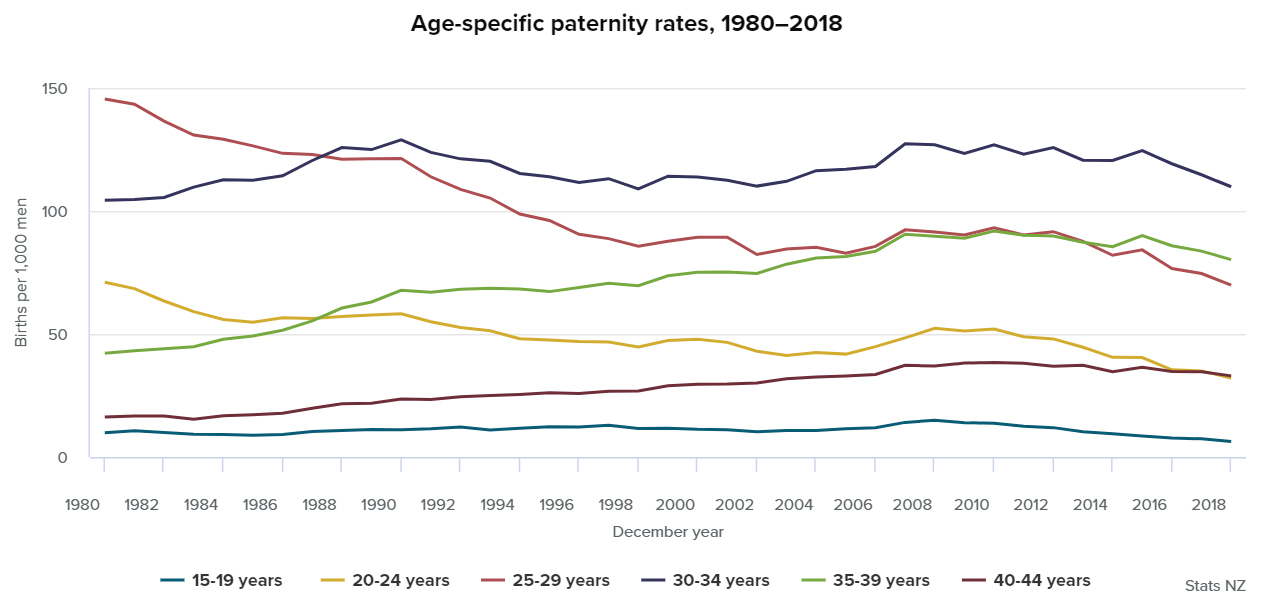 According to Stats NZ if there was no migration in or out from now, the NZ population would peak in 2040 at 5.4 million and then rapidly decline as the ageing population died off and were not replaced. It would then be around five million (again) in 2073. On the other hand if we go forward at a rate of a net 50,000 migrants per year (in 2019 we had 56,000 net migrants similar to Australia and well ahead per capita of either the UK or USA) then the population will be closer to seven million by 2073. As the graph below shows NZ has generally high rates and probably it is not a surprise the rate climbs under a National government then falls again under Labour (allowing for some lag time).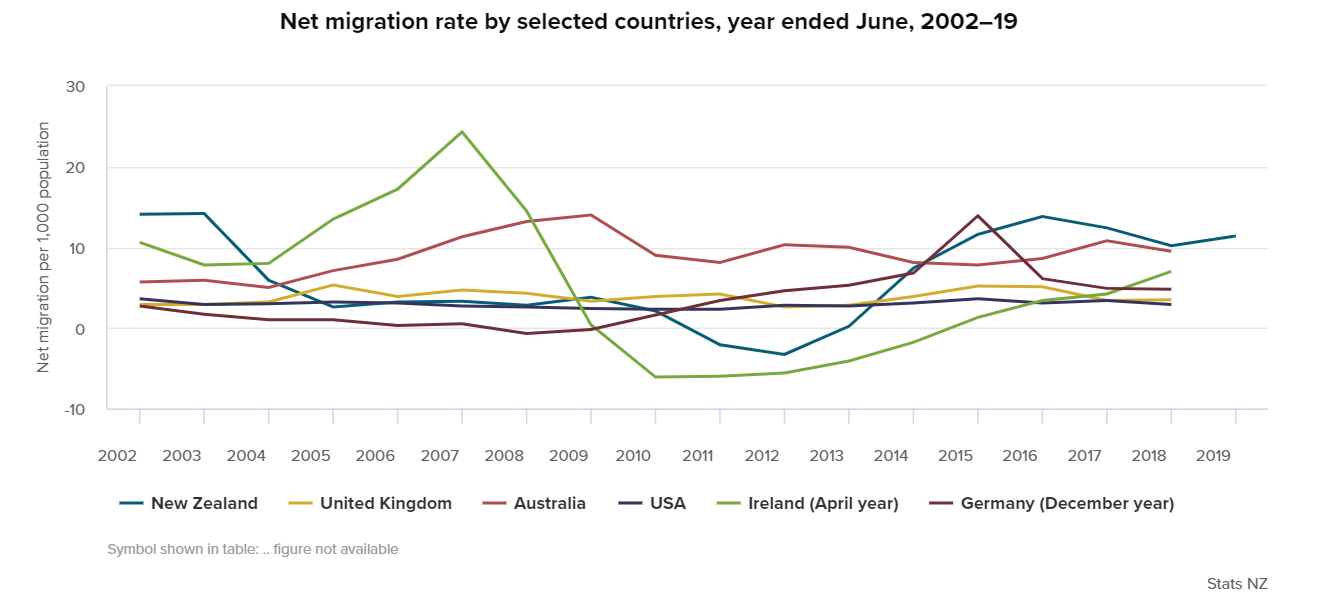 NZ does appear to treat its immigrants well. An OECD paper from 2019 showed that immigrants in NZ tend to have better well-being outcomes than those living in other OECD countries. Compared with immigrants in other countries, NZ immigrants rank in the top third of OECD-country immigrants for well-being outcomes in the areas of education, employment, poverty and having a say in government. The same report found little evidence that immigrants negatively affect either the wages or the employment opportunities of the average NZ-born worker.
The only evidence of negative impacts of recent migrants on wages of the NZ-born is when the relative skill composition of recent immigrants is increased. This has a small negative effect on the wages of high-skilled NZ-born people offset by a positive effect on wages of the medium-skilled NZ-born. However, temporary migration has had small negative impacts on new hires of some groups of people, notably social welfare beneficiaries not in the (16) most urbanised areas.
The same and other reports also found immigration had little positive gains on the economy. Most New Zealanders heading off-shore tend to end up in Australia. Digging a little deeper into the education attainment of the NZ-born population in Australia, there appears to be something of a 'trades drain'. The share of the NZ-born population aged 15 and over with post-secondary qualifications below university degree level is higher in Australia than in NZ. By contrast, the share of the NZ-born with a Bachelor's degree or higher is similar in Australia and NZ. 
Immigration however, while not impacting negatively on wages, must have an impact on housing and access to other resources (health and education) which have failed to keep up with NZ's population growth.
NZ with its still relatively small population has the opportunity about just how much population growth it desires. The current government is talking about resetting the immigration criteria (along with tourism) and one thing COVID-19 has done is buy some breathing space to rethink just how big we want our population to grow.
No chart with that title exists.