Log prices reduced in October as shipping costs take a bigger share of returns even though Chinese demand is good, and European sawn timber markets are strong. Domestic markets are somewhat oversupplied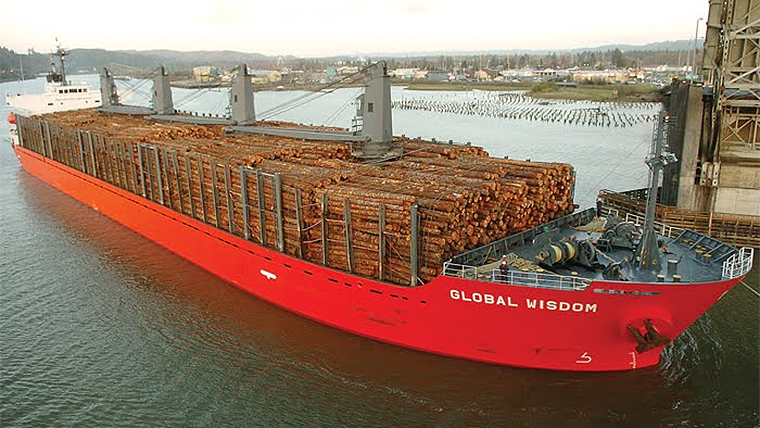 CFR sale prices for logs in China are reasonable but extremely high shipping costs continue to adversely affect the NZ AWG prices. The October AWG prices for export logs dropped an average of $1.10 per JASm3 in the main North Island ports. The domestic prices for structural logs dropped by $5 per tonne in many regions. The PF Olsen Log Price Index dropped $1 in October to $119. The index is currently $4 below the two-year average, $5 below the three year-average and $6 below the five-year average.
Domestic Log Market
Log Supply and Pricing
Log pricing has dropped $5-$6 per tonne for structural logs while the price of pruned logs has remained relatively flat. Pruned pricing has remained flat. There is plenty of pruned log supply as mills can attract log supply from further afield due to improved price differentials to export pruned prices. (Generally pruned logs are only exported when there is no domestic sale option, or the shorter export length enables improved grade recovery).
Sawn Timber Markets
The domestic sawn timber markets are strong with good demand across all grades. We are heading into stronger demand for industrial grades with a busy packaging season.
Export markets for sawn timber are challenging due to extremely difficult container supply channels. One processer has switched from producing clear sawn timber to domestic structural grades due to these difficulties. Another supplier said it is nearly impossible to transport sawn timber to the West Coast of the USA. Container lines are avoiding this area due to excessive delays. Fortunately, the demand from Europe for clear sawn timber is still very strong with buyers wanting to fix supply agreements as far ahead as possible.       
Export Log Market
AWG Prices
The AWG price range between exporters and ports is the largest I can recall. Exporters have different strategies for different ports, as well as different shipping costs due to some fixed options, all mixed in with various foreign exchange management.
China
The CFR price for A-grade logs in China has remained variable but the top end is still 182 USD per JASm3 for October. There is pressure on this pricing for November shipments. Southern yellow pine (SYP) has dropped to 140 USD per JAS for 20cm SED logs. After the Chinese holiday week at the start of October, the daily port off-take has increased by 10k per day to 75-80k. Softwood inventory levels have dropped slightly over the last two weeks to 4.8m m3. Congestion in China is still an issue (currently 155 handysize and 696 vessels in total anchored outside Chinese ports) and not forecasted to improve in Quarter 4. This congestion may ease in Quarter 1 as Chinese demand for commodities slows down.  Log supply from New Zealand is estimated to be 15-20% down in November as forest owners reduce harvest levels. This may mean there will be a shortage of log supply when Chinese demand does increase. Spruce supply from Europe will not increase much as containers are scarce. The domestic price for spruce sawn timber has fallen by approximately one third in the last two months.   
The Caixin China General Manufacturing PMI rose to 50 in September up from 49.2. The level of new orders rose for the first time in three months and sentiment strengthened to its highest point since June. Countering this positive outlook, new construction starts in September fell 13.54% from a year earlier. This was the sixth straight monthly decline which is the longest negative run since 2015.   
Demand for logs has been more uncertain due to credit issues in the property development sector and power shortages.
China is in a state of "Structural Reset". The government has been concerned about the growing gap between the wealthy and the poor in China as this leads to social unrest. Therefore, they are undertaking wealth redistribution strategies (tax the wealthy etc).  They are also trying to improve the income and lifestyle of the middle class.  The central government wants to reduce property prices while for local authorities the main issue is how to continue making money from this development.
The Chinese Government last year introduced credit tightening policies due to large debt in property development as well as property tax changes. Evergrande has restarted some projects as they have bought time to repay some creditors, but still face significant challenges ahead.
The energy crisis in China will have a positive long-term effect on timber demand as China is aware of the higher energy costs of steel and concrete. They are already mandating the use of more wood in their buildings (as reported in the August Log Market report). This may be negative for short term demand, however, as electricity supply is rationed.  The main log processing area affected to date is Taicang, which had already been affected by the Government wanting to repurpose the land these mills occupy.  (see July Log Market report).
India
Six log vessels are expected to arrive in Kandla in November. Four from Uruguay and two from Australia.  Due to the anticipated oversupply situation in November, demand is weak and the price for Uruguay lumber is  INR 581 per CFT and Radiata lumber is INR 641 per CFT. 
Normally, the new business year starts in Northern and Western India after the Diwali festival, with fresh demand. This year business sentiment is low, and strong log demand is not anticipated.
Tuticorin will enter the Northeast Monsoon season in late October, which can continue to mid-December. Sentiments can improve in January, but this demand will likely be filled by supply from Uruguay.
Exchange rates
The NZD has strengthened against the USD by two and a half cents over October. This is a concern for November AWG pricing. 
NZD:USD
CNY:USD
Ocean Freight
Shipping costs from New Zealand to China have stabilised and factored in at over 80 USD per JASm3 once demurrage is included. Weather issues have increased wait times at Gisborne to ten days while Tauranga is currently about four days. There are early signs of freight costs softening in Quarter 1, 2022, and this softening may be further accelerated by a drop in overall commodity demand. Suppliers from Uruguay continue to reduce their shipping costs by using larger vessels. The Cape Osprey has just left Montevideo Port, Uruguay with 92,000 metric tonnes of logs loaded in 7 and a half days. This is an improvement from ten days to load the first cape vessel and hit a record of 15,000mt loaded in one 24hr period.
Source: TradingEconomics.com
The Baltic Dry Index (BDI) is a composite of three sub-indices, each covering a different carrier size: Capesize (40%), Panamax (30%), and Supramax (30%).  It displays an index of the daily USD hire rates across 20 ocean shipping routes.  Whilst most of the NZ log trade is shipped in handy size vessels, this segment is strongly influenced by the BDI. The Singapore Bunker Price has continued to edge upward.
Singapore Bunker Price (IFO380) (red line) versus Brent Oil Price (grey line)
Source: Ship & Bunker
PF Olsen Log Price Index – October 2021
The PF Olsen Log Price Index dropped $1 in October to $119. The index is currently $4 below the two-year average, $5 below the three year-average and $6 below the five-year average. 
Basis of Index: This Index is based on prices in the table below weighted in proportions that represent a broad average of log grades produced from a typical pruned forest with an approximate mix of 40% domestic and 60% export supply.
Indicative Average Current Log Prices – October 2021
Log Grade

 

$/tonne at mill

 

$/JAS m3 at wharf

 
Oct-21
Sep-21

Aug-21

Jul-21

Jun-21

May-21

Oct-21

Sep-21

Aug-21

Jul-21

Jun-21

May-21

 
 
 
 
 
 
 
 
 
 
 
 
 

Pruned (P40)

180-200

180-200

180-200

180-200

180-200

175-195

194-200

194-200

194-200

194-200

204-218

200-214

Structural (S30)

120-155

125-160

125-160

125-160

125-160

125-139

 
 
 
 
 
 

Structural (S20)

100-105

105-110

109

109

109

109

 
 
 
 
 
 

Export A

 
 
 
 
 
 

126

128

128

163

171

165

Export K

 
 
 
 
 
 

118

120

120

156

164

158

Export KI

 
 
 
 
 
 

114

113

113

147

154

150

Export KIS

 
 
 
 
 
 

105

104

104

137

146

142

Pulp

46

46

46

46

46

46

 
 
 
 
 
 
Note: Actual prices will vary according to regional supply/demand balances, varying cost structures and grade variation. These prices should be used as a guide only.
A longer series of these prices is available here.
---
This article is reproduced from PF Olsen's Wood Matters, with permission.