Guy Trafford tries to make sense of the falling farm gate milk price forecasts, in light of most analysts struggling with widespread uncertainty in dairy markets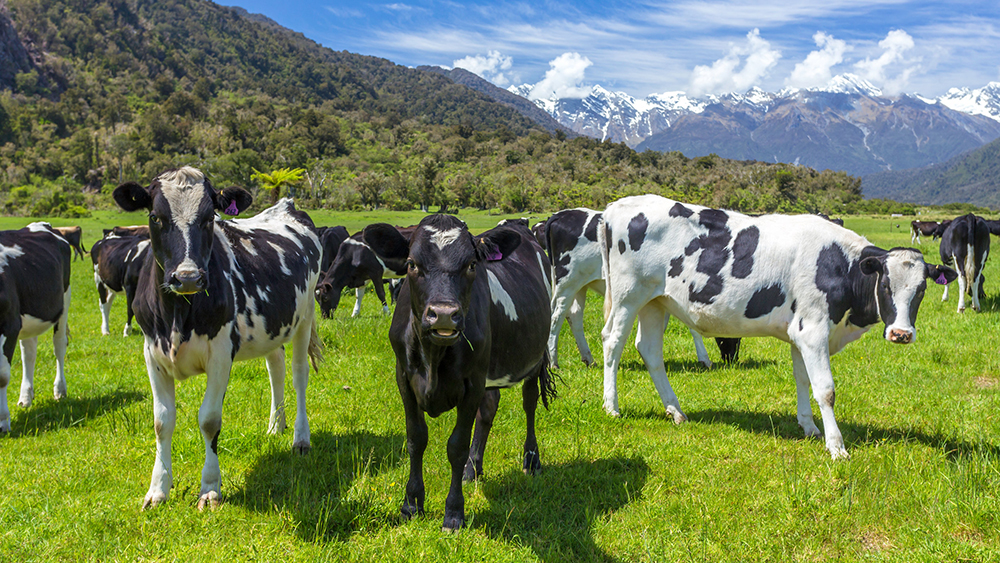 It would have come as no real surprise to those involved in the dairy industry to see Fonterra lower its forecasted farm gate payout for the 2021/22 season. With many of the larger cities in China under some form of Covid lock-down and the Russian invasion in Ukraine impacting on global trade and confidence it is perhaps surprising it didn't come earlier.
The only things that may have staved off an earlier drop has been the falling Kiwi$ (vs US$ currently at 0.6305 down from nearly 70 USc at the start of March and 72 USc back in October) and the rapidly approaching end of the season.
However, the latest fall in the GDT (an -8.5% drop overall and -6.5% for WMP) which adds on to 4 previous drops which in total now add up to -13.1% seems to have been the straw which (finally) 'broke the camel's back'. Regarding the 'protection' due to the amount of product sold forward at this late stage of the season which has been queried, I can only assume that the below footnote on Fonterra's financial statements etc which include forecasting graphs do relate to some uncertainty in what the final price achieved may be.   
1. The shipment price is a weighted average price of GDT contracts struck 1 to 5 months prior to the agreed shipment month. Shipment month is the month in which the sale would be deemed for financial reporting purposes to have been completed, and will normally be the month in which the sale is invoiced and the product is shipped.
2. The contracted shipment price is the weighted average shipment price of GDT contracts won 1 – 5 months prior on the Global Dairy Trade platform. These contracts are yet to be shipped or invoiced and the weighted average price will change closer to the actual shipment date as new contracts are written.
Still regardless of the reasons, the current season's price is still a record payout. This leads thinking to the next season.
If nothing the last two or three years have shown that uncertainty abounds, the last year also shows we have short memories. Back in October 2021 a USA site highlighted the fact that China's domestic production had increased by 7.6%. They included:
"The impact will be felt in the whole milk powder (WMP) and skim milk powder (SMP) markets. RaboResearch expects China to slow purchases and draw down its WMP and SMP stocks. Most of China's WMP and SMP imports come from Oceania. As a result, Oceania will take most of the initial pressure."
Based upon a Rabobank report it expected China's imports to fall by 18% in the second half of 2021. A lot has happened since that report was published but it does add to the clouds on the horizon regarding future milk prices which makes it seem strange that there are still plenty of bank economists forecasting into the low $9.00 for next season (although some reviewing rapidly taking place).
It would be interesting to hear what banks are telling stressed dairy clients (do they still exist?) to budget for this coming season.
Sticking with China on the mitigation side, the dairy systems there are still heavily reliant on imported feed sources and compliments of Russia these are likely to remain at or get more expensive, leaving pasture based systems with a solid competitive advantage. So, while China's production was expected to rise through 2022  it may all depend on how long the Ukraine conflict goes on for and compounded if and when climatic impacts have an influence.
Up until mid-March data was indicating that China was still importing soy and grains at high levels however, with time lags in reporting and the fast changing world this may have changed by now.
Elsewhere, dairy demand is likely to soften so the current drop in Fonterra's forecasting may be a precursor for more to come.
Back in February, Open Country offered a fixed price contract for the 2022-23 season of $9.00 kg MS to its suppliers. Fast forward a couple of months and last week ANZ reduced their forecast from $9.30 down to $8.50. For those who were able to take up the Open Country contract (with hindsight) it seems a reasonably good decision. Even if the price does exceed $9.00 a prudent operator should be happy with that price.
One thing we know is that we aren't that good at forecasting ahead and given the amount of disruption that is occurring, especially to agricultural production, it may take getting to the end of next season before we have a real understanding of what the farmgate price is going to be.