As farmers look ahead, they are leaking confidence as pressures mount from all directions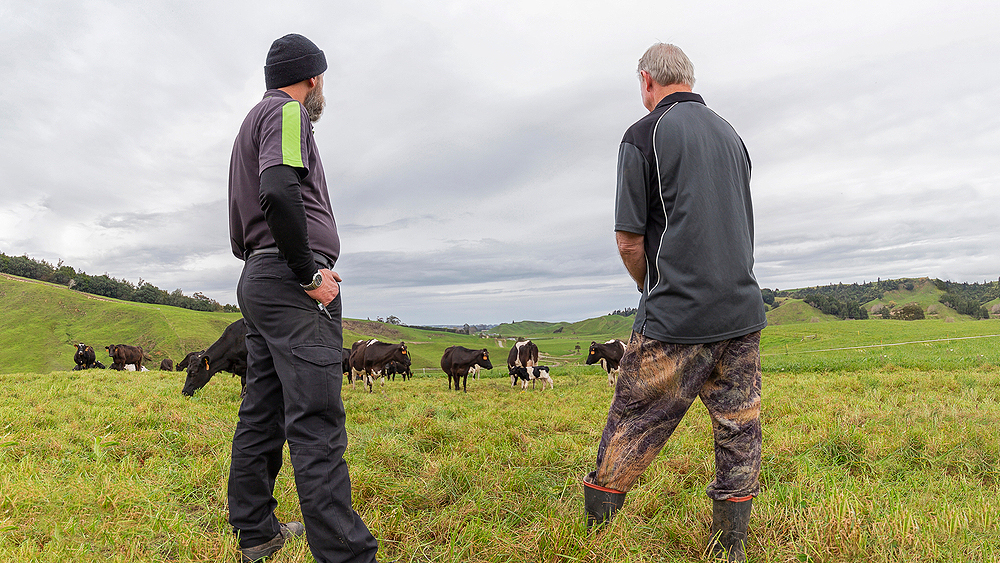 The slippery slope that global milk prices are on will do nothing to improve dairy farmers confidence. The latest Global Dairy trade auction results have shown a further drop of an average weighted drop of -5% percent and this time no redeeming factors; that is, the powders (SMP and WMP) are right up there with the rest.
Butter index down 6.1%, average price US$5,194/MT
Cheddar index down 0.7%, average price US$4,798/MT
SMP index down 5.3%, average price US$3,524/MT
WMP index down 6.1%, average price US$3,544/MT
China's continuing issues to come to grips with its COVID outbreaks are the major driver, however, the global recession coming or what we're in the midst of, or whatever else, must also be undermining economic confidence. At this stage both Westpac and ASB are sticking to their guns with forecasts for the 2022-23 season of $9.25 and $10.00 respectively. Perhaps the knowledge that with global production down there will be a positive bounce back at some point in the not-too-distant future. Let's hope they ae right.
This latest result, despite the banks optimism, will feed into the continuing fall of "farmers confidence" as revealed by the latest Federated Farmers Survey. This is the lowest level recorded since the biannual surveys first took place in 2009 and continues the trend from the January survey.
Considering the current record prices being paid to several sectors within farming some may find the results surprising with a net 47.8% of them considered current economic conditions to be bad.
Andrew Hoggard, Federated Farmers President and trade/economy spokesperson said; "Obviously inflation and supply chain disruption fallout from COVID and Russia's invasion of the Ukraine are part of it, but continued concern over the pace and direction of government reform and regulation, not to mention staff shortages, are also contributing to uncertainty and gloom". To add further deeper shades to the gloom a net 80.9% of respondents expect general economic conditions to worsen over the next 12 months, up 16.9 points on the January survey. 
The survey says farmers identified their top concerns as: Climate Change Policy & ETS; Regulation & Compliance Costs; Input Costs; and Debt, Interest, Banks. And with raised awareness of Foot and Mouth Disease in Indonesia and Malaysia, biosecurity has rocketed up the list of top concerns that farmers want the government to confront, with the others being Fiscal Policy; Economy & Business Environment; Regulation & Compliance Costs.
Perhaps reflecting the impact of rising costs, especially costs associated with fuel and fertilisers and compounded by more extreme climate, there is a net negative score (-0.05%) of farmers who expect their production to decline over the next 12 months, down 2.3 points on the January result. This is a first as despite the end results when it comes to forecasting next year's production farmers tend to be the eternal optimists.
Reading this you could be excused for thinking farm profits were taking a major hit. However, despite being down on the earlier survey this year farmers' profitability expectations haven't taken as big a hit as might have been indicated. A net 55% of respondents said they are currently making a profit - six points down on the January survey. Although, looking out over the next 12 months, a net 53.1% of respondents expect their profitability to decline, up 11.9 points on the January 2022 survey when a net 41.2% expected it to decline. It is concerning that there are as many as 45% not making a profit although this result could be influenced by how the question is asked. A tax loss can give a different result to what is happening with the bank account. Interest rate rises seem also to be impacting on the financial results with the number of farmers who are expecting debt levels to reduce to halve on the previous survey to 15.3%.
So not a rosy picture for farming at the moment, but one thing we have learnt is that in any twelve-month period, the unexpected is the norm and now more than ever. Who would have predicted the current and previous couple of years, say five years ago? At least foot and mouth disease (FMD) seems to be avoiding New Zealand, hopefully Border Control is operating effectively, as if it got into New Zealand that really would be the last straw.