Harvard University investment manager, British private equity fund leading race for Dairy Holdings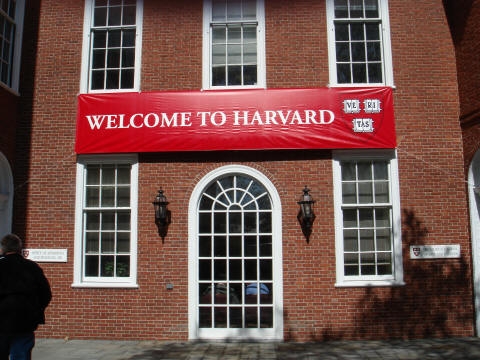 By Gareth Vaughan
Harvard University's asset manager and Terra Firma, a British private equity fund that bought a huge cattle farm off Australia's Packer family two years ago, are the leading contenders to buy an 83.3% stake in Fonterra's biggest supplier Dairy Holdings.
Interest.co.nz understands the two are front runners with Treasury being briefed on their bids this week after the deadline for indicative offers passed last week.
The Harvard Management Company has already made a significant investment in New Zealand, being joint owner with the New Zealand Superannuation Fund of the central North Island Kaingaroa forest estate. It bought the estate from receivers of the Central North Island Forest Partnership in 2003 and then sold a minority stake to the NZ Super Fund for NZ$300 million in 2006. The Harvard Management Company also bought the land and assets of Big Sky Dairy Farms in Otago last year for NZ$34.15 million.
Terra Firma, meanwhile, bought the Packer family's 90% stake in Consolidated Pastoral Company, Australia's second biggest beef producer, for A$425 million in 2009. The Packers, now headed by James after the death of his father Kerry in 2005, are among Australia's wealthiest families.
A spokesman for Terra Firma declined to comment on Dairy Holdings and a Harvard spokesman didn't respond to a request for comment.
The majority stake in Dairy Holdings is on the block following the South Canterbury Finance (SCF) receivership. SCF owns 33.59% of Dairy Holdings, which it bought off its owner Allan Hubbard for NZ$75.7 million in 2009. SCF receiver McGrathNicol has teamed up with other Dairy Holdings shareholders -  dairy magnate Alan Pye who has 20.83%, plus three US investors - Little Cow Company, Pals Plus and NZ Cow Company - who hold a combined a 24.99% stake, and Christchurch businessman Humphry Rolleston who has 3.9%, to put the 83.3% on the block.
Dairy Holdings and Fonterra director Colin Armer and his wife Dale are each listed in Companies Office records as 8.33% Dairy Holdings shareholders and don't plan to sell.
A spokeswoman for McGrathNicol managing partner Kerryn Downey said Downey wouldn't comment on the Dairy Holdings bidding process until it was "further down the track."
Overseas Investment Office approval required in election year
A bid led by either Harvard Management Company or Terra Firma would require Overseas Investment Office (OIO) approval in an area, farm ownership, that has become a hot political potato in election year. The National-led government made changes to foreign investment rules last year, including the introduction of two new measures to assess investments in sensitive land, and the opposition Labour Party is promising stricter controls on overseas purchases of farm land if it wins November's election.
China's Pengxin International Group, meanwhile, is awaiting an OIO ruling on its application to buy 16 central North Island Crafar dairy farms from their receiver KordaMentha in an application that will be closely watched by foreign Dairy Holdings bidders.
One way an overseas bidder might obtain OIO approval to buy into Dairy Holdings could be by teaming up with the NZ Super Fund.  Adrian Orr, the NZ Super Fund's CEO, told interest.co.nz last year that the fund had launched a rural land strategy and could invest between NZ$300 million and NZ$500 million through the strategy over three to five years.
Since then it has appointed FarmRight, a South Island-based dairy farming management and consultancy company, as an investment manager and bought three South Island dairy farms.
Asked yesterday about potential interest in Dairy Holdings, a NZ Super Fund spokesman said he wouldn't comment on speculation about specific potential opportunities. The fund is not allowed to control the businesses it buys into so if it did have a tilt at Dairy Holdings, the NZ Super Fund would need to partner as it did with last year's NZ$696.5 million purchase of Shell's New Zealand retail and distribution business (now Z Energy) in partnership with Infratil.
In the interview Orr also said the NZ Super Fund was looking for "big licks of big things" and could potentially buy businesses worth up to NZ$1 billion or more, with a partner.
NZ Super Fund invests in another ex-SCF asset
The NZ Super Fund has already invested in another former SCF asset. Earlier this month it emerged that it would invest in a fund controlled by private equity group, Direct Capital, that's acquiring SCF's 79.7% stake in Scales Corporation from McGrathNicol for NZ$44 million. Scales is a horticultural and primary sector processing group. Its businesses include Mr Apple, the country's biggest apple grower, packer and exporter.
Terra Firma and the Harvard Management Company, which invests with the aim of generating returns to support the educational and research objectives of Harvard University, are said to be the front runners from a range of overseas controlled parties to have kicked Dairy Holdings' tyres including Canterbury-based milk processor Synlait which is 51% owned by China's Bright Dairy & Food, and the Macquarie Group's Pastoral Fund.
Dairy Holdings' operations are run through four autonomous wholly owned subsidiary groups, Dairy Farm Holdings Ltd, Clumber Farms Ltd, Livestock Holdings Ltd and West Coast (Dairy) Ltd. For the 2010/11 dairy season, the four are operating 72 dairy farms on 14,201 effective hectares, milking 43,439 cows that will produce about 15.1 million kilograms of milk solids. Dairy Holdings has about NZ$350 million of bank debt.
This article was first published in our email for paid subscribers this morning. See here for more details and to subscribe.