Westpac economists ramp up their forecasts of Fonterra's farmgate milk price and payout for the current season in response to rapidly increasing global dairy prices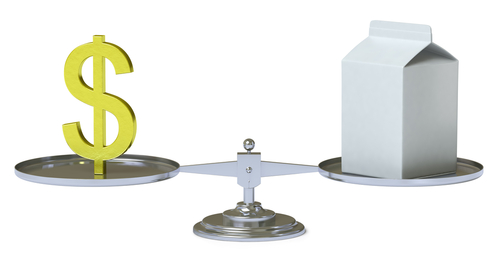 Westpac economists have sharply revised upwards their projections for both milk prices and payouts to farmers following further dramatic increases in global dairy prices overnight.
Economist Nathan Penny said the bank had revised its 2012/13 season farmgate milk price forecast from $5.65/kg to $6.10/kg, as drought coupled with strong Chinese demand continued to push GlobalDairyTrade prices skyward.  "This equates to a total payout before retentions for a fully-shared up farmer of $6.60 (previously $6.10)," he said.
Just last week Fonterra  announced an increase in its own milk payout forecast for the current season to around NZ$6.12/kg for a fully shared up farmer, up from a forecast payout range of NZ$5.90 to NZ$6.00/kg, including dividends. Fonterra's forecast was based on a higher forecast farmgate milk price of $5.80/kg (up from NZ$5.50) and a forecast dividend of 32 cents per share.
Penny said the price jumps in recent auctions  "have surprised (even shocked) us".
"Yet, prices for this season's products could still go higher over the next few auctions."  

Therefore Westpac's new 6.10/kg farmgate milk price estimate was conservative, Penny said.
"If prices stay at current levels, the farmgate milk price could go as high as $6.40/kg."

Penny said the reason the Westpac milk price forecast was 30 cents higher than Fonterra's current forecasts reflected "the dramatic price movements over the last two auctions which may not have been fully incorporated into Fonterra's forecasts". 

"With prices moving so fast a wide range of final results are possible.  We will be watching the GlobalDairyTrade auctions over the next 3 months or so - they will be critical in determining the final farmgate milk price."

Westpac has also increased its forecast farmgate milk price for the 2013/14 season by 30 cents to $6.20.  
"While we expect dairy prices to eventually settle at a lower level, underlying demand, from China in particular, remains strong.  Global supply also remains constrained this year.  Overall, the outlook for farmgate milk prices next season looks positive," Penny said.