Following the drought and with more than 80% of our fresh water flowing to the sea, plans to store more have official support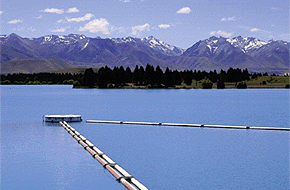 In some parts of the country, the drought conditions may be easing but it has focused policy makers on what can be done to mitigate the effects when similar conditions return in the future.
The government is committed to encouraging water storage infrastructure and is adding seed capital to a range of projects.
Here are two recent press releases that indicate the current policy direction.
Firstly, from the Government ...
Drought shows need for irrigation projects

The drought affecting much of New Zealand emphasises the need for irrigation projects to store and distribute water, says Minister for Primary Industries Nathan Guy.

After speaking to drought-affected farmers on the West Coast and the Central North Island this week, Mr Guy said water drives New Zealand's economy just as much as minerals in Australia.

"We don't have a shortage of water or rainfall in this country, we just don't have the capacity to store and use that water in dry times. We currently use for irrigation less than two percent of the water that lands on New Zealand."

"Done properly, storage and irrigation schemes can help to better allocate water to benefit both the economy and environment."

"If current proposals are advanced there could be another 420,000 hectares of irrigated land available over time. Research from NZIER suggests exports could be boosted by $4 billion a year by 2026, which would support thousands of new jobs."

"This is why the Government is investing $80 million this year into a new Crown company to act as a bridging investor for irrigation projects. This will involve short term, minority investments to help kick-start regional projects."

"In total, the Government has signaled plans to invest up to $400 million in regional-scale schemes to encourage third-party capital investment. The Government is also supporting development of suitable projects to the prospectus-ready stage through the Irrigation Acceleration Fund."

"Projects will only succeed if they are committed to good industry practice that promotes efficient water use and environmental management, particularly around land-use intensification. Irrigation projects could potentially improve the flow of some rivers in dry summer months."

"After the summer we've had, no one can dispute the importance of storing and managing our water better. The impact of drought has been felt right across New Zealand but irrigation projects could make a real difference in the future," says Mr Guy.
And from Federated Farmers ...
Government's irrigation promises offer hope to farmers

The comments from Primary Industries Minister Nathan Guy re-confirming the government's commitment to supporting large scale irrigation projects are exactly what drought-stricken farmers needed to hear, Federated Farmers national president Bruce Wills says.

"It is great to see Primary Industries Minister Nathan Guy publicly reiterating the Government's commitment to investing up to $400 million to encourage third-party capital investment in regional water storage projects to better insure farmers against droughts such as the one currently ravaging the North Island," Wills says.   

"We need these schemes because no matter how many on-farm water dams farmers build, they will never have enough capacity to see us through droughts like this one."

"It is not just farmers who will feel the effects of the prolonged dry season. The entire New Zealand economy is set to take a $2 billion hit, which will affect everyone, from all walks of life, everywhere in the country."

"Minister Guy has hit the nail on the head when he says improved water storage capacity would be good for the economy and the environment."

"Imagine the good which could be done if, through the better water allocation which water storage projects would allow, we could boost exports by $4 billion a year by 2026."

"More wealth coming into this country means more jobs and higher wages for all New Zealanders and farmers who are doing well financially have more money available to spend on environmental protection."

"Federated Farmers is delighted with these continued signals that the Government continues to see this issue as a matter of national importance," Wills concluded.