Fonterra lifts forecast milk price by another 30c to $7.80 for 2013-14 season and a total payout of $8.12 to farmers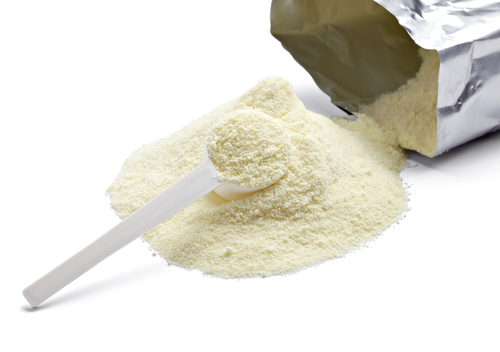 Fonterra has announced yet another lift in its forecast farmgate milk price for the 2013-14 season - by 30c to $7.80 per kilogram of milk solids.
This follows a 50c increase in the forecast price barely a month ago.
The increase – along with a previously announced estimated dividend of 32 cents per share - amounts to a forecast cash payout for farmers of $8.12.
If these returns were achieved they would be new records, beating the $7.60 price and $7.90 payout in the 2010-11 year.
ASB chief economist Nick Tuffley said the new $7.80 price, which is some $2 higher than the 2012-13 price, implied that more than $3 billion extra would be pumped into the New Zealand economy in the next year.
"Last season's milk price was $5.80/kg.  The forecast price of $7.80, combined with an estimated production increase of 2%, implies a $3.15 billion farmgate revenue increase from last season," he said.
The news is very welcome news for Fonterra and its farmer shareholders after the ongoing stresses and some international pressure coming from its recent contamination scare. And it's also very positive news for New Zealand's rapidly strengthening economy - with the higher price to pump large sums of extra money into the economy. See here for articles on Fonterra.
Chairman John Wilson said the higher forecast price reflected continuing strong international prices for dairy.
"Current market views support commodity prices remaining at historically high levels longer than previously forecasted," he said. 
"The two most recent GDT (GlobalDairyTrade) events have seen prices hold, and significant volumes sold.   These factors have contributed to our updated forecast," Wilson said.
There were a number of uncertainties "this early in the season", however, and that was why there would be no change to the current Advance Rate announced in July.
"We will provide an update on business performance when we announce our annual result on September 25,  2013," Wilson said.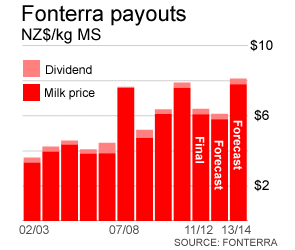 Tuffley said although there had been some fallout from the whey contamination scare, it had not been enough to have a noticeable impact on prices.  Trade disruption had also been minor to date.
"We saw the previous milk price as comfortably achievable even if global prices had moderated over the rest of the season.  This new price would also still be achievable if prices moderated slightly over the rest of the season."
Tuffley said that as a rough rule of thumb, each 10 cent change in the milk price is worth $150 million in farm-gate revenue.  The latest revision implies additional on-farm revenue of $450 million, with the combined revisions to date of 80 cents/kg worth $1.2 billion.