Federated Farmers explains why Gareth Morgan is wrong when he criticises NZ dairy farmers, points out Morgan's dairy experience is not local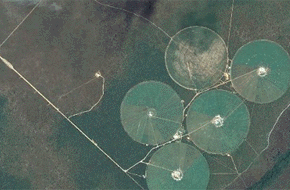 By Willy Leferink*

In Gringos Across the Amazon, Dr Gareth Morgan poetically writes:
"We cross into the south-west corner of Bahia and there, up ahead, we can see the farm, a suite of verdant green irrigation pivots standing out amidst the dry, almost arid surround of thousands of hectares of soybean stubble that shrouds this elevated plateau - a little slice of the Waikato here in the middle of the Brazilian high plains. It's a venture initiated by a bunch of Kiwis  a few years back, intended to bring the best of New Zealand dairying  techniques to this uniquely suitable bit of South American landscape".
That sounds like a big endorsement for how we farm!
You see Dr Morgan has a slice of the dairy action but its not here, no sireee, it's in Brazil.
In last October's NZ Herald, Dr Morgan took aim at our fresh milk but as one commentator replied on his blog:
"Just an FYI - if you start off with commentary that is by simple means, wrong, the rest of the commentary gets lost. Whey permeate (i.e. the stuff from the cheese manufacture) is not the same as milk permeate. One is allowed by FSANZ to be use[d] in milk, the other is not".
Dr Morgan's co-author replied citing Wikipedia. Good to see it's based on solid research then.
In that same October opinion piece, Dr Morgan said the Brazilian irrigated 'slice of the Waikato' he's involved with is getting, "a 15 percent premium in the local market ... The future of New Zealand's dairy industry should lie in quality, not quantity". 
Don't get me wrong, Dr Morgan's team has done a mint job improving the local economy in that part of Brazil.
It's fantastic to take our system globally and if he's learned something of benefit to our prosperity and our dairy industry, then please, do it here too.
In Dr Morgan's latest series of columns he generalises that our cows pee on average the equivalent of 1,000 kilograms of nitrogen per hectare, a figure that raises my eyebrow.
Readers will think "ick, it's all going into our waterways."
It isn't.
Aside from pasture taking it up as fertiliser and soils more, the potential loss pathways for nitrogen are and excuse me getting technical, to air as ammonia (direct volatilisation) or as nitrous oxide and nitrogen gas (denitrification). 
It can also enter groundwater by leaching or as part of organic compounds entering waterways as runoff.  Clearly, it's the last two of most importance to water quality while nitrous oxide is an emission.
Interestingly, Dr Morgan's Brazilian farm may use 5,500 hectares but it turns on five 56 hectare centre pivots servicing some 3,500 cows. At 12 to the hectare, versus 3.49 in Mid-Canterbury, maybe the urine of Brazilian cows is less concentrated.
It's also easy to write that our rivers are stuffed (they are not) and imply our waters are near toxic (tens of thousands over summer prove otherwise). A few weeks ago my 'Al Gore Award for Most Underreported Inconvenient Truth'went to the Ministry for the Environment's 2013 "River condition indicator Summary and key findings."
Why else would a 10-year summary get so little attention for revealing, "of the parameters we [the MfE] monitor, all are either stable or improving at most monitored sites. Four of our parameters show stable or improving trends in 90% of sites".
It frustrates me that so little sunlight is being shone on how we are dealing with water and emissions.
That's why I have extended an invitation to a NZ Herald journalist to visit my Ashburton farm. Dr Morgan is welcome too.
It would also be nice if sunlight was shone on the New Zealand Agricultural Greenhouse Gas Research Centre and our country's leadership in the Global Research Alliance on agricultural greenhouse gases.  In terms of water, there's work on-going from us farmers to universities to AgResearch and industry good bodies like DairyNZ.
I doubt Dr Morgan's Brazilian farm faces the same regulatory environment we farm under here, or groups and individuals delighting in any perceived misstep.  A Resource Management Act?  Fala sério!  I also don't think farm resource taxes or an emissions trading scheme figure on the Brazilian Government's agenda.
There are reasons why Brazil isn't an immediate threat to our dairy industry but that's for another day.
Before we get cocky, Rabobank said in 2013 that New Zealand is a high cost dairy producer despite low cost pasture feed inputs.
A lot of this is rightly driven by better environmental management but less positively by red tape. 
Rabobank said we need "to adapt to this loss of absolute competitive advantage in milk production as efficiency gains become more difficult to obtain".
In plain-English, it means Fonterra, Westland, Synlait, Open Country Cheese and others must take a Tatua/Miraka pill and discover value-add.  If Dr Morgan has the value-add answers we're keen to learn them. 
Dr Morgan would be better placed to comment if he actively farmed in New Zealand than passively half way around the world.
----------------------------------------------------------------------
Willy Leferink is Federated Farmers Dairy Chairperson