Willy Leferink explains the love-hate relationship farmers have with their banks, and why they are indispensible to farming's future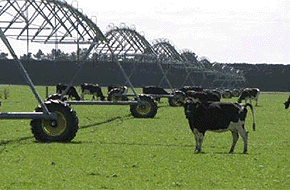 By Willy Leferink*

Just before Christmas, three of the big banks were sent a huge rocket by the Commerce Commission.
This will have them answering charges later in the year related to the alleged misselling of interest rate swaps. 
I know some of the farmers involved with swaps and they're not the sort of people who would be taken for a ride.
That leads me to suspect some were sold snake oil. If that is proven, then the banks will rightly be made to swallow some bitter medicine.
When you talk about the banks the words of a famous Dutchman called Erasmus comes to mind.  If you swap "women" out for "banks" you end up with this: "Banks, can't live with them, can't live without them".  That's got to be one of life's modern truths. 
To be fair, I've also seen their gentler side after it has tipped down with snow or rain or tipped up irrigators with wind. Then, the rural banking managers stop selling and generally pitch in to help farmers out.
This may not be altruism but it tells another modern truth; our banking system is the secret to our farming success.
While large geographically we're not vast hence why we aren't the word's largest milk producer but are number eight. We are well behind number seven and a mere drop in the pail compared to what the European Union or India produces.
Egypt and the Ukraine are both significant dairy exporters. Australia is a player along with Argentina and Uruguay. Countries well-ahead of us on volume include India, China, Russia, Pakistan and Brazil.  There's a reason why the big producers of milk struggle to export and that comes down to infrastructure, the ease of doing business and simply put, a lack of capital. 
That last point is where our banks come into their own.
Dairying is the most expensive and capital intensive major primary land use. Brazil has almost limitless potential as Gareth Morgan's slice of the Brazilian dairy industry shows.
Yet there are a shed load of alternate land uses generating adequate returns relative to the capital needed.  Even at an average GlobalDairyTrade result price, there's little incentive for Brazilian gaúchos to move past beef and cropping.  Dairy remains a craft operation meeting local needs hence why Dr Morgan's New Zealand style operation is doing so well.  
In contrast the major dairy exporters, New Zealand included, all have banks who understand dairying.
They further understand commodity cycles, animal health and what nature can hurl at you too.
Behind these farms are the processors, manufacturers and exporters who have a finite time to process and distribute what is a perishable product. I haven't even yet touched on food safety assurance systems and the years it takes to develop any semblance of a reputation. 
I imagine if you walked into a non-traditional dairy country's bank for a large loan to fund your multi-year conversion away from cocoa then you'd be shown the door.  Let alone speak of the vast sums needed to set up milk collection and processing.  
Our banking relationships did not happen overnight but they have coming together at the right time in our history.  That's why the long term growth of New Zealand dairying will come from doing things better on-farm and taking our efficient dairy expertise out into the world. 
In terms of the opportunity, the world needs global food production to grow 60-110 percent by 2050 just to keep up with demand.
That's going to be very hard when globally the average dairy farm has between two and three cows. The average herd in New Zealand is now 402. 
This is why HSBC and CNBC have both labelled dairying as one of the "rockstar" elements of the New Zealand economy.
Let our world tour begin.  
----------------------------------------------------------------------
Willy Leferink is Federated Farmers Dairy Chairperson. This article first appeared in the Asburton Guardian and is used here with permission.