Willy Leferink explains how the system punishes farmers and lets cities off similar environmental errors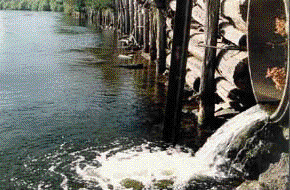 By Willy Leferink*

What would you say if a dairy farmer took full responsibility for the actions of his relief milker and copped a $45,000 fine in the process?
All the while, human and industrial effluent leaks almost daily into our major rivers and harbours with very little mention. 
Wairarapa dairy farmer Selwyn Donald accepted that as the farm owner, the buck stopped with him.
There's something wrong with a picture where a farmer or business gets pinged but council sewerage spills are either covered by "emergency discharge consents" or a slap by the wettest of wet bus tickets.
Last July, Hamilton City Council was "sentenced" after it released about the same volume of human effluent into the Waikato River as happened on Mr Donald's farm.
Did Hamilton cop the $600,000 fine the media talked about?
Did the guy at Hamilton responsible get charged just like Mr Donald did?  No way.
That was all traded down to stream restoration, planting and fencing near to where the council spill took place.  Restorative justice.
The guy fingered saw all charges "dropped" against him because Hamilton pleaded guilty.
Having been in a similar position to Mr Donald myself and I guess Hamilton, I am a big fan of restorative justice but why is its application so hit and miss under the RMA? Mr Donald pleaded guilty, just like Hamilton did, but instead of the fine going towards stream restoration and technology to prevent it reoccurring, its instead been hoovered up by the system.
I am not the only one thinking this.  Towards the end of last year, Environment Court Judge Craig Thomson posed a similar question.
In a speech, Judge Thomson called for more imaginative RMA sentencing guidelines.  While he said judges should have the power to shut down farms (and businesses) who treat RMA fines and convictions as a 'cost of doing business', he added those farmers who commit one-off unintentional breaches should have access to diversion.
Judge Thomson recognises the RMA can be as subtle as a brick through a plate glass window.  If a regional council wants to make an example of a farmer then judges seem to have little discretion.  That's why Judge Thomson said what he said.  He's probably seen occasions where being tough is more deserved, but less so, when he's got a farmer before him who's clearly not a bad egg. Criminalising good people doesn't serve the interests of justice whereas 'restorative justice' could see the value of fines put to work for the environment instead.
It is not exactly one rule for all as the three spills into Lake Wakatipu over summer show.  Nor is it one rule for all with massive EColi readings near a diving platform in Wellington or Auckland Council warning swimmers there. Our council here in Ashburton needs to seriously up its game with urban wastewater I can tell you.  If you want a laugh, apparently the central Wellington closure is due partially to "rural land" in the catchment.  The only farm I see in Wellington is the one growing regulations and that's the rub. 
Leaks of human and industrial sewerage are so prevalent they scarcely break cover until it affects a swimmer.  Even when councils get collared it's pathetic.  Last year, Wellington City Council released millions of litres of sewerage into Wellington's south coast without resource consent and yes, there was mention of a $600,000 fine (again).  The result is a Tui advert: "Council fined for pollution and the CEO prosecuted.  Yeah Right!"  Wellington's previous form includes 2011, where for 12 hours, a sewerage main was left flowing freely into the harbour.  That saw it slapped with a $750 infringement notice.  Like wow, that sends a message.
Sentencing flexibility is needed to split out the genuinely remorseful from the roosters and rogues.  We have that flexibility in all aspects of our justice system except it seems when the RMA is involved and except when it seems you are not a council.  It's time to change that. 
----------------------------------------------------------------------
Willy Leferink is Federated Farmers Dairy Chairperson. This article first appeared in the Asburton Guardian and is used here with permission.