Predicting world raw milk prices an inexact science when the experts cannot agree where they are going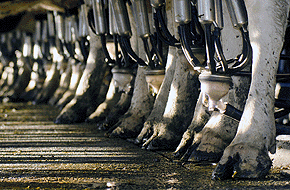 There are conflicting views around the world at present over what is likely to happen to milk prices in the coming year.  
They range from for them to remain high for the whole period to a significant drop mid year and up to 20 per cent drop by year's end.
The most recent prediction comes out of the US where the largest milk processor says milk prices will remain "elevated" this year, supported by "heavy" buying by China.
The boss of Dean Food, Greg Tanners, was warning of a potential fall into the red which sent shares in the top US dairy processor to an 18-month low.
Dean Foods is a Dallas, Texas-based food and beverage company that specializes in dairy products. The company maintains plants and distributors in the United States and the United Kingdom.
In its quarterly update, Dean Foods, which buys its milk from dairies, said raw milk prices are hitting all-time highs despite strong global production growth. That was because supplies simply were not keeping pace with global demand, and that was pushing up prices.
Tanners warned of an "increasingly challenging and unprecedented dairy commodity landscape" thanks to soaring demand from China, which was witnessing strong consumption growth at a time of "significant constriction" on its own milk output.
Since the melamine crisis in 2008, when child deaths from tainted milk tarnished the reputation of domestic supplies, "China has struggled to achieve desired growth in its own milk supply", Mr Tanner said.
Last year, "weather, disease, and regulatory changes conspired to create a full-blown supply challenge.
"Industry analysts have estimated Chinese milk production to be down anywhere from 5-15% compared to year-ago levels."
And China's milk production "is not expected to fully recover" in 2014, with the setbacks to output down to "issues that cannot be quickly reversed", the dynamics which raised prices last year will continue, Mr Tanner said.
"We expect China to remain a heavy buyer of imported dairy commodity products in 2014,"
This demand will keep "global raw milk prices elevated… especially in the first half" of the year.
The persistence of the high prices has been a surprise to some. 
Inexact science
The inexact science was shown in July last year when a Westpac economist said they had expected world prices to be 7% lower by then.
They then said increased production would be too much for world prices, which he predicted would fall more than 20% by the end of this year from their July levels.
China had been mopping up ''huge quantities'' from the internationally traded market and squeezing out many other buyers, a Rabobank report said.
Amid increasing evidence of a substantial contraction in the local supply in China, in the second quarter of 2013, it imported 27% more product than in the previous 12 months.
Pricing over the next six months would be driven by a combination of rising milk production, a delay in accumulating sufficient supply for export and the vigour of Chinese buying, Rabobank's director of dairy research New Zealand and Australia, Hayley Moynihan, said.
Global dairy commodity prices enter  2014 trading at elevated levels having been relatively range bound for the past six months, Rabobank says in its February update.
Intriguing period
This year shapes up as an intriguing period for the global dairy market.
"We entered the new year with exceptionally strong dairy prices, which are now manifest in extremely strong/record farmgate milk prices in export and import regions alike."
"Exportable supply  has been rising since September, as producers respond to improved margins brought by high milk prices and falling feed costs."
The world's biggest importer, China, continued to buy exceptionally large volumes of product from the international market to supplement falling local milk supply.
."Increased buying from this giant is likely to have soaked up most, if not all, of the increase in exports arising from key surplus regions in Q4."
"We expect 2014 to bring a further increase in China's purchases from the world market. A strong Northern Hemisphere production season, on the back of an exceptional season in the Southern Hemisphere (particularly New Zealand), is expected to generate more than enough exportable supply to exceed their additional needs in H1 2014, loosening the market somewhat eventually."
Over the course of 2014 there was likely to be a further modest easing of commodity prices.
However, Rabobank expects prices to hold around current highs before easing from H2 2014.
Strength impressive
The apparent strength in demand given such high prices and strong production growth in New Zealand was impressive, Westpac senior economist Anne Boniface said.
Westpac had nudged up its forecast of the 2013-14 milk price from $8.30 to $8.40kg ms, while Fonterra's own forecast stands at $8.30.
Westpac's forecast for 2014 and beyond relied on dairy prices falling next year, due to the expectation that global supply would increase in response to the exceptionally high prices on offer.
The New Zealand dairy season had started strongly, with nationwide production up 7.2% in the four months to September. Growth had been led by the increased production in the South Island.
However, over the back end of the season, that was expected to switch as North Island areas hit particularly hard by last summer's drought outperformed relative to last year.
Even if production dropped back to 2012 levels over the second half of the season, production would still be on course to be up more than 8%, Ms Boniface said.
BNZ senior economist Doug Steel says even though prices are very high compared to a year ago, the market is still suggesting that in the first half of next year the prices will move still higher.
"We're a little sceptical of that, we think there's going to be a lot of milk coming on stream globally, partly in response to the current high prices, and when that milk actually arrives maybe prices start ticking downwards, certainly by the end of the year, next year, we think prices will be lower than they are now."