Commerce Commission gives farmer buyers of bank interest rate swaps until the end of the month to air concerns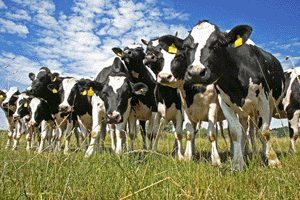 The Commerce Commission says any farmers concerned about the way interest rate swaps were sold to them by banks need to come forward by May 30 if they want their concerns heard.
The consumer watchdog has been investigating the alleged mis-selling of interest rate swaps to farmers by ANZ, ASB and Westpac between 2005 and 2009 since the middle of 2012. It says it has received a "significant number" of complaints from rural customers of these banks.
"We want to ensure that we have received information from all potentially affected customers before we take next steps in this investigation," Commission Chairman Mark Berry said.
"We cannot be confident that any compensation sought in Court or that may otherwise be available will be obtainable for customers who have not made contact with us. We need rural customers to come forward and provide information that supports their position, if they want it to be taken into account. We now want to give those who have not been prepared to come forward one further chance to do so," Berry added.
He said all affected customers, of any of the three banks, should contact the Commission before May 30 if they want their concerns considered.
"Customers can complete the questionnaire on the Commission's website, or can call the Commission's contact centre on 0800 943 600."
The Commission says it's not yet clear how much money farmers lost as a result of the alleged conduct by banks.
"We will be seeking further information from the banks to reach a view on the scale of the alleged loss or harm potentially suffered by individual farmers."
The Commission says it has received "over 140" complaints and contacts concerning the sale of swaps.
Here's some background provided by the Commerce Commission

Interest rate swaps are a financial derivative product that allows a borrower to manage the interest rate exposure on their borrowing. They were typically provided to large corporate and institutional customers, but from 2005 were offered by various banks to rural customers throughout New Zealand.

On 17 December 2013, the Commerce Commission announced that it has advised three major New Zealand banks (ANZ, ASB and Westpac), that it intended to issue legal proceedings over their sales of interest rate swap contracts to rural customers.

In April 2014, the Commission announced it anticipated making a further announcement mid-year, once it has furthered discussions with each bank about the information it holds and any possible resolution of the Commission's concerns.

The Commission has entered into a 'standstill agreement' with each bank meaning there will be no barrier to any proceedings brought by the Commission as a result of taking this extra time.

More information about the interest rate swaps case can be found at - http://www.comcom.govt.nz/fair-trading/interest-rate-swaps-2/