The new President of Fed Farmers compares current science with the "romanticised ideal of past farming practices" and finds it is the urban critics who are in denial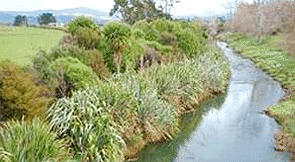 By William Rolleston*

Being the new President of Federated Farmers I want to ensure our discussions are informed by the facts no matter how unpalatable they may be.
But facts in isolation do not always paint the whole picture.
If we are to be truly informed, we need to look at all the available information and place it in context.
That is why I must ask if the perception of farming's impact on the environment is justified by the factual reality.
Some will say our dairy industry has led to 'cowmageddon,' which is unsurprising, given the weight of coverage about dairy cattle numbers, irrigation and a host of dairy issues.
With the finger pointed farming's way, the Green Party claims "more than 60 percent of our monitored river sites are too polluted to swim in."
This number was recently used in a Dominion Post editorial, which saw Guy Beatson, the Ministry for the Environment's Deputy Secretary Policy write in rebuke: "You repeat a fiction that ''a report has concluded that 60 percent of the country's rivers are unsafe for swimming ... Our analysis shows that more than half of the monitoring sites are within 2km of urban areas. Ninety per cent are within 10km. In other words, most monitoring occurs on large rivers near towns. Around 60 per cent of monitored sites may be considered poor or very poor for swimming, but these monitored sites are not representative and should not be scaled up to make conclusions about the health risk in all of New Zealand's waters".
Let me clear that water quality issues related to farming exist but the primary industries are not in a state of denial.
As Lake Rotorua has shown there has been an amazing proactivity.
Where a problem exists and we have a share of the responsibility, our industries are into solutions boots and all.
I have experienced this first hand near where I farm, which has, in a very short space of time, assimilated and understood the problem and initiated a smart way forward.
The common reference point for talking water is NIWA's National Rivers Network, which has used consistent measures since 1989 across 77 sites.  It represents the most comprehensive snapshot of water quality we have.
If the thesis of deteriorating water and dairy cattle is solid, then NIWA's data should reflect that.  Instead, NIWA's National Rivers Network tells us that we are largely treading water, neither going forwards or backwards, despite a major increase in dairy cattle numbers; around 900,000 in the five years to May 2013 alone.
Is stable a good enough outcome?  Frankly, no it is not. 
DairyNZ has given us the past five years of NIWA data to May 2013 and it shows that Nitrate levels are stable in 87 percent of the national rivers network.  The six percent of the sites which deteriorated was balanced by the six percent which improved.
In areas of major dairy expansion we are seeing trends that are not positive, especially with Nitrates.
Then again, the newly minted National Policy Statement for Freshwater Management is designed to arrest the decline of freshwater water quality.
This seminal policy involves the input of more than 60 freshwater scientists and most importantly, represents the first time such a policy has existed.  Instead of perception, the numeric values involved in the National Policy Statement are based upon evidence.
The NIWA data shows that across five major indicators – Total Nitrogen, Ammoniacal Nitrogen, Dissolved Reactive Phosphorus, Total Phosphorus and e. coli – 78 to 95 percent of rivers had remained stable with the balance improving or deteriorating in equal measure.  The exceptions being Ammoniacal Nitrogen and e.coli, as the table below indicates.
TABLE: NIWA National Rivers Network site trends in 7 indicators over the last five years (June 2008-May 2013):
per cent
Nitrate Nitrogen
(NO3-N)
Total
Ammoniacal Nitrogen
(NH4-N)
Total Nitrogen
Dissolved
Reactive Phosphorus
Total
Phosphorus
     Clarity
     E~coli
NS
87
78
88
95
92
95
96
Improving
6
3
4
3
4
5
0
Deteriorating
6
19
8
3
4
0
4
Source: DairyNZ
 
 
 
 
 
 
The ending of direct discharge of effluent into rivers some years ago and more recently, a focus on riparian management, is recognised as making a significant impact on halting the decline of phosphorus and bacteria in our waterways. 
DairyNZ scientists have also plotted the excreted nitrogen load, or Nex, for each livestock type using the New Zealand Greenhouse Gas Inventory.
When put against StatisticsNZ data for the past 22-years to 2011, DairyNZ found the total Nitrogen load to land from farmed animals increased by seven percent.
While dairy cattle numbers have doubled, we have seen the numbers of sheep plummet with a sharp fall in beef cattle too. This 'swings and roundabouts' helps to explain why the annual Nitrogen load to land increased from 1.45 million tonnes in 1990 to reach 1.56 million tonnes in 2011. 
While the overall Nitrogen load has increased by a modest seven percent, it seems at odds with the claim and counterclaim involving intensification and change of land use.
Have we allowed perception to become reality?
Alternatively, does it show a romanticised ideal of past farming practices to be just that, a romanticised ideal? 
With science increasingly informing better farm practice and farmers taking on the challenge of water quality, we have a responsibility to move away from sweeping generalisations to better frame our discussion around water.
---------------------------------------------
Dr William Rolleston is the new President of Federated Farmers