William Rolleston sees farming seems under attack from most political parties in this election, with claims aimed at a gullible urban audience but disconnected from the facts on the land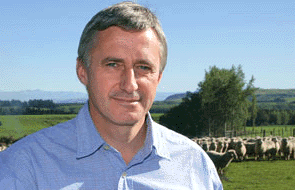 By William Rolleston*
I am perhaps not alone in thinking that this has been the most repelling yet compelling election for some decades.
The only election which came close was the 2002 Corngate election.
At the centre of that election was a book "Seeds of Distrust".
A bombshell dropped only weeks before the election which alleged a government cover-up of a crop containing genetically modified seeds. 
Like now, any discussion of policies and issues gave way to the suspicion the Prime Minister was donkey deep in a conspiracy.
Like now, it appeared to be an attempt to push the vote to the hard left.
Sound familiar?
It should, since at the heart was author Nicky Hager.
The Corngate enquiry, run by the politicians through the Local Government and Environment Select Committee, concluded that there was no ministerial interference in the decisions made by officials.
Added to this election is the regrettable phenomenon of hate politics introduced by the mob at Internet Mana meetings.  This sort of politics does not belong in New Zealand but gone are the days of a contest of ideas as we have been driven more towards a Presidential style. 
Federated Farmers has long said that it doesn't matter who is in the government so long as they agree with us.
For this election it is clear that many parties do not agree with Federated Farmers. 
As farmers go into the ballot box, they ought to be aware of the negative effect that capital gains taxes or resource rentals like water and nitrogen taxes would have upon farming.  Let alone financial penalties on our world leading carbon efficient livestock industry through a carbon tax or ETS.
There is more as the unions push to return labour relations to 1978, with a return to national collective bargaining, national awards and almost certainly, compulsory workplace representation.
What we are seeing is a wholesale rejection of the post-1984 economic consensus.
While National and its allies on the centre-right stick to the low intervention, open economy script, every other party, including potential kingmakers like NZ First and the Maori Party, favour hands-on Government that typified New Zealand up to 1984.
This is an economic prescription that very few people under the age of 40 will have any recollection of.  What is old has become new again.
As a country we are now in unchartered political waters, yet water, the environment, health and safety and the future of agricultural science, are major issues for farming. 
A few weeks ago, the National Party's released an intention to regulate dairy stock exclusion.  It also comes at a time when the water quality of New Zealand's water bodies is generally stable to improving.
The implication, wrongly I must add, is that the Sustainable Dairying: Water Accord has failed when it has been an outstanding success.
The risk of jumping to compulsion is that it sends the message, "why volunteer, if you'll just end up being regulated?"  As it stands livestock have been excluded from 23,000 kilometres of waterways. 
The effort involved is enough to fence from Auckland to Beijing and back again, with an extension to Queenstown. Last year we'd hit 90 percent of the target with 100 percent stock exclusion to be achieved by 31 May 2017.
The farmer investment?  DairyNZ estimates this at between $100 and $200 million.  It begs this question, why regulate?
Having thought about the other part of the policy release, a $100 million fund to retire farmland, it would be perhaps better to reinterpret this policy as creating on-farm wetlands.
The Greens Dr Russel Norman has used DairyNZ figures to say the fund would only be sufficient to buy 400 rugby fields a year, meaning 777 fewer cows. After consulting DairyNZ's excellent economics team, we've arrived at a very different conclusion.
If you are talking prime farmland then $10 million a year would potentially purchase 286 hectares of prime dairy land. If 286 hectares were instead turned into wetlands, then you'd remove 60-70 percent of Nitrogen from around 9,500 hectares of farmland. This is based on the market price of $35,000 a hectare when it would likely be much less lower, given land suitable for wetlands isn't exactly prime. 
If this is targeted in sensitive catchments then you are potentially looking at a massive gain for a relatively small loss of farmland. There is also a mechanism to provide a legal home for any wetlands created; QEII National Trust covenants.
Maintaining and improving water quality is definitely achievable when added to work going into improving nutrient use efficiency on-farm and the goal of increasing farm productivity.  It is also a model that can be scaled up for other primary land uses showing the way that policy informed by science, and not fear or dogma, is the way ahead.
Before each election, Federated Farmers publishes its own Manifesto and the 2014 version will be available from fedfarm.org.nz next Wednesday. With voting now open in Decision 2014 please check out the farmer prescription and compare it to what the political parties are offering.
My message? Vote for farming.
----------------------------------------------------
Dr William Rolleston is the new President of Federated Farmers.