Finance Minister, who just visited China, says 'perfect storm' has created huge milk powder stockpiles in warehouses in China; dairy prices may not pick up until late this this year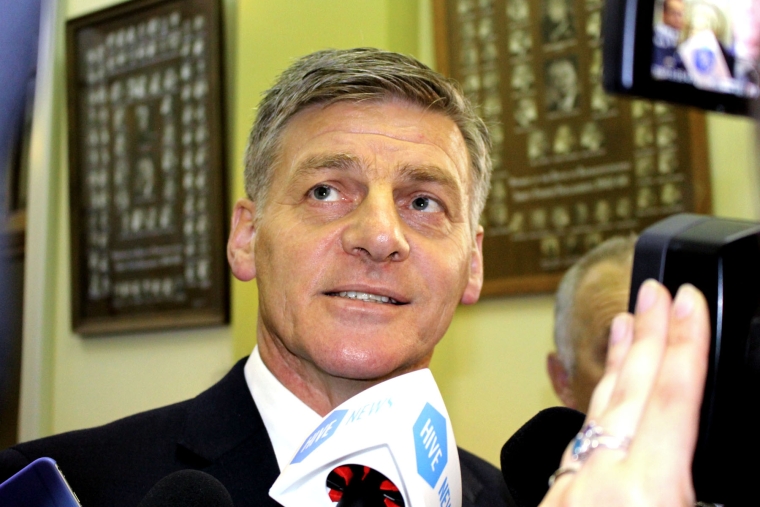 By Lynn Grieveson
Finance Minister Bill English has warned that a perfect storm of supply has created 'mountains of milk powder' stockpiles in China that could delay an expected recovery in global dairy prices until the end of 2015, but that the rebound was a 'matter of when not if'.
English made the comments to reporters in Parliament after returning from a week's trip to China, including to the western and south-western provincial cities of Chonqing, Chengdu and Xining.
He said he had seen a range of estimates about how long it would take for dairy prices to recover, "from picking up in the next few months to staying flat through to Christmas."
"I don't think there's much doubt that they are going to pick up, it's just a matter of when and how fast. But I see in the last couple of weeks the US Department of Agriculture increased its estimate of what stocks were being held in China and it appears there's been almost literally a mountain of milk powder in warehouses around China - more than people thought," English said.
"So that might take a bit longer to work through. I haven't seen any estimate that it would take years to clean up, but the way it has been described to me is that there's been a perfect storm of excess milk supply influenced by events in Russia and Europe and China and New Zealand and Australia, and that's led to these prices that I think everyone regards as too low for the health of the dairy industry, whether it's here, in China or in Europe," he said.
"But it's going to take some time for those prices to pick up."
He said he had not personally seen the warehouses full of milk powder.
"It's just that the more recent estimates have indicated that there's a bigger build up of inventory in China than might have been expected and that could have been one of the explanations of the recent price drop. I did get a view over there, including from some of our Chinese competitors, that they think the price must be somewhere near the bottom," he said.
English said consumer demand in China was in good shape.
"Even if investment is dropping off a bit in China, consumers have still got rising incomes - in fact, their incomes are rising quite a bit faster than here - and they want quality products and New Zealand is clearly identified as a source of high quality food," he said.
Still room for tax cuts? Or bring them forward?
English was then asked if the chances of tax cuts foreshadowed for 2017 were still realistic, given the dairy price slump and slower economic growth.
"We've signalled in the Budget that we've got some fiscal room for that in 2017. Over the next six months there'll be some different re-forecasts of future revenues and we have yet to see how that will pan out," English said.
"But the government's in a better state to handle that than some of the farming and farm services industries which are going to be reasonably hard hit over the next 12 months."
English said the Government had not considered bringing forward tax cuts to boost the economy.
"We haven't considered that, and the economy's still moving along in the 2% to 3% growth range and we haven't seen reason to change our view on that," he said.
Cheaper dairy farms?
English said he was also not concerned about the slump in dairy prices hitting farm values and triggering an influx of bargain hunting investors from China buying cheap dairy farms.
"Farm prices have proven to be surprisingly resilient in the face of the drop in prices and reduced confidence, although we are probably likely to go through a period where the number of farm sales drops right off because that's what happened last time we went through this. And then the price may find a new level," he said.
"I think you would find there's a lot of investors who would not be as interested in farmland now because of the view that it's probably pretty over...pretty well-priced. It doesn't have a lot of opportunity for capital gain. But there will still be interest from people who take a positive long term view of the dairy industry, and that's certainly our view."
Chinese concern at 'harder edged' tone of foreign buyer debate
English was then asked if Chinese officials had raised concerns about Labour's revelation on July 11 of data showing people with Chinese-sounding names bought 39.5% of homes through Barfoot and Thompson in Auckland from February to April.
He said the issue was not raised by officials in formal talks, but was talked about informally.
"There was a bit of background comment. Not so much about whether it is an issue, because all around the world there's issues about the rise in prices of houses in our big cities and in a number of places dicussions about the role of Chinese buyers in that. But there were a few comments about the tone, that it seemed more hard-edged than in most places," English said.
He denied having to do damage control.
"All I am saying is that it wasn't raised with me officially and I wouldn't have expected it to be, but unofficially it was raised. Not so much the novelty of having a go at Chinese buyers, but just that the tone of it seemed a bit stronger than usual. There was a bit of concern at the tone," he said.
He also denied trying to discourage Chinese investment in New Zealand residential property.
"We welcome investment that is going to lift our economy but I certainly wasn't there marketing our real estate as an investment opportunity," he said.
Hunting corrupt officials?
English said the Chinese Government's push to hunt down corrupt officials in other countries was raised in official meetings, but individuals were not mentioned.
"Part of a lot of the official meetings was the impact of the Chinese government's drive to reduce corruption," he said.
"With respect to how that effects New Zealand, one of the requirements that is being passed at the moment is that people open a bank account in New Zealand and when they open a bank account they have to go through the anti- money laundering processes, so it would have the affect of filtering out any inflows of cash related to corrupt activity or activity that people wanted hidden as they won't be able to hide."
Opposition reaction
Labour Finance Spokesman Grant Robertson said the Government had failed to diversify the economy after six and a half years in power.
"That's recklessly complacent of Bill English," Robertson said of the Finance Minister's reassurance of a rebound.
"They were warned that there would be a global dairy glut at least 18 months ago and they failed to respond to that. This is not just about the farmers themselves, who are doing it tough. It's about the regional towns and communities around those farmers who are now looking at billions of dollars gone from their economy," he said.
(Updated with reaction from Grant Robertson)