ANZ economists see 'some casualties' from a likely correction in dairy farm prices this spring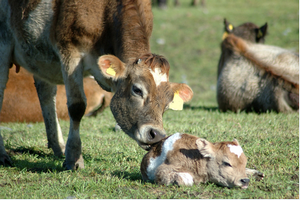 It's no longer a question of whether dairy farm prices fall, but how far the fall might be, economists at ANZ say.
In their latest Agri Focus report ANZ economists Cameron Bagrie, Con Williams and Mark Smith say there's a high likelihood a correction is in the wind this spring for dairy-aligned property, with the 10% to 20% increase in prices over the past couple of years likely to "quickly come out of the market."
"The question in the rural property market is no longer whether dairy-aligned land values will fall, but rather how large the fall might be," the ANZ economists say.
ANZ is the country's biggest rural lender having disclosed in June $11.3 billion of dairy exposure, down from $13.1 billion in 2010.
"There's a high likelihood a correction is in the wind this spring for dairy-aligned property. Total property turnover remains not too far off the long-term average and the price per hectare has pushed through the $30,000 mark for the first time ever. However, recent anecdotal reports are highlighting that large scale dairying operations are struggling to attract buyers, while second tier or distressed properties are receiving discounted offers. Smaller grazing and finishing blocks still appear to be attracting good buyer interest and prices though," Bagrie, Williams and Smith say.
Earlier this month Fonterra cut its farmgate milk price forecast for the current season by $1.40 to $3.85 per kilogram of milksolids, and is offering farmers interest free loans to help them through the tough times. Dairy NZ estimates the average farmer needs a milk price of $5.40 to breakeven.
Fonterra's lowered milk price forecast comes with prices having fallen in its last 10 consecutive GlobalDairyTrade auctions with the milk powder price down 32% in the last three auctions. 
"The extent of financial pressure that is now going to be placed upon the sector over at least the next two years from back-to-back low farmgate milk prices means there are going to be some casualties and a correction in land values," the ANZ economists say.
"The real test is likely to come this spring given continued downward pressure on international milk prices and forecast estimates for farmgate prices in 2015/16. Most farmers are expected to hunker down and focus on their existing businesses rather than expand in a period that is going to stretch even the best businesses in the industry."
They go on to say the 10% to 20% price increase over the past couple of years is likely to "quickly" come out of the market.
"We wouldn't rule out something larger but are mindful of key legs of support," the ANZ economists add.
These include historically low interest rates, a bigger pool of buyers than pre-2008 including foreign investors and domestic equity investors from outside the sector, productivity and cost efficiency improvements, low inflationary pressure, and the "shock absorbers" of  falling interest rates and a weakening NZ dollar.