Economists say further dairy supply cutbacks and increased demand from China are needed to pull prices out of the dumps; ASB calls for Fonterra to provide evidence it's cutting production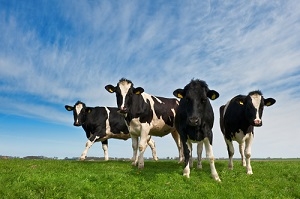 Fonterra reducing supply to the GlobalDairyTrade (GDT) auction is helping pull prices out of the dumps… just.
The latest fortnightly GDT auction overnight saw the GDT trade weighted index rise an impressive 14.8% to US$1,974 per tonne.
The price increase is the first since the March 3 auction, and breaks a 10-auction falling streak.
The price of New Zealand's key export, whole milk powder (WMP), rose 19.1%, while skim milk powder (SMP) rose 8.5%. Anhydrous milk fat rose most significantly by 26.6%.
A matter of supply/demand
ANZ Agri Economist Con Williams says, "Fonterra's strategy of changing its product mix and constraining supply sold via GDT seems to have at last found some price traction".
He says lower supply, as well as increased purchasing from China, are key to driving prices back up.
"Both have shown tentative signs of heading in the right direction in recent weeks, but further movement will be required to provide a sustained rally", he says.
Fonterra has decrease its total WMP supply for the next 12 months by 19% (91,400 tonnes) over the last two auctions, with much of the recent reduction front-loaded.
"To provide perspective the change is equivalent to nearly twice the US annual exports and one quarter of Europe's", says Williams.
Fonterra last week announced it would cut the amount of WMP it sells on the GDT by a third over the next year.
The NZX's AgriHQ dairy analyst Susan Kilsby recognises this reduction was the trigger required to turn market sentiment, but says global dairy markets remain over supplied.
"Until global milk supply slows the market will remain very volatile", she says.
What's really happening with production?
For this reason, ASB rural economist Nathan Penny says we need to see evidence production is heading down, before we can be confident prices will keep inching up.
He says we need to see hard data from Fonterra, affirming it is in fact tracking to reduce production by 2% this season. ASB maintains the drop will realistically be closer to 1%.
"Expectations and forecasts only go so far – we need to see less milk on the ground here in NZ", Penny says.
"Farmers have culled stock heavily so far this year, and are poised to cull further over the next few months, which 'should' translate into lower milk production particularly from later in spring."
Agreeing with Kilsby, Penny says we need to see broader production falls globally.
"Often NZ farmers respond faster than their global counterparts. European production is down 0.6% so far this year compared to last, but the recent quota removal means further falls are not guaranteed."
Where to from here?
Last night's auction results have sparked economists to change their forecast milk prices for the season.
AgriHQ has increased its 2015-16 Farmgate Milk Price to $3.85/kg of milk solids (MS), in line with Fonterra's 2015-16 milk price forecast.
Kilsby says, "Fonterra's milk price forecast is now looking achievable. Dairy commodity prices need to continue to track upwards in line with NZX Dairy Derivatives market projections in order to reach the current forecast price."
The NZX Dairy Derivatives market indicates whole milk powder prices will increase by a further 45% by the end of the season. This price projection is built into the AgriHQ 2015-16 Farmgate Milk Price of $3.85/kg MS.
ASB has stuck with what it acknowledges is a "relatively optimistic" forecast of $4.50/kg MS.
However Penny notes this doesn't alter the medium-term picture materially, as ASB now expects a more gradual recovery and has lowered its 2016/17 forecast to $6.50/kg MS.
"We expect the prices to recover much of the preceding three auction's lost ground. But from there, further lifts become more difficult," he says.
ANZ says last night's price rebound reduces the downside risk to Fonterra's latest milk price forecast.
It has accordingly removed the downside risk to its 2015/16 milk price forecast, moving back to a $3.75-$4.00/kg MS range.
Williams says milk powder prices need to head back toward US$2,200/t to deliver Fonterra's $3.85/kg MS.
Futures market activity
Westpac senior market strategist, Imre Speizer, notes futures markets in particular, had pre-empted a positive auction result.
"Contracts started rising after the Fonterra volume announcement, and closed yesterday implying gains of between 8% and 34% across the future delivery months", he says.
"If anything, futures markets appeared to under-predict the nearby months and over-predict the more distant months."
"The futures market is expecting another strong result at the next auction on 1 September."
One a slightly different note, Speizer also points out there was a material increase in the number of participating buyers in last night's auction, suggesting low prices have prompted some buyers into action.
"Around 29% of 621 qualified bidders participated – the largest proportion since September 2014. And among this auction's participants, only 77% were successful bidders for product, suggesting stronger competition than at the previous two auctions where 96% and 93% of bids were filled," he says.