The Weekly Dairy Report: Earthquake farmers battle on as auction lifts again after volumes offered fall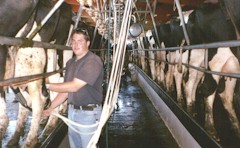 More rain last week in the central parts of the island as the medium term feed conditions look good, but deeper soil profiles in the drought areas are still very dry.
South Canterbury and North Otago report that a lack of warmth and sun has held back stock growth, while the rest of Canterbury is starting to harvest the surplus grass.
Southland reports silage making is a month ahead of the norm, and the South Island dairy regions are compensating for the big wet in the North Island, and helping keep production slightly ahead of last year on September DCANZ milk flow figures.
Some Waikato farmers report they are 20% back in milk flows at present from last year, and analysts forecast annual results could be 10% back from this big dairy region.
Fonterra has reported most farms in North Canterbury has had their milk picked up after the earthquake, although Kaikoura dairy farmers will have to dump vats into effluent ponds, until the road reopens.
The rural community have rallied around helping those with no sheds, water and infrastructure issues by sharing resources and battling on, as they can only do in the face of such devastation.
Most of the AB mating has now concluded with bulls now covering the balance of the herd. Managers will be checking submission rates and getting vet help to stimulate non ovulating animals.
Reports out of the West Coast suggest 20% of the farmers are in financial trouble and there are too many farms on the market to list and evaluate what the true market value really is.
Criticism is building about Westland Milk Products past performance. The new CEO and to be appointed chairman of the board, will need a quick financial improvement to rebuild the confidence of shareholders.
The overnight auction brought pleasing market news as the index rose by 4.5%, and whole milk powders another 3.2%, on top of the last events big rise.
While some criticise NZ's dairy sector processing too many commodity type products, one analyst reminded the market that no one in the dairy world other than this country, stores WMP, and this may be one reason for its rapid rise
Volumes at auction were down 14% on the last event and strong interest came from Chinese buyers who were keen to ensure supply shortages were not going to affect them.
MPI have won an appeal against the well publicised bobby calf abuser and achieved a prison term that reflects the severity of the offence.
Following the positive auction results, more banks have improved their milk forecasts. BNZ has joined ASB in predicting a $6 payout for this year and some are saying Fonterra may upgrade near this before Christmas.
A2 Milk has been reporting very good growth in sales in Australia and China, as some in NZ believe this country has been slow to utilise the marketing opportunity of this different product.