RBNZ expects LVRs to shave up to 4 percentage points off house price inflation and lower bank lending to property investors by as much as 40%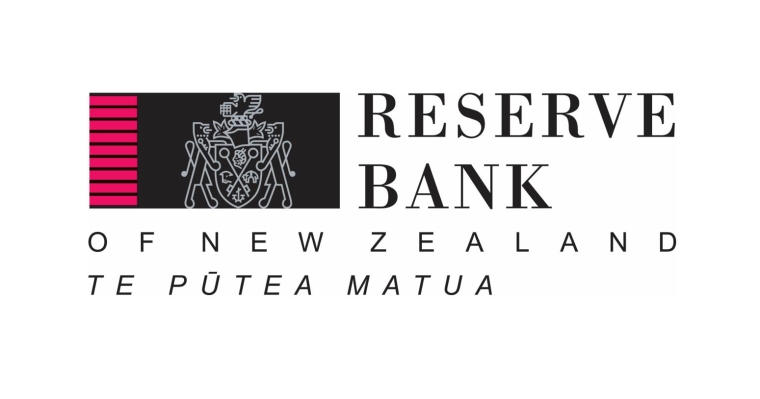 The Reserve Bank (RBNZ) estimates the reintroduction of high loan-to-value ratio (LVR) restrictions will shave between one and four percentage points off house price inflation over the next year.
So, if house prices were to increase by say 20% without LVR restrictions, they might increase by between 16% and 19% with LVR restrictions in place.
The RBNZ included these estimates, based on research it did in 2018, in its just-published Regulatory Impact Assessment on the reinstatement of LVR restrictions.
The RBNZ last week announced that from March 1, at least 80% of new bank lending to owner-occupiers will need to go to borrowers with deposits of at least 20%.
Meanwhile, at least 95% of new bank lending to residential property investors will need to go to borrowers with deposits of at least 30%.
From May 1, this minimum for investors will be bumped up to 40% - a tougher restriction than was in place before the RBNZ removed LVR restrictions from May 2020.
The RBNZ said that while LVRs should dampen house price growth over about a year, addressing longer-term pressures on the housing market are beyond the scope of its macro-prudential tools.
The RBNZ stressed it's reinstating LVR restrictions to support financial stability, not cool the housing market.
Keeping LVRs in place could've reduced investor lending by 15%
The RBNZ expected LVR restrictions to have the greatest impact on investors.
Had it not removed restrictions last year, it believed bank lending to investors could've been 15% lower. Had the tougher 40% deposit requirement been in place, it estimated lending could've been 40% lower.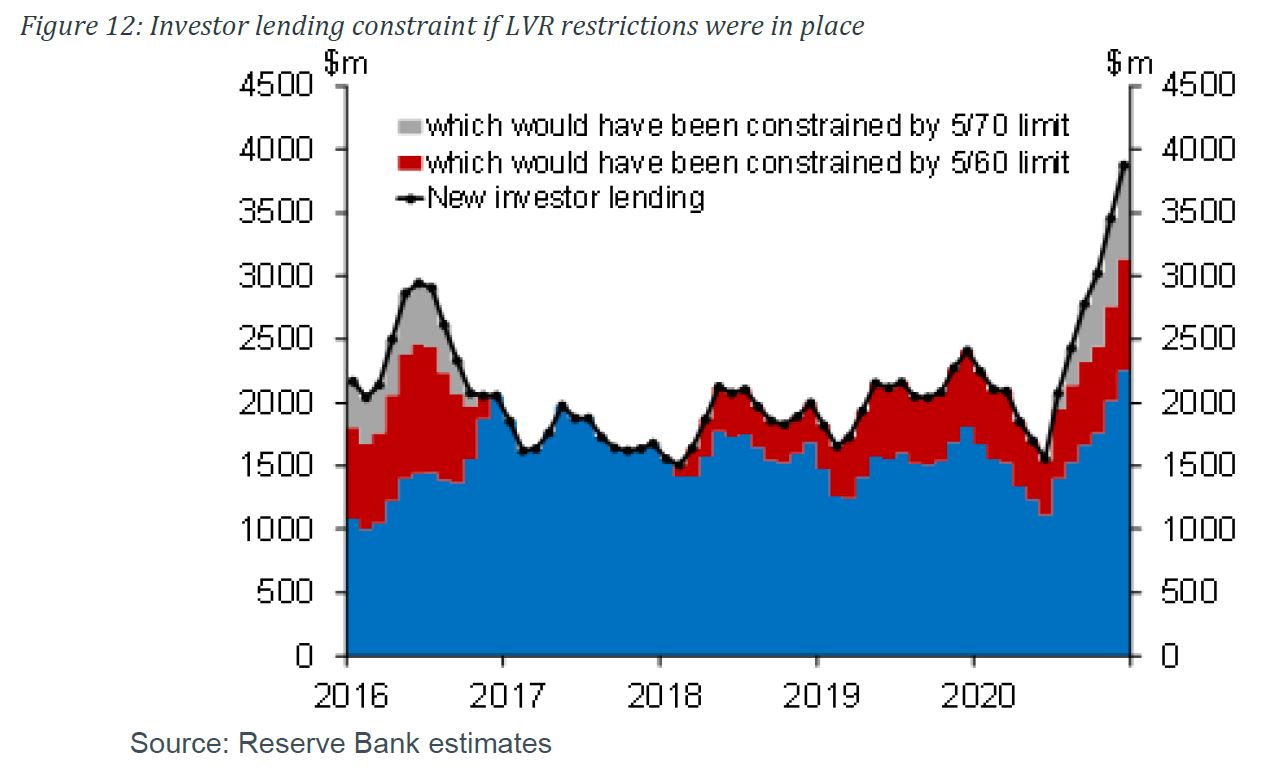 The RBNZ cautioned: "This is likely to be an over estimate of the true impact, since some lending would have moved to 'compliant' LVR buckets (e.g. via investors increasing cash deposits and/or purchasing less expensive properties) and some lending would have been exempt from the restrictions.
"However, it gives an indication of the potential impact of reinstating LVR restrictions on investor lending flows going forward."
Looking at changes to high-risk lending, the share of investor lending to borrowers with deposits of less than 30% increased to 35% after LVR restrictions were removed last year, from around 15% (see the increase of the grey area in the graph below).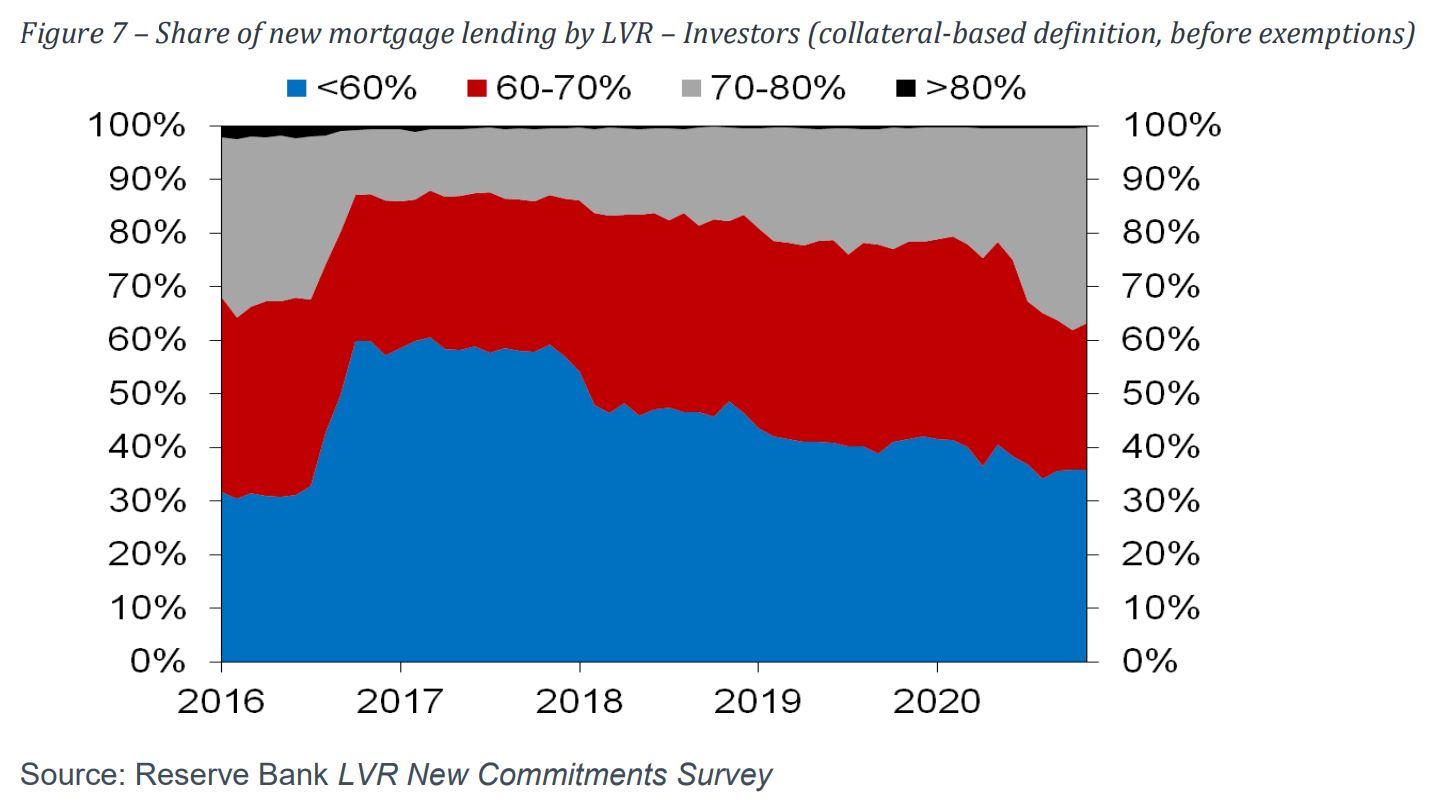 Owner-occupiers relatively unaffected
The RBNZ expected the reinstatement of LVR restrictions to have no effect on owner-occupiers.
It noted banks generally kept within previous limits without being required to do so by their regulator.
It said reimposing restrictions would keep the level of high-LVR, or high-risk, lending to owner-occupiers stable.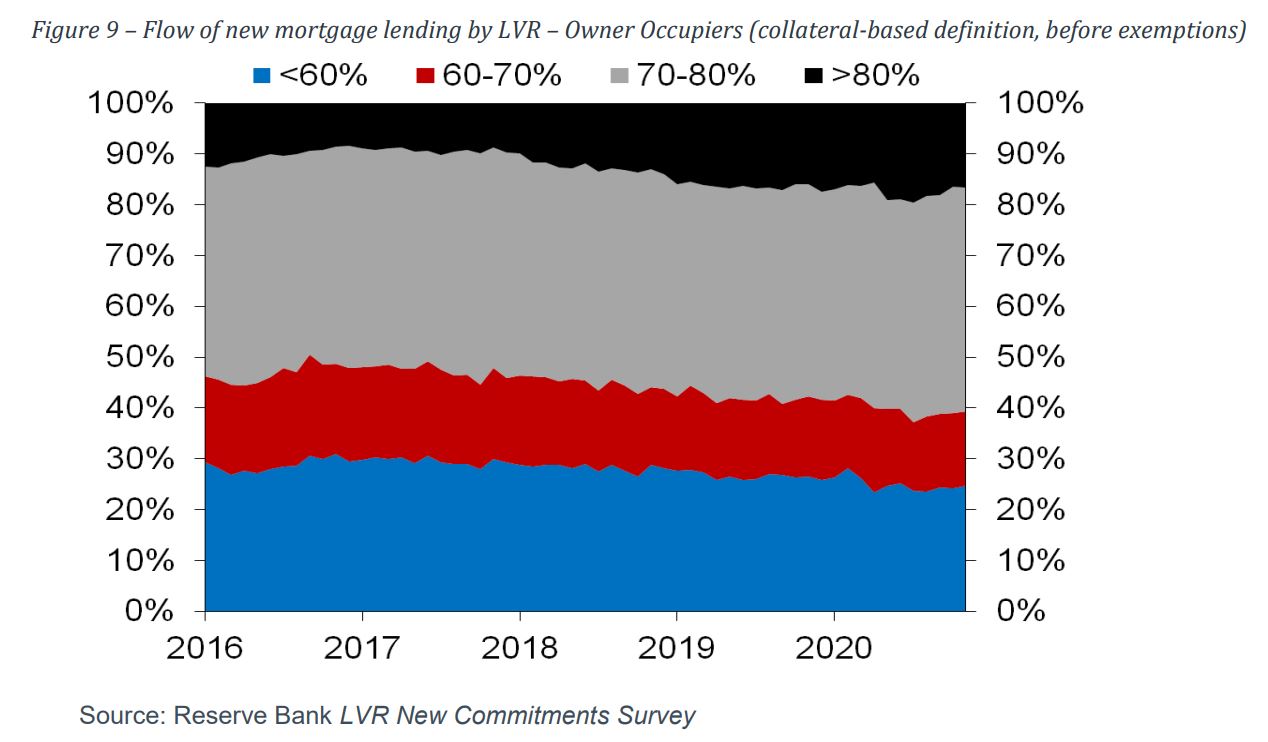 First-home buyers don't need exemptions 
The RBNZ noted that during its consultation some submitters requested looser LVR restrictions for first-home buyers.
It overlooked this suggestion, pointing out first-home buyers already make up the majority of the 20% of owner-occupier lending banks are allowed to provide to borrowers with deposits of less than 20%.
The RBNZ worried this portion would grow, increasing risks to financial stability, if there was a first-home buyer exemption.
What's more, it noted there are already exemptions for new builds and Kāinga Ora's First Home Loans scheme, which enables eligible first-home buyers to secure loans with small deposits.
Investors pose the highest risk
The RBNZ summarised its position: "We are concerned at the recent rapid rise in house price inflation combined with growth in high-LVR lending, particularly to investors.
"If these trends continue, there is an increasing risk of a sharp correction in the housing market, which could be exacerbated by a 'fire sale' dynamic whereby highly leveraged borrowers default and/or sell property to raise capital, driving prices down further.
"International evidence suggests that highly-leveraged investors - particularly 'late stage' entrants to the property market - play an outsize role in both the 'boom' and 'bust' phases of housing market cycles.
"These developments also need to be considered against the background of continued economic uncertainty due to COVID-19. While New Zealand's economy is currently performing much better than expected, if there were another outbreak of the virus requiring further lockdowns, the situation could deteriorate quickly - putting highly leveraged borrowers under significant financial pressure.
"We also note that in the absence of LVR restrictions, competitive dynamics could drive banks with more conservative lending policies to relax these in order to maintain market share, leading to a self-reinforcing cycle of increased risk.
"Prior to our announcement in November that we would be consulting on reinstating LVR restrictions, we saw divergence between banks with some banks remaining within the previous speed limits while others significantly increased their high-LVR lending shares."
Banks can justify reining themselves in if their competitors are made to do the same
The RBNZ said all respondents to its consultation supported reinstating LVR restrictions in some form (aside from one submitter whose view was unclear).
Around half of respondents said restrictions on investors should be tougher than the restrictions that were in place last year.
RBNZ Deputy Governor Geoff Bascand, at a Finance and Expenditure Committee meeting last week, told Members of Parliament he didn't regret removing LVR restrictions last year.
The RBNZ reiterated its thinking in its Regulatory Impact Assessment: "The removal aimed to ensure that banks continued to provide support to borrowers against a backdrop of uncertainty, and continued to provide access to credit for credit-worthy borrowers.
"Moreover, lifting the LVR restrictions removed a risk these might discourage banks from offering mortgage deferrals to their customers."
*This article was first published in our email for paying subscribers. See here for more details and how to subscribe.