Consultation document for next stage of Reserve Bank Act review gives clear signals that some form of formal protection for bank depositors is likely to be introduced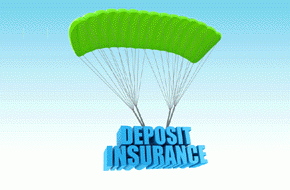 By David Hargreaves
Well, it's supposedly all about the Reserve Bank, but perhaps the most long-lasting consequences of the current Government-led review of the Reserve Bank Act will be felt by the commercial banks themselves and their customers.
Phase 2 of the review was officially kicked off on Thursday with the release of a consultation document and other supporting background papers. Public submissions are now open till January 25, 2019.
As we are at the consultation stage there's no firm conclusions drawn in any of the literature - but it's clear at this stage that some form of deposit protection, probably via deposit insurance - is being favoured.
The consultation document points out that almost all advanced countries provide depositor protection of some sort, most often through insurance, also sometimes with a preference. It says deposit insurance is part of the Financial Stability Board's Key Standards for Sound Financial Systems, which recommends a limited (i.e. capped) insurance scheme "to maintain financial stability by protecting depositors and preventing bank runs".
New Zealand and Israel are the only OECD countries without depositor protection, and Israel has indicated that it will introduce deposit insurance.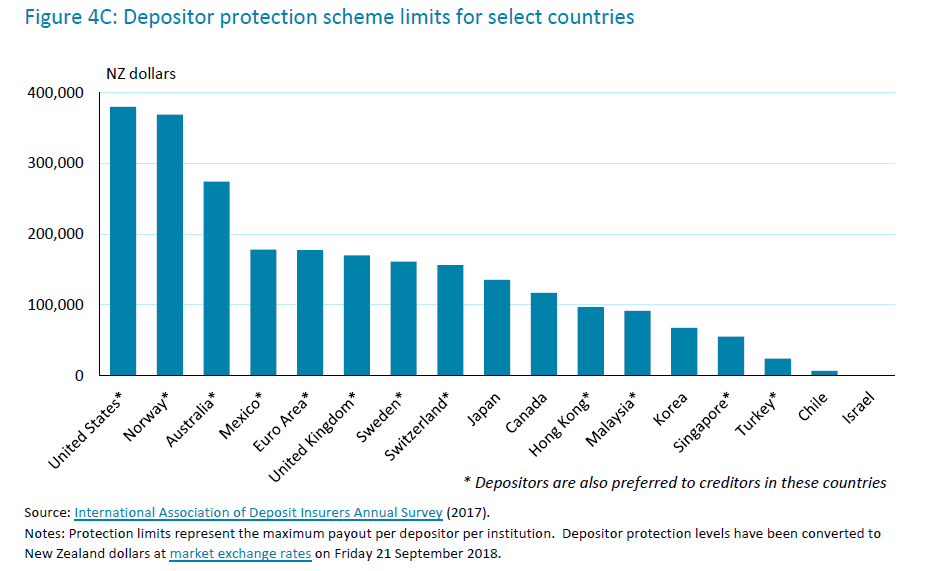 In the 2016/17 Financial Sector Assessment Program (FSAP), the IMF recommended that New Zealand reconsider the merits of deposit insurance, and that if it were not adopted a small level of depositor protection should be provided in Open Bank Resolution (OBR).
And two of the main local critics of deposit insurance, the Reserve Bank itself and the National Party, have softened their opposition in recent times. Reserve Bank Governor Adrian Orr told interest.co.nz in April deposit protection, or deposit insurance, was "something that's going to be here in the future." And National's finance spokeswoman Amy Adams has said depositor protection is an issue "worth looking at."
The document says most New Zealanders understand deposits to be low-risk investments (see Figure 4B), but the fact that they are not 'no risk' investments may be less well understood.
"Banks that take deposits (and the New Zealanders who have deposits with them) are exposed to special risks arising from the way banks manage and invest savers' funds."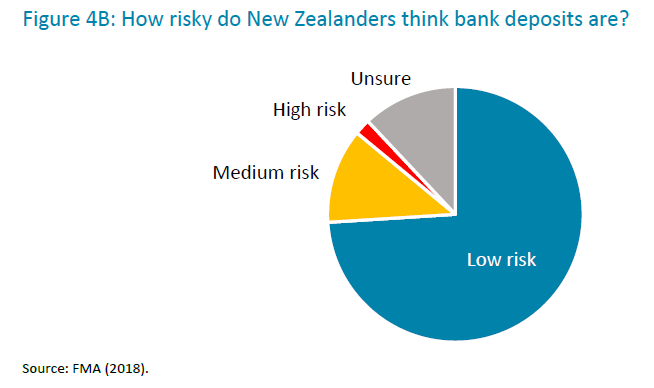 The document says without protection, depositors are treated like any general bank creditor. With protection, they have better financial outcomes than other creditors.
"Keeping depositors safe from loss (up to a limit) after a failure can only be achieved by shifting losses onto someone else. This kind of special treatment for protected bank depositors may be motivated by several public policy objectives that reflect the unique nature of depositors as investors and deposits as investments."
The objectives include preventing bank customers from loss and mitigating bank instability and wider economic costs of failure.
"These objectives present important choices and trade-offs for the design of any depositor protection scheme – for example, what protection limit should apply, and what account types and institutions should be covered?
"An insurance limit that protects most New Zealand depositors from loss (around $10,000 would protect 80% of people with deposits) may not be enough to shore-up depositor confidence in times of stress and prevent bank runs and contagion; many protection schemes proved inadequate in preventing distress during the GFC.
"The increased coverage limits ($100-300,000) that many countries have since adopted might promote depositor confidence, but could cause unintended consequences for financial stability and, if called on, generate payout costs so high that they are infeasible unless backstopped by the Government." 
The document cites three main approaches to depositor protection around the world, namely:
the status quo in New Zealand, with no formal protection,
protecting depositors 'with a preference', which would mean some or all of protected depositors' claims on a bank would be paid out before the claims of other general creditors and,
protecting depositors with insurance, which would pay eligible depositors up to a pre-set maximum or 'coverage limit'.
Core principles
The document doesn't go into depth on potential "design details" for any insurance scheme, but notes there are 16 international core principles of insurance scheme design (International Association of Deposit Insurers, 2014). And it says four in particular provide a guide to the design of a potential insurance scheme:
Membership in a deposit insurance system should be compulsory for all banks (and other deposit-taking institutions).
The deposit insurer is able to reimburse most insured depositors quickly (ideally within seven working days, a condition that many countries do not meet but are working towards. New Zealand would be well placed to address this challenge, as the OBR policy has already pre-positioned a possible payout mechanism for most banks).
The insurer should be part of a broader crisis management framework (including resolution tools) that provides for the early detection of, and timely intervention in, troubled banks.
Insurance coverage should be limited (i.e. up to a pre-announced set level), be credible, and cover the large majority of depositors, but leave a meaningful value of deposits at risk.
"The final point may be feasible because many deposit accounts are low in value, leaving a minority of high-value accounts holding a substantial share of total deposits (in New Zealand's case, around 80% of all accounts hold under $10,000, but these make up only around 6% of deposits by value). The last two points are designed to make a bail-in of a failed bank's owners and other creditors a feasible way to limit the costs faced by the insurance fund (or the taxpayers backing it). This again illustrates how resolution and depositor protection are interrelated." 
The document concedes that depositor protection has an inherent trade-off.
'Moral hazard'
"On the one hand, it can reduce the severity and impact of a single bank's failure on its depositors, the financial system, and the economy. On the other, it may encourage poor behaviour. This is because depositor protection, like any insurance arrangement, can distort the incentives and behaviour of those who benefit from it. Reducing depositors' incentives to run may also reduce their incentives to monitor and manage risks properly. At the same time, banks shielded from deposit runs may have less incentive to act prudently.
"This is known as 'moral hazard', and can give rise to excessive risk-taking by protected depositors (who may invest in less financially sound banks than otherwise) and their banks (which may invest in higher-risk ventures). The risk of moral hazard when protecting depositors is particularly acute where bank supervision is not very intense or intrusive, as in New Zealand. If not carefully managed, moral hazard could mean that depositor protection put in place to help in times of crisis also causes a build-up of risks during normal times that crystallise a crisis."
The document points to the experience here with the Crown Deposit Guarantee Scheme as an example of moral hazard "allowing troubled and unviable investment firms to grow their insured deposit bases before ultimately failing".
"Depositor protection does not need to be explicit to create moral hazard.
"Depositors, bank managers, and New Zealanders more broadly may expect a CDGS in another crisis, which could be limiting their incentives to act prudently now.
"As with any insurance-type scheme, depositor protection can alter the magnitude, distribution, and timing of the risks and costs of failure. The impact and costs of depositor protection will probably extend far beyond depositors."
Timely review
The document says it is timely to review New Zealand's depositor protection framework.
"This consultation is the first stage of that review. Whether deposit protection achieves the policy objectives and/or generates the costs outlined above depends on scheme design and context, so any recommendations that result from this consultation would be subject to detailed design work." 
In the document the three options, that is, the status quo, a 'preference' system, or a deposit insurance system, are compared. The deposit insurance idea ticks the most boxes in terms of protecting the depositor, but the consultation document does point out that this approach carries risks, including:
Insurance could create the most moral hazard of all three options. By shifting costs externally, insurance could cross-subsidise riskier firms and investments (particularly at smaller banks subject to less-intensive supervision).
Any insurance scheme would require careful design to mitigate moral hazard and support the incentives of non-deposit stakeholders to monitor risks.
For a one-off bank failure, deposit insurance could enhance the credibility of resolution options that impose losses on creditors (e.g. OBR, bail-in), particularly if accompanied by depositor preference.
If multiple banks are failing at the same time, deposit insurance could be very costly, increasing the risk of a taxpayer-funded bail-out of the banking system. This risk is reduced if insurance is accompanied by depositor preference.
*This article was first published in our email for paying subscribers early on Friday morning. See here for more details and how to subscribe.