With the Reserve Bank starting to run out of room to further cut interest rates, ANZ economists are calling for the central bank to soon unveil what its plans are for 'unconventional' monetary policy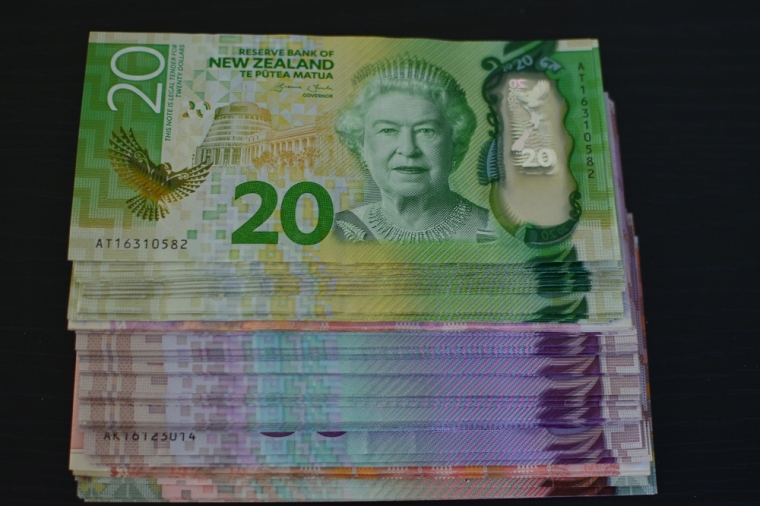 ANZ economists are calling for the Reserve Bank to clearly lay out as soon as possible what its plans are for 'unconventional' monetary policy, as the limits of interest rate cuts start to approach.
When releasing its latest Monetary Policy Statement (and slashing the Official Cash rate by 50 basis points) on Wednesday the RBNZ indicated it was well advanced with plans for the so-called unconventional monetary policy that could be activated as the limits of OCR cuts are reached. 
But the RBNZ wouldn't outline at this stage what it was specifically looking to deploy.
ANZ economist Michael Callaghan and FX/rates strategist Sandeep Parekh say a communicated strategy for potential unconventional policy is needed.
"Let's hope that a possible plan for unconventional monetary policy is shared publicly soon, so that financial market participants and households can be confident of a smooth rollout of extra stimulus. And with the recent cut to 1%, and an even lower OCR widely expected, the clock is ticking," they say. 
Callaghan and Parekh say there are several unconventional policy options that the RBNZ could take, which were included in an earlier publication they had produced on the subject and which are also included in the table below.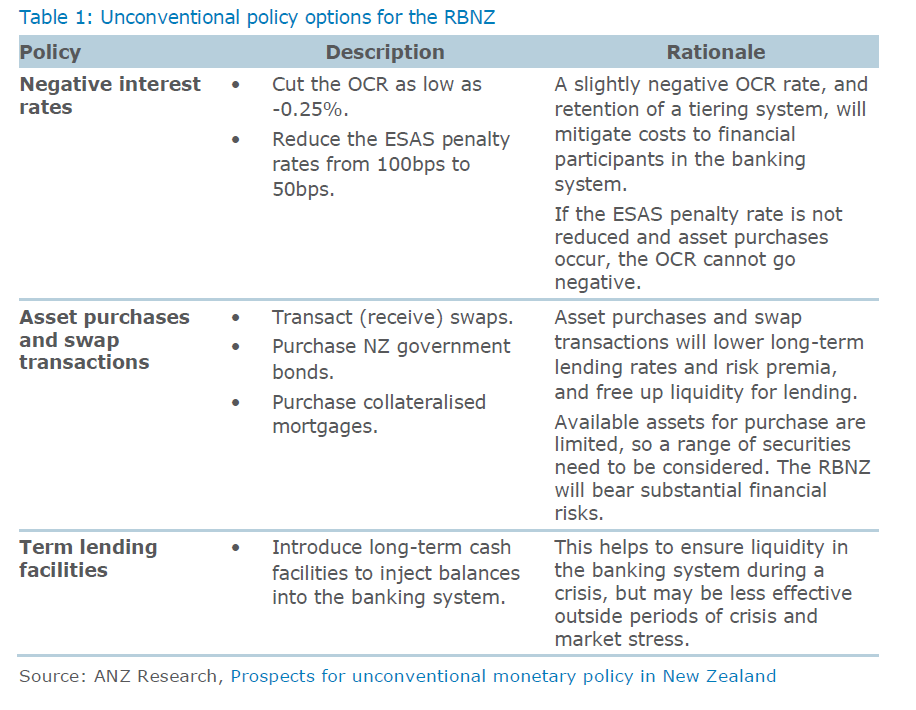 "There are also several challenges that the RBNZ will need to navigate and address, including risks to the central bank balance sheet, the consequences of a deterioration in bank profitability, and an impairment in market functioning," the economists said.
Callaghan and Parekh said the effectiveness of monetary policy will diminish as interest rates move lower from here.
"Although the RBNZ has claimed that monetary policy is just as effective at low interest rates, they also noted in the August MPS that recent transmission from the OCR to bank funding costs had been dampened by upward pressure on deposit rates (as banks try to retain deposit funding).
"Bank funding cost pressures will only intensify as the OCR falls from here, so there is a risk that monetary policy effectiveness does diminish as the OCR approaches, and potentially goes through, 0%. That said, there are multiple channels through which monetary policy operates – the effects of further easing on the NZD, wholesale (rather than bank) lending rates, and inflation expectations channels are also important."
The two economists noted that the RBNZ had this week quietly made a technical move that stopped New Zealand having its first negative interest rate.
They said the RBNZ "quietly repriced" a key standing facility that it has.
The repricing of the RBNZ's Bond Lending Facility (from 150bp under OCR to 100bp under OCR), prevented it trading at negative interest rates once the 50 basis point cut to the OCR had been made.
"This repricing sees the RBNZ and the NZ banking system avoid a negative interest rate for now, but not if we see any more OCR reductions. We are forecasting a 25bp cut in November and see downside risk beyond that."
And the economists say should unconventional policies like quantitative easing be adopted, they would expect the RBNZ to consider repricing the suite of its standing facilities and adjust the credit tier system.
"Otherwise, with the banking system flooded with excess cash, market overnight interest rates would start trading closer to the ESAS [Exchange Settlement Account System] penalty rate than the OCR."
Callaghan and Parekh say, however, that the "quick fix" the RBNZ made by repricing the key standing facility doesn't mean that New Zealand rates are currently immune to negative rates.
On Wednesday the September 2025 inflation-indexed government bond traded at a yield of 0.00%, "tantalisingly close to being the first New Zealand market rate to trade at a negative yield".