Adrian Orr concedes the RBNZ is risking doing too much too soon with its OCR hikes - rather than risking too little too late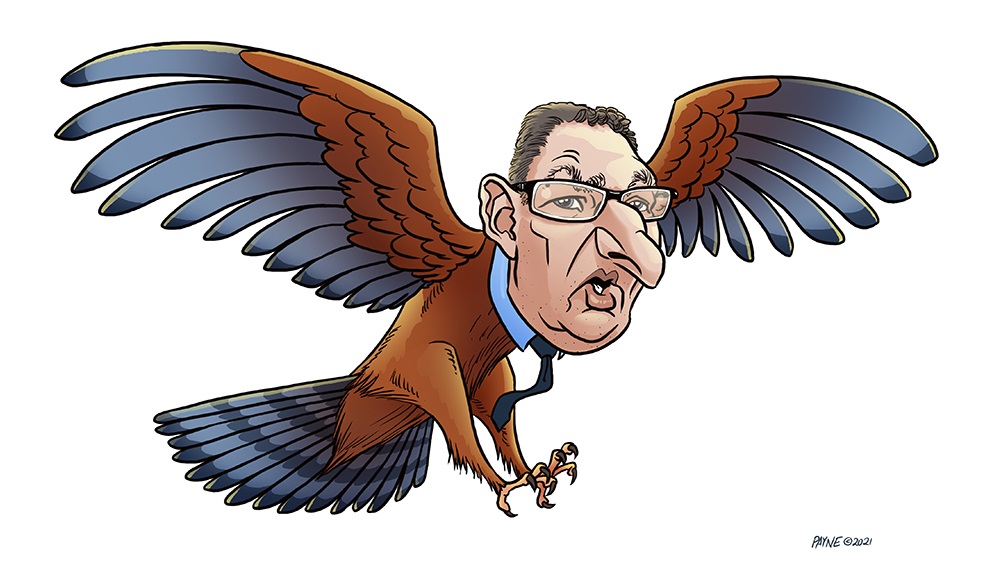 The transformation of Reserve Bank Governor Adrian Orr from snow white 'dove' to the aggressive 'hawk' we are now seeing is nothing short of startling.
All it needed was a little - well, a lot of - inflation.
I think many doubted that this was a Governor that would pin the ears back and just target inflation, inflation, inflation. They were wrong. Right now that's the only thing the Governor is aiming at.
"We are in a different world now," he said on Wednesday, as he talked about the need to get inflation expectations (which have been rising along with real inflation) down. 
And he concedes by aggressively hiking interest rates the central bank is now risking doing too much too soon - rather than risking having done too little too late.
For the RBNZ it's a credibility issue. People need to believe it can get inflation back into its target band mandate of 1% to 3%. 
In its latest Monetary Policy Statement the central bank is picking inflation to peak at 7% in June (it was 6.9% in March) and it now sees inflation getting back under 3% again by December of 2023 - so about a year and a half away.
The 50 point rise in the Official Cash Rate on Wednesday was seen as pretty much inevitable (notwithstanding the fact that's a big rise). But the RBNZ still managed to blow the markets out of the water with the projections for FUTURE rises. 
A projected 3.4% OCR by as soon as December (which would be the highest level since early 2015) is serious stuff.
"We are confident this is our best foot forward to provide sufficient restraint on demand to smooth pace that back to matching supply and seeing inflation return to normal." Orr said.
He thinks that the projected path of the OCR up to nearly 4% by next June "is the best path that we can follow to achieve our mandate".
Orr has spoken a lot about a 'least regrets approach'. And that came to the fore again.
"At least try to steer away from the worst possible outcomes. For us at the moment that least regrets would be to have done too little too late and at that point inflation expectations are just continuously rising and the task of putting inflation back to within its range becomes incredibly costly.
"So that's why we have erred to risking doing too much too soon rather than risking doing too little too late.
"I use the words least regrets. There's a regret at both of those ends, but it's around what would you most prefer to avoid."
Asked about whether there was a chance the aggressive OCR tightening that's been signalled risks tipping the country into recession, Orr said the RBNZ was "doing what is necessary with the information at hand and with our remit as it stands".
"We don't project negative [economic] growth in any of the quarters in the period ahead.
"I would say that without doubt we need to slow the growth in demand until it is better aligned with the ability to supply that demand. In the absence of that, inflation will keep going higher."
Additionally the RBNZ "are very confident" households can cope with the forthcoming interest rate rises.
Orr appeared to accept that mortgage rates were likely to be at least 6% as the OCR continued to rise.
He said such rates had only been what the banks have been testing their prospective mortgage customers at over the past 12 to 18 months anyway.
"Of course there will need to be some belt tightening."
The RBNZ has previously indicated it sees a 'neutral' OCR as being about 2%, which is of course where it has now risen to. The perceived 'neutral' rate means that at that rate monetary policy is neither stimulatory nor tight, but just, neutral.
Asked about where he saw the current OCR level, Orr said: "We would say the monetary conditions and financial conditions as a whole are now at least neutral, if not tightening.
"Why do I say that? Because the actual interest rates that people receive are significantly above the Official Cash Rate. What are we doing today? We are just confirming where market pricing had already got to.
"And I think that's an important thing that people need to remember and it is that market pricing is largely where we have said we are today. So while it may surprise some commentators it wouldn't be surprising, the pricing, in that sense. 
On the RBNZ's projected decline in house prices of 15% from the peak of the recent housing boom to a likely trough by 2024, Orr said this was "mild and benign relative to where they have come from".
Asked about the RBNZ's projections of future GDP growth among NZ's trading partners of in excess of 3%, Orr conceded there was a huge band of uncertainty. 
"China in particular is so important to us and that is a nation that is going through significant Covid challenges at present - as well as then the broader geopolitical issues that we are seeing globally. It is a risk variable. I don't see the risk of it suddenly proving to be a lot stronger. It's a risk for us around that China concentration of trade."