PM says decision on Solid Energy's future due from next week; banks in control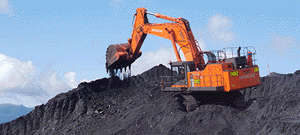 By Bernard Hickey
State-owned coal miner Solid Energy could be put into receivership by its bankers from next week, Prime Minister John Key has told his weekly post-cabinet news conference.
"It's in a precarious position. Quite a bit of work is happening behind the scenes to see what the next step in the process is. We're conscious of a number of stakeholders, firstly those that work for Solid Energy. You've got a number of creditors, including some small ones, and finally you've got the interests of the banks," Key said.
"We've made it clear to the banks that they need to sort the situation out," he said.
"The Government and the board are working with the banks on what the next steps might be."
Solid Energy owes about NZ$300 million to ANZ, ASB's parent Commonwealth Bank of Australia, BNZ, Westpac and the Bank of Tokyo-Mitsubishi.
Earlier this year TSB wrote off its entire $53.9 million exposure to Solid Energy, which was through bonds issued by the SOE. The bulk of lending from the other five banks is via unsecured loans due to be repaid or refinanced in September next year.
Cabinet had discussed the issue earlier on Monday and had ruled out any form of equity capital injection or government guaranteed loan, but was looking at other unspecified options in discussions with the banks, Key said.
"Because the banks control the process, in a way it's a call for them to make about what the next step is. Liquidation isn't the number one preferred option of the Government, because liquidation is where the company ceases trading, the assets would be boarded up and the assets would be sold to repay the creditors, and there are other options which would find more favour with the Government, but the call is one that would be made by the bankers, because it is essentially their debt," he said when asked if a decision would be made imminently.
He later said a decision was not likely this week, "but potentially in a few weeks."
"They are the holders of the debt and therefore they eventually have the legal rights to recover their debts or work out a plan that will allow them to recover their debts. And they are leading the process, but the Crown obviously is an interested participant and also actively engaged in those conversations," Key said.
Key said the Government was not planning to put in more capital or more financial support, "but support could be in other forms or other ways."
He later ruled out a Government guarantee.
Solid Energy said in March it needed a bank debt restructure, even with coal prices around US$100/tonne, and was only sustainable with prices up over US$120/tonne. Prices have fallen since then to US$85-90/tonne. See our earlier article here.
Another loan?
Asked if the Government was considering another loan, he said: "The government injected a significant amount of capital into Solid Energy some time ago. I don't think it is looking to inject more. That doesn't mean there can't be other ways that the government could assist, but we need to work our way through that."
Key said he was not aware of any foreign buyers looking to buy the Stockton mine, which produces coking coal for steel mills in India and is seen as a potentially valuable asset, along with Solid Energy Huntly mines, which sell steaming coal to Fonterra and others.
"The least preferred option is liquidation but I can't rule out that at some point in the future that happens. It might happen if all the other things fall over," he said.
Already been two bailouts
In October 2013 the Government announced a debt restructuring deal for Solid Energy, including a contribution of up to $155 million from taxpayers. Then in September 2014 Solid Energy effectively received a second taxpayer funded bailout with the Government agreeing to cover Solid Energy's NZ$103 million land remediation obligations so the company didn't fall into negative equity in its annual financial accounts. 
In the 2013 restructure Solid Energy's lenders took a combined NZ$75 million haircut with a chunk of their loans impaired and converted to redeemable preference shares. The Bank of Tokyo-Mitsubishi unsuccessfully tried to block the debt restructure, which was supported by the other banks, in the High Court. It had NZ$16.3 million of its NZ$80 million loan converted into redeemable preference shares.
KPMG last year suggested the Solid Energy debt restructure reverberated far more widely than almost any other banking sector event in recent years, arguing it appeared to have changed a long-standing assumption that a SOE has an implicit government guarantee.
(Updated with more detail, background)