Roger J Kerr outlines why our short term interest rates will rise over the next 12 to 18 months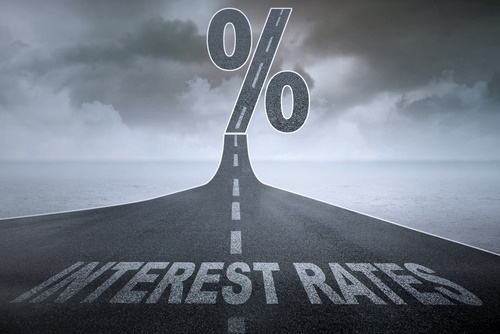 By Roger J Kerr
Two factors must eventually drag our short-term interest rates higher over the next 12 to 18 months, as I will outline.
A steepening interest rate yield curve:
Long term interest rates (market determined) are increasing well ahead of static short-term interest rates  (RBNZ determined).
Increasing US long-term Treasury yields are pulling our three-years plus interest rate yields higher.
US interest rates are increasing due to larger budget deficits, higher inflation and investor/borrower reaction to the increases.
Here in NZ, at some point, investor demand shifts from short-term placement of funds to a longer term.
The weight of money that has held short-term interest rates down for so long shifts away.
The behaviour of borrowers is also important. Corporate and household borrowers who have ridden their luck with floating interest rates for many years will soon realise that global deflation has come to an end and their risk profile has changed i.e. much less probability of rates decreasing and a higher probability of rates rising.
As discussed in recent weeks in this column, there is the potential double-whammy increase in our long-term rates over coming months with the outright yield following the US up, plus the NZ margin over US bond (just 13 basis points today) moving sharply higher as well.
It will only take one Chinese sovereign wealth fund to sell their NZ bonds into a small illiquid local bond market to cause a sudden increase in the bond margin over the US.
Inflation outcomes:
These will determine when the RBNZ are forced to signal a change in their monetary policy settings.
The lower than expected December quarter CPI result has only temporarily postponed inflation increases in 2018 in my view.
One-off price discounting by retailers caused that lower than forecast result, however if retailers have now all cleared their old stock that price discounting will not repeat.
Last week's survey of inflationary expectations was higher than anticipated and the RBNZ are again placing emphasis on this forward-looking indicator.
Clearly, it is not only myself who is expecting rising inflation this year!
Survey respondents are reacting to higher commodity prices, increasing rents, continuing increases in construction costs, increasing labour costs and volatile food prices (due to climatic conditions) as just some of the influencing factors.
If inflationary expectations continue to increase over coming months, the RBNZ would be unwise to sit on their hands and wait for actual inflation to increase before changing their tune.
On top of that, incoming Governor, Adrian Orr is much more likely to be a "pre-emptive" advocate with monetary policy signalling/nuances than his two predecessors were.
Questions
The only unanswered question in this forward-looking analysis is the actual timing of action from the RBNZ and local borrowers/investors.
The banks have moved their OCR first increase timing to mid-2019 to be consistent with the RBNZ.
It does not take much to shift the sentiment.
Roger J Kerr contracts to PwC in the treasury advisory area. He specialises in fixed interest securities and is a commentator on economics and markets. More commentary and useful information on fixed interest investing can be found at rogeradvice.com