ANZ Business Outlook Survey says there's 'nothing good to say' about business confidence as it hits the lowest level in over 11 years while increasing numbers of firms intend to reduce staff numbers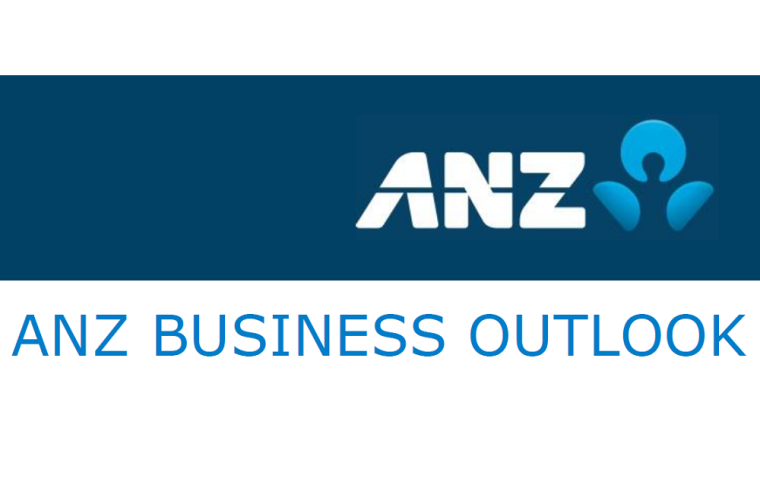 Overall business confidence as measured by ANZ's Business Outlook Survey has plunged to its lowest level since April 2008.
The ANZ economists have summed it up neatly with their headline for the latest release, which simply says: "Business confidence: Nothing good to say about it"
And there isn't.
An already weakening NZ dollar weakened further after the release of the survey results at 1pm on Thursday, falling to US63.2c.
In the survey, the so-called 'headline' business confidence fell another 8 points to -52% in the August ANZ Business Outlook, the lowest since April 2008.
Remember, in 2008 we were getting into the middle of the Global Financial Crisis.
Firms' expectations for their own activity over the year ahead fell 6 points to -1, the lowest read since April 2009.
Confidence readings in the construction sector improved from the previous month when they were very low, but were still in negative territory.
ANZ's chief economist Sharon Zollner said that most activity indicators fell again in August "to even weaker levels". 
"Employment, investment and export intentions all fell to dismal levels, along with profit expectations."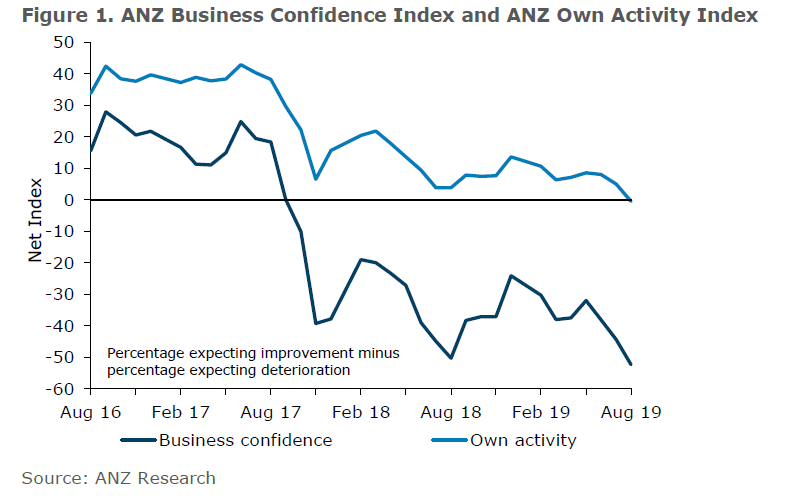 Some of the detail included:
·Employment intentions fell 3 points to a net 9% of firms intending to reduce employment, the lowest since mid-2009. Investment intentions fell 4 points to -4. Capacity utilisation lifted 3 points off July's decade low.
·Profit expectations fell 4 points to a net 20% of respondents expecting profitability to decline, the lowest since mid-2009.
·A net 41% of firms expect it to be tougher to get credit, little changed.
·Pricing intentions fell 3 points to a net 20% of firms expecting to raise prices, despite reported cost pressures lifting 2 points to a net +49%. Inflation expectations fell from 1.81% to 1.70%, the lowest since late 2016.
·Commercial and residential construction intentions bounced but remain negative.
·Export intentions fell 2 points to a net 1% of firms expecting exports to fall. Mid last year it was firmly double-digit positive.
Zollner said there had been some debate about whether the Reserve Bank's unexpectedly large 50 basis point cut in the Official Cash Rate this month would be positive or negative for confidence and hence business investment and employment.
"Just over a third of this month's responses were received after the OCR cut (and the surprisingly strong labour market report). There were only small differences in the responses before and after.
"The outlook for the economy appears to be deteriorating further, with firms extremely downbeat despite easier monetary conditions, fairly robust commodity prices, and positive population growth. Whatever the cause, the risk is rising that it becomes self-fulfilling.
"The decline in inflation expectations from 1.8% last month to 1.7% will be of particular concern to the Reserve Bank, with the Governor calling out declining inflation expectations as a key input in their decision to cut the OCR 50bp."