Latest ANZ Business Outlook Survey shows that the Reserve Bank's 'shock and Orr' cut to interest rates last month has done little to improve sentiment in the business community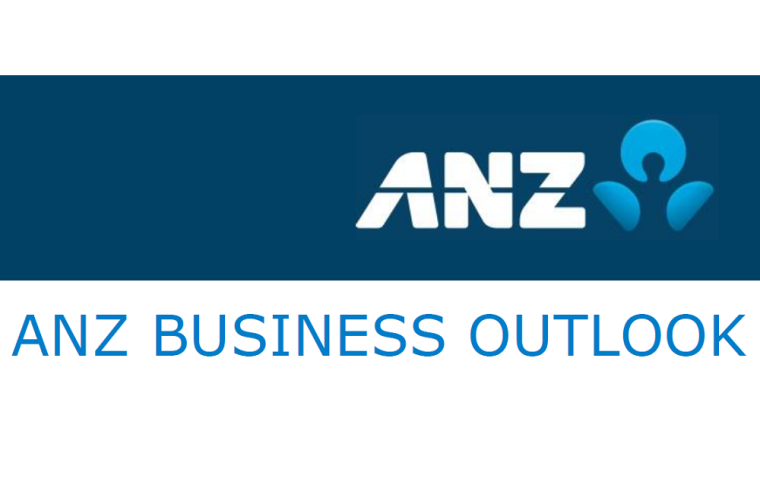 Overall business confidence as measured by ANZ's Business Outlook Survey has again fallen further.
Business sentiment is at levels last seen in the Global Financial Crisis. Specifically, the overall business sentiment measure is at its lowest level since April 2008, while various industry-specific measures are at their lowest points since 2009.
Firms' expectations for their own activity over the year ahead fell to the lowest level since April 2009.
No sector in the economy is predicting that it will hire (on a net basis) more staff. And that hasn't happened since 2009.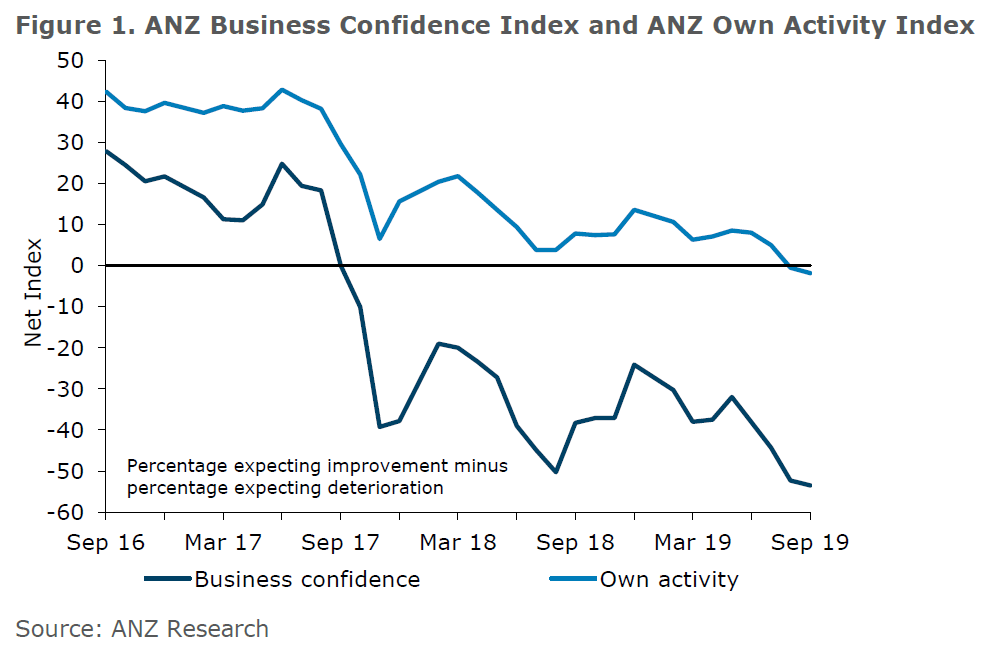 "Most ANZ Business Outlook activity indicators fell again in September," ANZ chief economist Sharon Zollner said. 
"The moves were relatively small in most cases, and are the continuation of a theme." 
Some of the details in the latest survey:
·Employment intentions rose 1 point to a net 8% of firms intending to reduce employment. Investment intentions fell 5 points to -9, revisiting its lows of a year ago. Capacity utilisation fell 1 point and is near decade lows.
·Profit expectations fell 5 points to a net 25% of respondents expecting profitability to decline, the lowest since April 2009.
·A net 40% of firms expect it to be tougher to get credit, up 1.
·Price-side indicators were weak. Pricing intentions fell 2 points to a net 18% of firms expecting to raise prices. Cost pressures fell 2 points to +47. Inflation expectations fell from 1.70% to 1.63% – they have fallen half a percent this year to be well under the 2% CPI target midpoint.
·Commercial construction intentions fell 9 points to -13; residential construction intentions fell 15 points to -19. Both remain negative.
·Export intentions rose 3 points to a net 2% of firms expecting exports to lift. "This is quite muted considering the size of the fall in the exchange rate," Zollner said.
"What is emerging in the survey now is weakness in key inflation indicators. Declining inflation expectations were cited as a reason for the large OCR cut last month. The combination of high cost pressures but limited pricing power is showing up in expected profitability (the lowest since 2009) and weak investment intentions.
"The Reserve Bank will be disappointed that its unexpectedly large 50bp cut in the Official Cash Rate last month does not appear to have had much impact on business' sentiment or investment and employment intentions.
"The backbone of the New Zealand economy is still in place – commodity prices are still decent; population growth is positive; monetary conditions have eased. But the prolonged lack of confidence is starting to feed its way through the economy and is threatening the tight labour market."
COMMENT BY DAVID HARGREAVES:
The latest fall in business confidence comes after the Reserve Bank's surprise double cut (50 basis points) to the Official Cash Rate last month.
This will undoubtedly bother the RBNZ - as will the fact that inflation expectations have fallen again in the latest survey.
There were some comments in the marketplace after the RBNZ's surprisingly large rate cut as to whether it would be helpful or harmful to business sentiment - as there was some suggestion it could 'spook' businesses, with some feeling around that the RBNZ might have 'known something' about the state of the economy that others did not.
In fact, in a wide-ranging speech on Thursday of last week, RBNZ Governor Adrian Orr disputed any suggestion that the central bank 'knew more' than anybody else and said: "Our answer remains – no we don't. We operate in a transparent manner with primarily public data, but it is our job to be forward-looking."
In that same speech Orr again urged both businesses and the Government to spend and invest. 
The message to this point doesn't seem to be getting through to businesses. On Tuesday the country's other most influential (and arguably THE most influential) business confidence survey, the NZIER's Quarterly Survey of Business Opinion is due to be released. 
Another similarly downbeat reading by this survey will likely put further pressure on the Government to relax the purse strings and invest and will also further pressure the RBNZ into cutting the Official Cash Rate again - probably in November - to a new low of 0.75%. 
One thing in the latest ANZ survey that points very clearly to the need for the RBNZ to cut again is the falling inflation expectations. Businesses now see an inflation rate a year out of just 1.63% from 1.7% in the previous survey a month ago.
The RBNZ gets bothered when inflation expectations start veering a long way from the 2% level that is the midpoint of its targeted rate of inflation. 
To this end the RBNZ follows very closely the results in its own Business Survey of Expectations, which is done quarterly. The last one came out just before the August 7 OCR decision - and did show a big drop in inflation expectations. It could well be that this was the straw that broke the camel's back in terms of convincing the RBNZ to go for the double cut.
The next RBNZ Business Survey of Expectations is coming out just before the next OCR decision is due, so will be well worth watching. A further slide in inflation expectations in that one would very likely see the RBNZ go for another cut. 
Whether we are all just talking ourselves into a funk is a point that can be debated. 
The point is that the further the business confidence readings fall then so things do become self-fulfilling. And we seem now well past that point.
Whether the RBNZ continuing to cut the OCR will do any good is also worth debating.