What's keeping Graeme Wheeler up at night; The RBNZ runs the ruler over current and developing risks facing the economy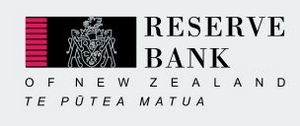 By Gareth Vaughan
Whilst comments by Governor Graeme Wheeler and his deputy Grant Spencer on debt-to-income ratios rightly stole the headlines when the Reserve Bank issued its Financial Stability Report, there were plenty of other nuggets buried within the bi-annual report.
They took the form of both comments and charts. I've detailed some of the key ones below focusing on current and emerging trends.
Firstly, figure 4.3 below gives a good indication of the extent to which demand for houses is outstripping supply in Auckland. As the Reserve Bank said; "The shortfall of available housing stock is expected to increase this year as population growth outstrips the supply of new housing. Net migration into Auckland remains strong, with more than 30,000 migrants moving to the city in the year to March (figure 4.3). Although building consents have also risen, to 9,600 annually, the supply of new housing is insufficient to match the increase in demand arising from migration and natural population growth."
Figure 4.3 could have been entitled 'population growth exploding, consent issuance crawling.'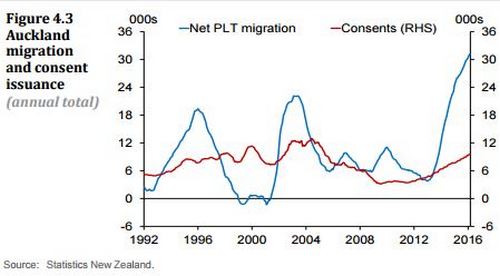 The Reserve Bank also charted the impact of record high net inward migration, with more than 67,000 more people moving to NZ than leaving in the March year, on the amount of money brought into the country. It noted Statistics NZ estimates over the last year, migrants brought about $500 million into NZ (figure D2 below). 
"This estimate, however, may understate the amount of funds that migrants bring to New Zealand. Survey data indicate that around one third of migrants have assets of more than $100,000, some of which will remain offshore for some period as migrants typically shift their assets to New Zealand gradually. Therefore, we expect the measured value of migrant transfers to increase over time, particularly since the strength in net migration is likely to persist, adding to the New Zealand deposit base," the Reserve Bank said.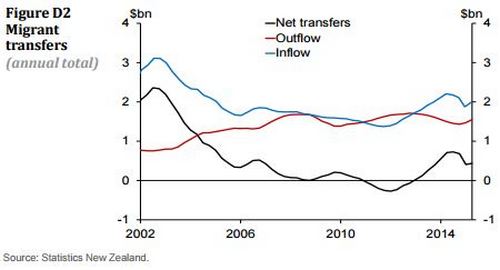 Next up, we have the Reserve Bank predicting that banks may have to rely more on alternatives funding sources to deposits than they have over recent years. This, the central bank notes, comes as lending (credit) growth outstrips deposit growth.
"Over the past 18 months, credit growth has accelerated across the household, agriculture, and business sectors, with aggregate credit growth now outpacing deposit growth. This may induce banks to compete more aggressively for retail deposits, or to increase their reliance on long-term wholesale funding, either of which could place upward pressure on bank funding costs. Higher funding costs would keep lending rates up relative to the OCR and short-term wholesale rates," the Reserve Bank says.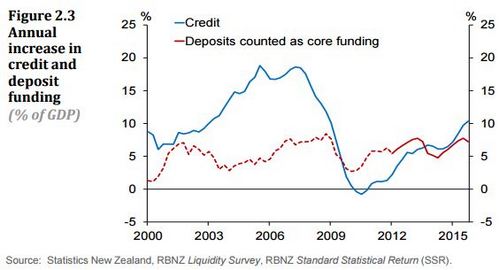 Elsewhere the Reserve Bank notes banks borrowing wholesale money overseas have seen funding costs rise by about 50 basis points relative to domestic swap rates this year. This increase is attributed to an increase in foreign currency bond spreads and rising costs of hedging exposures into the NZ dollar.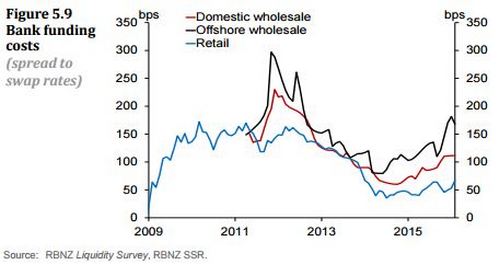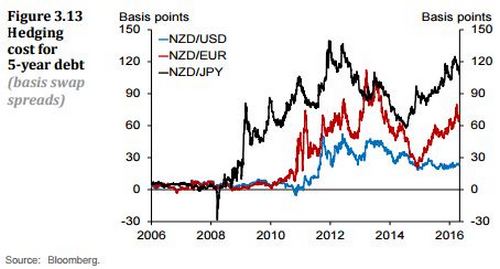 With lending growing faster than deposit growth, the Reserve Bank points out the currently very strong sector core funding ratio, running at about 86% versus the required minimum of 75%, may drop.
"Alternatively, banks may choose to protect their core funding ratios by issuing long-term wholesale funding to fund new lending and to replace long-term funding as it approaches maturity. It is estimated that locally incorporated banks will need to issue around $40 billion of long-term wholesale funding in the next three years to maintain core funding ratios if lending and deposit growth persist at current rates."
In what would be good news for long suffering savers, the Reserve Bank suggests banks could also maintain their current core funding ratios by competing more aggressively for deposit funding, or perhaps by reducing their rate of lending growth.
Dairy sector under the spotlight
Naturally the highly stressed dairy sector is well covered in the Financial Stability Report, with the Reserve Bank saying bank lending to the sector rose more than 9% in the March year as farmers borrowed to meet working capital requirements.
"In March, Fonterra cut its forecast payout for the 2015-16 season to $4.30 per kilogram of milksolids, including dividends. This is well below the estimated break-even payout of $5.25 for the average farm in the current season. Given the outlook for global supply and demand, the effective payout may remain below break even into next season, resulting in a third consecutive season of negative cash flow for many farms," the Reserve Bank said.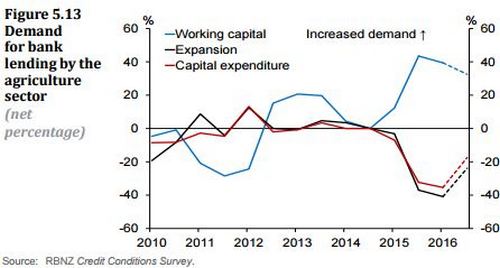 Farm values also get a good look in with the Reserve Bank outlining scenarios where farm prices could fall anywhere from 19% to 63%.
"If banks begin to take a more pessimistic view of the sector, they may force a larger number of troubled farms to be sold, which could create a negative feedback loop by reinforcing their pessimistic view. For example, in the most severe scenario in the recent Reserve Bank stress test of bank dairy portfolios banks reported that they expected to resolve around 25% of dairy loans through some form of forced sale procedure. Significant numbers of forced sales would place further downward pressure on farm values, which have fallen 13% in the last year. This is particularly the case as farm sale volumes are typically low, and demand for farms is likely to be weak due to poor farm incomes. In turn, lower farm collateral values would increase bank losses on problem dairy loans," the Reserve Bank says.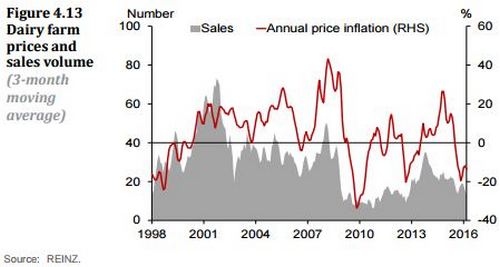 The prudential regulator also suggests rural lenders ought to be upping their provisioning against dairy loans.
"Internal bank metrics suggest that banks are now monitoring a larger number of dairy loans than those classified as non-performing or watchlist loans. Banks should be prepared to increase their provisioning against loans to the dairy sector to ensure that they are able to absorb potential losses. On the basis of recent Reserve Bank stress tests, it is likely that losses for the banking system would be manageable, even under a severe stress scenario for the dairy sector."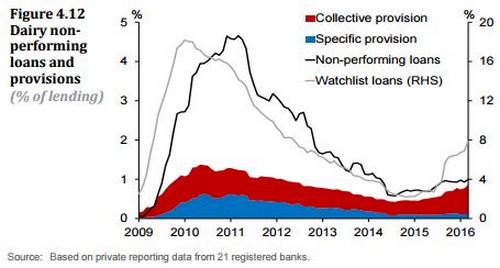 Whilst we've covered off housing and the potential for the introduction of a debt-to-income ratio macro-prudential tool elsewhere, I couldn't resist including a couple of charts on the housing situation. Figure 4.4 below shows how far Auckland's price-to-income ratio is ahead of the rest of the country.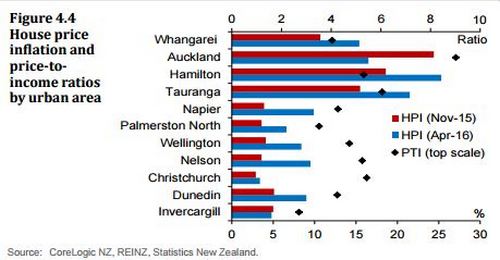 Meanwhile, the Reserve Bank says it expects to begin regularly publishing data on interest only mortgage lending around June. It provided figure 5.15 below comparing interest only lending and high total debt-to-income lending to owner-occupiers and investors.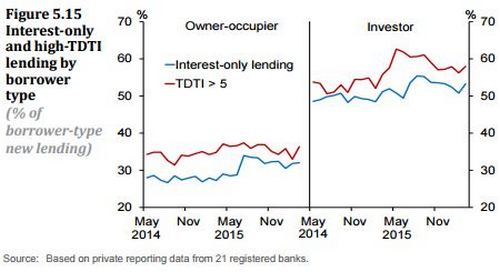 Finally, although it says the risks associated with NZ's net external liabilities are falling, the Reserve Bank included figure 4.20 below which shows us not looking very flash against a range of other countries. The largest chunk of our net external debt is, of course, sourced through the banking system.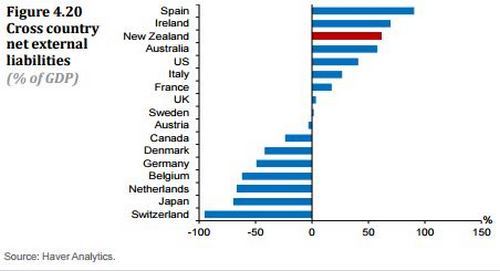 *This article first appeared in our email for paying subscribers early on Thursday morning. See here for more details and how to subscribe.