Business sentiment and demand pick up from low levels in December quarter, according to the NZIER; Weak profitability remains a problem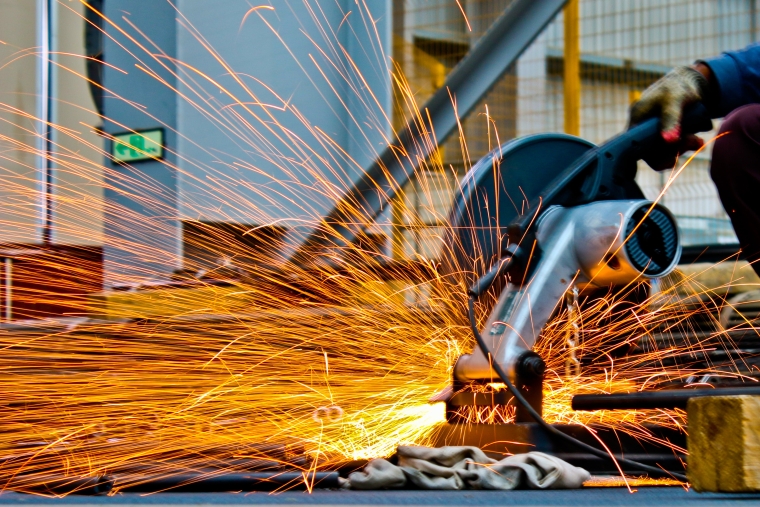 New Zealand businesses remained downbeat about the economy in the last three months of 2018, according to the New Zealand Institute of Economic Research's (NZIER) latest Quarterly Survey of Business Opinion (QSBO).
A net 18% of businesses expected general economic conditions to worsen over coming months – an improvement from the net 28% that had a negative view in the previous quarter.
The NZIER says it's a matter of businesses being "less gloomy" rather than "more happy".
Looking at firms' own trading activity – a better measure of economic growth – a net 4% reported an increase in demand in the December quarter.
While this was an improvement from the net 0.4% reporting higher demand in the previous three months, the September results were the worst since September 2012.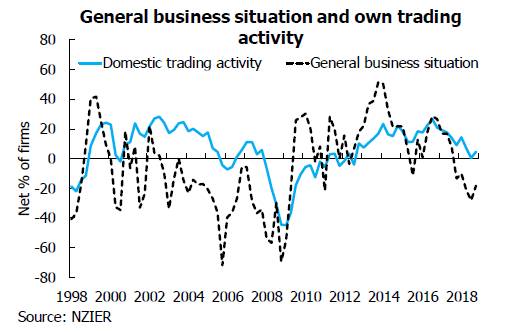 Cost pressures hamper profitability
The NZIER says businesses faced higher costs in the December quarter, but continued to struggle to pass these on to customers. This made them less profitable.
In fact, a net 22% of businesses (across most sectors) reported a deterioration in profitability.
A net 15% of businesses expected their profitability to decline in the next quarter – the weakest level since March 2011.
The NZIER says manufacturing remained the most downbeat sector.
Despite a pick-up in confidence and rebound in domestic and export sales, weak profitability continued to weigh on sentiment.
It was a similar story for the building sector, which was less profitable even though demand improved.
Firms looking to hire and invest
Nonetheless, the NZIER says improving demand made firms more optimistic about expanding.
There was a rebound in hiring in the December quarter. Firms' hiring intentions for the next quarter also remained positive.
Businesses looked to increase new investment in plant and machinery over the coming year. However, they were more cautious when it came to new investment in buildings.
This caution was also reflected in architects' expectations of commercial construction work over the coming year, with architects expecting no growth in this pipeline of construction work.
Economists divided over what will happen to interest rates
ANZ economists say the QSBO results are consistent with their view that the economy isn't performing well enough to achieve a "durable" lift in inflation.
They see the Reserve Bank cutting the Official Cash Rate (OCR) late this year to give the economy a pick-me-up. 
They expect a further two cuts to bring the OCR down to 1.00% (from 1.75%) by next year, as reported in more detail here.
Kiwibank economists on the other hand believe the Reserve Bank will keep the OCR on hold this year, before gradually hiking in 2020.
They see rising cost pressures feeding in to underlying measures of inflation.
While they acknowledge an acceleration of growth is far from guaranteed this year (largely due to international factors, as well as banks in New Zealand likely being required to hold more capital), they say businesses have been expressing doom and gloom in protest to policy changes made by the new government.
"The lift in confidence suggests that firms have a little more certainty from government, with a number of policies now falling into place," they say.
Westpac economists have stuck to their view that the RBNZ's next move will be to hike the OCR, but this won't happen for some time.
They say: "Today's data, in conjunction with monthly surveys of business confidence, suggests business confidence has found a floor.
"And with our own projections for the NZ economy anticipating a modest pickup in growth from current levels over 2019, we expect the RBNZ's concerns about the risks posed by very weak business confidence should continue to fade.
"That said, any hints of a further fall in confidence will see indicators such as the QSBO quickly making their way back up the RBNZ's watch list."
According to ANZ's latest monthly Business Outlook Survey, business confidence rose by 13 points in December, but remained in the red with a net 24% of respondents reporting they expected general business conditions to deteriorate in the year ahead.
Meanwhile firms' views of their own activity increased 6 points, with 14% expecting a lift.