Deputy Prime Minister Winston Peters tells businesses downbeat on the residential construction sector to take note of the high number of consents issued in 2018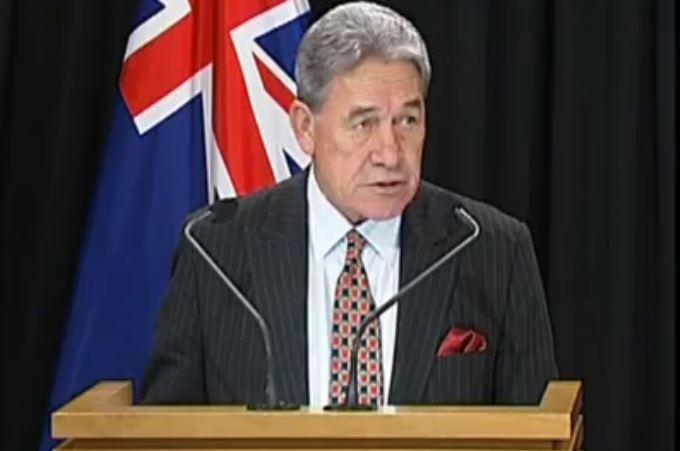 Deputy Prime Minister Winston Peters is dismissive of business confidence in the residential construction sector falling to a 10-year-low.
Asked in a post-Cabinet press conference about the fact a net 16% of businesses surveyed by ANZ were pessimistic about the residential construction sector in March – a fall from February when a net 3.8% were optimistic – Peters said their views didn't "square up" with reality.
He referred to Statistics New Zealand's latest data showing the number of building consents issued in the year to February being the "highest by a mile" since around 1974.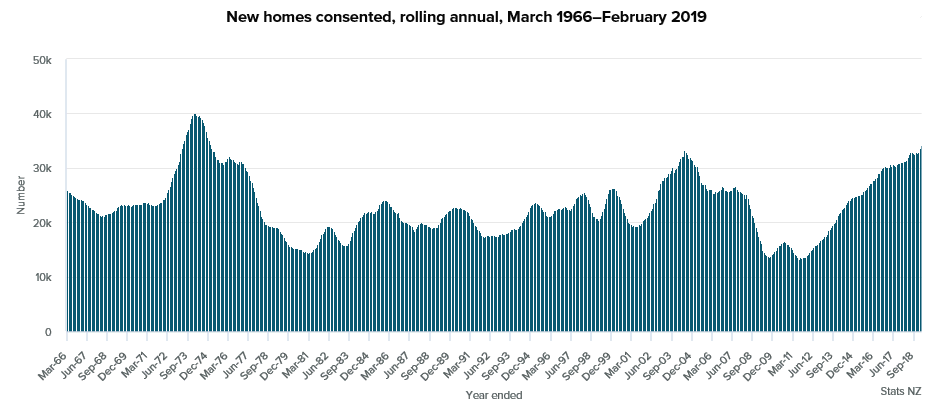 ANZ economists, in their commentary accompanying the survey results, recognised the dramatic fall in residential construction intensions could've (to some extent) been a kneejerk reaction to the Tax Working Group recommending the introduction of a capital gains tax on investment property, business assets, intangible property and shares.
Asked by interest.co.nz about the extent to which he was considering New Zealand's immediate need for more houses, as he weighed up how to reform the tax system, Peters said: "Housing in this country has never been more critical in terms of trying to get on top of a supply-side equation…"
He again mentioned the disconnect between consents issued (a backward-looking measure of reality) versus ANZ's survey results (a forward-looking measure of opinion), before concluding: "All I'm saying to some business people is, stop being so pessimistic.
"There is more money in this economy than you've ever seen. And if you're any good at business, you should be able to earn some."
Peters moments earlier also pointed out the Government had not yet decided whether to implement the Tax Working Group's recommendations. Its decision is due to be announced at an unspecified date in April.
Perception vs reality 
There has been a sometimes-patchy correlation between residential construction intensions and consents issued in the past. The question is whether the particularly wide gap between the two at the moment is an anomaly.  
Business confidence and businesses' intensions of their own activity fell when the Coalition Government was elected (as they have historically when Labour-led governments have taken office) but have struggled to bounce back.
In a similar vein to Peters, Jacinda Ardern in one of her first formal addresses to the business community as prime minister in February 2018 noted the difference between businesses' perceptions and the reality of how the economy was performing.
However since making that comment, economic growth has slowed.
Growing by 2.3% from the 2017 December quarter to the 2018 December quarter, gross domestic product (GDP) undershot the Reserve Bank's 2.7% forecast.
This, along with a deterioration in the global economic outlook and a dovish stance adopted by central banks around the world, contributed to Reserve Bank Governor Adrian Orr last week saying the next Official Cash Rate (OCR) move would more likely be a cut.
Asked in the press conference whether Orr's dovishness was playing into his thinking as he considered his response to the Tax Working Group report, Peters said no.
He said that as per the speech he delivered after the 2017 election, he saw international headwinds on the horizon. 
"Some of us did say, on the very night we began this government, that there could be some corrections in the future.
"We forewarned of it because of international circumstances like trade competition and also the slowing of other economies such as China and such as Australia.
"But New Zealand's economy is holding up seriously well against that."
In light of Orr's OCR commentary, economists will pay particular attention to the New Zealand Institute of Economic Research's business outlook survey released on Tuesday. Being a quarterly survey, rather than a monthly one like ANZ's, it is less volatile and seen as a more reliable measure.