Reserve Bank says it plans to announce 'future directions' on matters such as a central bank digital currency within the next six months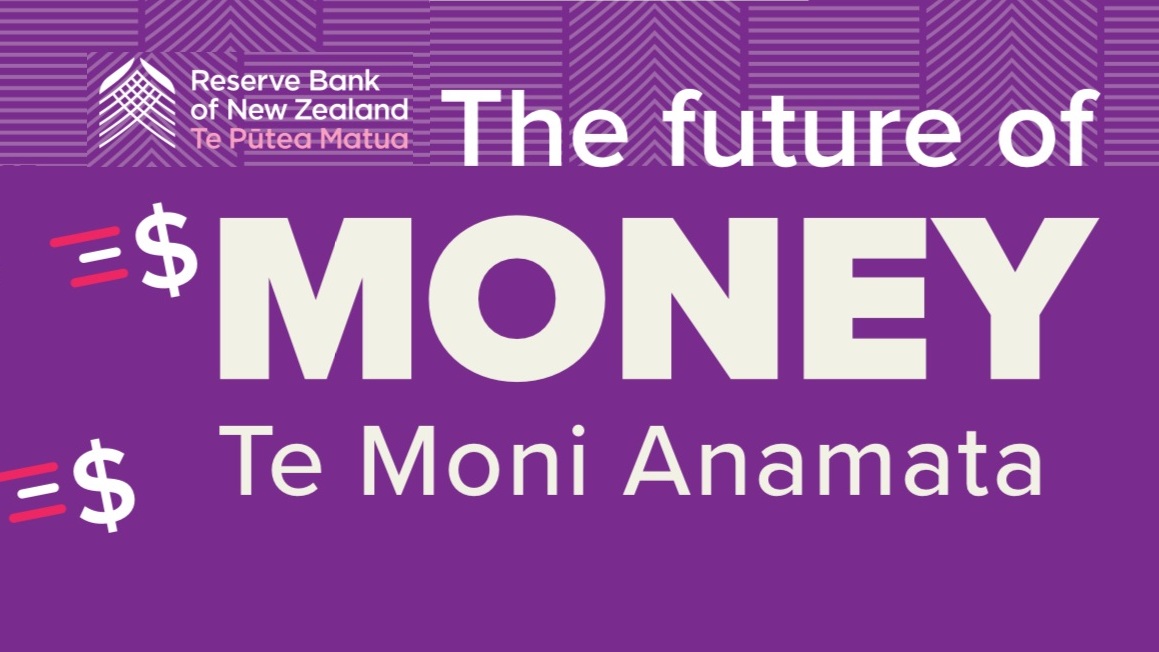 The Reserve Bank has encountered some signs of public fear and mistrust over its plans for the future of money - a future that could include the development of a central bank digital currency.
As part of its official Future of Money programme the RBNZ last year issued three discussion documents and sought public submissions.
The first two papers were on the RBNZ's intended 'stewardship' role for money and cash, and on the possibility of a CBDC, while there was then a later-released one on the cash system.
In total, 6882 submissions were received across all three papers. Of these, 140 were received in relation to the stewardship paper, 6404 in relation to the CBDC paper, and 338 in relation to cash.
The RBNZ has now released a summary of the submissions. The RBNZ's main responses are appended at the bottom of this article.
RBNZ's Director of Money and Cash Ian Woolford said the central bank expected to be announcing future directions in each of these "closely linked policy areas" within the next six months, "including firmer proposals on some aspects for further public consultation".
"We are particularly focused on progressing concrete steps to improve resilience and efficiency in the cash system.
"At the same time, while no decision have been made on whether a CBDC is right for New Zealand, we will continue to explore this through further policy, research, experimentation, and proof-of-concept work," he said.
Woolford said the three issues papers published by RBNZ had drawn strong support for ensuring cash remains available and accepted, and for the Reserve Bank taking on a broad stewardship role for money and cash.
"Feedback also reinforced the importance of the privacy aspects of central bank money, and that this should be a critical feature of any potential Central Bank Digital Currency (CBDC) for New Zealand."
The majority of submissions were provided by members of the public. Submissions were also received from fintech companies and organisations; banks, payments service providers, and firms providing cash-related services to these sectors; consumer and community organisations; and from statutory agencies such as the Privacy Commissioner.
The submission period for the final discussion document ran into early March, during what was a turbulent time in the country, with the occupation of Parliament grounds and associated problems taking place during that time - and perhaps some heightened mistrust of the Government and authority. 
And the summary of the responses to the discussion documents that the RBNZ has released seems - to me - to reflect some of that public feeling.
In the summary the RBNZ said there was "a misconception" amongst some submitters that a CBDC decision was made with implementation imminent, and that this equated to a decision to go cashless.
"Submitters in this group complained that they had not been made aware of the CBDC consultation earlier, and so did not have sufficient time to evaluate the case for a CBDC (and, mistakenly, for some, going cashless). Several correspondents thought a referendum ought to have been called. A considerable portion of the feedback reflected a general distrust of public authority and the consultation process, rather than CBDC itself," the RBNZ said.
Respondents with strong views about privacy often expressed anxiety about excessive government control, the RBNZ said.
"However, some were also concerned about private corporations and others exploiting a centralised digital currency for profit.
"Such anxiety was often couched in 'enabling' terms. Many respondents thought that, even if CBDC in itself might pose no immediate threat to individual autonomy, it would still open up the possibility of greater and potentially extreme risks – 'weaponised', in the words of one respondent."
The RBNZ said many respondents who expressed these concerns appeared to hold a loose notion of 'government', referring interchangeably to the Reserve Bank and the government of the day.
"Among those aware of the independent mandate of the Reserve Bank, some questioned the degree of its independence from the government in practice. There was also some apparent conflation of our work on CBDC with the unrelated Digital Identity Services Trust Framework Bill (the Digital Identity Bill)."
The RBNZ stressed that it was not its intention to replace cash with CBDC even if it decides to issue one.
"This position was stated repeatedly in the CBDC and stewardship papers, reiterated in the cash system redesign paper, and affirmed in supporting communications activity.
"However, partly due to the delay in issuing the cash system redesign paper, a significant proportion of respondents to the first two papers expressed understandable anxieties about the perceived displacement of cash by CBDC. We believe that many of these respondents expressed strong opposition against CBDC because of such anxieties.
"A strong pro-cash sentiment was also evident in submissions to the cash paper provided by members of the public, with these views strongly endorsing the paper's characterisation of the importance of cash, both to those who rely on it to live their lives and to New Zealand society generally."
Summary of Reserve Bank responses:
4.1 General theme: Concerns about the future of cash

4.1.1 The feedback confirmed the importance of a coordinated and holistic approach to progressing the three workstreams. To strengthen this approach, we plan to explicitly align the focus, pace and delivery of these workstreams to provide additional assurance of the availability of cash for those who need it.

4.1.2 Our view is that CBDC and cash would be complementary, rather than conflicting. Care needs to be taken to ensure that the public can benefit from the innovation that may be possible from a CBDC, while cash is still there to meet other needs and to provide choice.

4.1.3 We have learnt that many New Zealanders are concerned about the rapid pace of change relating to cash, fearing the changes will be hard to reverse. We think the clear message from submitters reinforces the need to expeditiously develop options to redesign the cash system, while taking a comprehensive approach to consider different options.

4.2 General theme: Privacy and autonomy

4.2.1 Our proposed CBDC design principle of 'cash-like' reflects that future CBDC design options should at a minimum ensure privacy. The consultation further underlines that New Zealanders attach a particular importance to privacy, among other key aspects of policy/design.

4.2.2 Work is under way to investigate what this looks like in practice. This work will include further research on public expectations for privacy, and relevant regulatory frameworks (including the Privacy Act and the Anti-Money Laundering and Counter Terrorism Financing Act), to help decide which technical design options are most appropriate for any future CBDC for New Zealand.

4.2.3 We will investigate innovative privacy and anonymity-preserving mechanisms and technical solutions, learning from international experience. We will explore this through future experiments and proof-of-concepts.

4.2.4 This work will help illustrate in a practical sense how a balance can be struck between preserving privacy and anonymity, and achieving other policy objectives. It will help inform any decision on whether to proceed further, including to further consultation on more developed proposals.

4.3 General theme: The public want an ongoing voice in the Future of Money

4.3.1 We agree that New Zealanders must have meaningful opportunities to participate in the future development of their money. Our intention remains to use a range of different tools to engage with New Zealanders through our ongoing work, including public consultations, working and advisory groups, workshops, and other market research tools such as surveys and deliberative workshops.

4.3.2 We acknowledge that, particularly in areas of money innovation, public trust will take time to build. We consider the best approach to achieve this will be through future consultations and our actions to support public input throughout the process.

4.3.3 The public's feedback on the best way to engage with them has been helpful in shaping our future engagement and consultation planning.

4.3.4 As we progress the Future of Money programme, we will consider how best to apply the Reserve Bank's Te Ao Māori strategy and reflect Te Tiriti/Treaty of Waitangi principles.

4.4 Issues paper specific: Stewardship

4.4.1 Our intention for the Issues paper was to set out a high-level view of stewardship, to provide strategic direction as well as flexibility to adjust to an evolving context. The need for clarity and a detailed stewardship approach has come through strongly in the responses.

4.4.2 We will review, revise as needed, and continue to develop all aspects of the stewardship framework in light of the feedback we have received.

4.4.3 We intend to develop a stewardship accountability framework, as planned, that would help clarify expectations of the Steward, including with respect to other stakeholders, and enable success to be measured.

4.4.4 We view the feedback as providing support for our continuing to look at regulatory and non-regulatory responses to the risks and opportunities associated with increasing adoption of cryptoassets, including stablecoins, in collaboration with other agencies in the financial sector.

4.4.5 We agree that it is important to consider issues holistically across money, cash and payments. We will explore opportunities for greater alignment across Future of Money and Future of Payments programmes.

4.5 Issues paper specific: Central Bank Digital Currency

4.5.1 The consultation was helpful for us to guide further investigation into the CBDC design principles.

4.5.2 The feedback affirms the importance of privacy and autonomy. This will be a focus of further policy work and technical testing to better understand what this means to New Zealanders, and how a CBDC can support privacy and autonomy while meeting legal requirements.

4.5.3 We also plan to prioritise further work on how a CBDC can support inclusion and innovation.

4.5.4 Developing a deeper understanding of stakeholders through further engagement will be important for this further work.

4.5.5 As the project becomes more developed, there will be opportunities to examine particular issues in more depth, both through targeted engagements and as part of the structured multi-stage iterative process.

4.6 Issues paper specific: Cash System Redesign

4.6.1 Additional policies proposed by respondents will help us develop further the holistic ('bundling') approach proposed in the paper.

4.6.2 Given strong support for merchant-themed options (remunerating merchants and mandating cash acceptance) and minimum service standards for banks, we intend to prioritise initial policy development work in these areas, while also seeking to progress other options in the starter-for-ten policy bundle.

4.6.3 We can see value in further articulating the problem definition, and in exploring this collaboratively with all stakeholders before proceeding to the next phase of work.

4.6.4 We will continue to engage with stakeholders, work collaboratively to develop detailed policy options, and present these for a further round of public consultation.