NZ Finance Minister English told US Fed's Bernanke that US quantitative easing hurt NZ economy; "he thanked me for our point of view"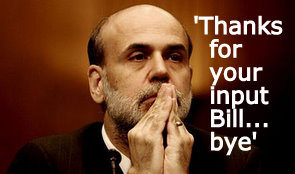 Finance Minister Bill English says he told US Federal Reserve chairman Ben Bernanke about the effects the Fed's policies were having on the New Zealand dollar.
In a discussion with Bernanke last year, English said he raised the point that the Fed's quantitative easing programme, which was devaluing the US dollar, was pushing up New Zealand's currency.
"He thanked me for our point of view and closed the meeting," English told the NZ Tourism Industry Association conference in Wellington this morning.
"Mr Bernanke's driving our exchange rate up," he said.
One of the reasons the New Zealand dollar had been higher recently was because the US had been printing money "flat out and devaluing their own currency," English told journalists after his speech.
"We simply pointed out the implications of the policy for New Zealand. I think it was a story he had heard before because other commodity export economies like Brazil, Australia, New Zealand, South Africa are all suffering from the same effects," he said.
Bernanke was very focussed with fighting unemployment in the United States.
"One of the risks is that the US appears to be going into something of a slowdown now," English said.
"But the core of their problem is not so much unemployment, it's actually the very large amount of debt that they're carrying, and the only way to deal with that is to pay it off or write it off, and they haven't done either so far," he said.
'Eye on EU, but we're OK for now'
Meanwhile English said New Zealand was in reasonable shape to respond to what happened overnight in the Eurozone, where Moody's cut Ireland's sovereign credit rating to junk status. The focus of the Eurozone debt crisis has also moved to Italy, spooking global financial markets.
"We're a bit less vulnerable to those markets because we were borrowing more in them when the going was good before it cut up rough. And secondly, because those markets are pretty unstable, New Zealand and Australia are looking relatively more attractive, so we're finding a bit more interest in [global money markets] lending money to New Zealand," English said.
The government certainly was not seeing any immediate impact on New Zealand from what happened overnight.
"If there is some kind of crisis around our ability to borrow money, we know what to do because we've been through it back in 2008," English said.
It was important for a country like New Zealand to stay off the radar in terms of its levels of debt, which meant it was important for the government to work towards achieving a budget surplus as soon as it could.
This would ensure global financial markets regarded New Zealand "undoubtedly as a sound country that they can lend money too, knowing they'll get it back," English said.
English was answering a question on whether the Labour Party's economic package due tomorrow, which is expected to show government debt tracking a bit higher than forecast in the short-term, would be accepted by ratings agencies.
"It's important so that we stick to that kind of [debt and surplus] track, and any deterioration in it starts raising some questions," he said.
'Our traditional friends will be stuffed for some time yet'
During his speech to the tourism conference, English continued to express his view that New Zealand's traditional markets – the UK, Europe and the US – were stuffed economically-wise, and that industry in New Zealand had to embrace the rise of Asian economies, particularly China, which had a household savings rate of about 50%, meaning there was money there to be spent.
It would take the US, UK and Europe 10 to 15 years to sort out their problems.
"Europe, just like the US, has far too much debt," English said.
Their options were to write the debt of for pay it off, "and they've done neither," he said.
"The problem's getting worse, not better."
From the perspective of the tourism industry, "they're not going to be very happy markets for some time yet."
New Zealand needed to ensure it was not lumped in the group of small, highly indebted nations. Global financial markets were not going to just keep lending New Zealand money. They had found that lending money to these countries could be dangerous, English said.
"Our ratio of debt to foreign lenders is similar to Spain, Portugal, Ireland and Greece," he said.
Even though New Zealand was looking to improve its foreign debt situation, it still needed to roll over the equivalent of 50% of its GDP in debt every six months, meaning it was still vulnerable to global financial markets.
(Updates with comments on Eurocrisis following speech.)