NZ not going to be printing money, Finance Minister English says; 'It sets off a whole train of future problems'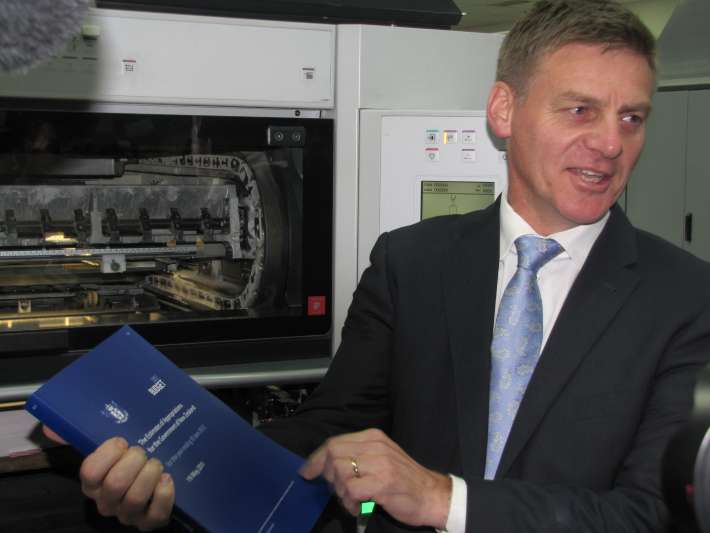 New Zealand won't be following in the footsteps of a number of larger economies and printing money if Finance Minister Bill English has anything to do with it.
Actions taken by the US, UK, Japan, and Switzerland were not relevant in New Zealand's context, as the Official Cash Rate here was still at 2.5%, while rates in those economies were at, or near, zero. Such a policy would also artificially pump up the values of certain assets, undermine the Reserve Bank's balance sheet, and create the possibility of future high inflation, English said.
English outlined why he was opposed to such a move while speaking to a Wellington Employers' Chamber of Commerce lunch on Thursday afternoon. He had been asked for his views on Green Party co-leader Russel Norman's comments that the Reserve Bank needed to do more to lower the New Zealand dollar.
"The National Government's current policy is not working for New Zealand. Our trading partners, using the tools proposed by the Green Party, are actively lowering their currencies while our government has done nothing," Norman said in a press release on Thursday morning.
"Major trading partners, including Japan, the US, and the UK have successfully used quantitative easing to lower their currencies. The IMF recently backed the Switzerland's quantitative easing, saying the measure was "appropriate" in the circumstances," he said.
"Other countries have introduced new domestic capital requirements on banks and controls on foreign capital to prevent wild swings in their exchange rates."
Hypothetically RBNZ could implement QE, but only if OCR at, or near, zero
Reserve Bank Governor Alan Bollard has said quantitative easing is a policy the Reserve Bank could consider, but only after conventional monetary policy tools, like the Official Cash Rate had been used up - ie if the OCR was at zero.
In comments in March to Parliament's Finance and Expenditure Select Committee, Bollard said it should not just be assumed such a policy would lower the New Zealand dollar.
"[Markets would] say that this country is growing and is near full capacity – that's got to mean inflationary pressures. Therefore the OCR is going to at some stage have to go up faster than it otherwise would," Bollard said on March 8.
"Therefore the NZ dollar might look attractive to buy in," he said.
"Hypothetically, if we were to feel that something further needed to be done, it would be more likely that we would reduce the Official Cash Rate as an acknowledgement of the fact that the high dollar is resulting in less inflation in the New Zealand system," he said.
Bollard also noted on March 8 that the Reserve Bank would consider using the types of macro-prudential tools referred to by Norman, like controlling loan-to-value ratios or demanding banks hold more capital on their balance sheets, if the housing market returned to the boom times of the 2000s.
'Not relevant to NZ'
English said the notion of quantitative easing was irrelevant to New Zealand's circumstances.
"Again it's this view that there's a free lunch here somewhere: In this case, free money," English said.
"The countries who are printing money are setting off a whole train of future problems, which is why normally they don't do it. They only do it when they're in extreme circumstances," he said.
"It distorts the value of particular assets, it undermines the strength of the balance sheets of central banks, it creates a high possibility of future inflation which would be hard to deal with. And even the people who are doing it, are doing it with their fingers crossed behind their backs. It's not at all relevant to New Zealand, and it's got its own dangers."
"We're not going to be printing money."
English said he was surprised Norman had raised the subject.
"Because he's worked quite hard, I think successfully, to make more of a contribution to the economic debate than the four Labour Party economic spokespeople. But he's usually been pretty reasonable."