By Roger J Kerr
For local exporters selling product in US dollars having FX orders in place with the friendly banker in the 0.7700's to pick up hedging transactions has worked very well over recent months.
As the chart below indicates, the Kiwi has bounced back up from the low 0.7700's on at least six different occasions over the period.
Negative Kiwi dollar factors such as the emerging market currency shake-out and LVR's supposedly postponing interest rate hikes in 2014 have been matched-off and countered by Kiwi positives such as the pre-election buying back of AUD's, higher Wholemilk Powder prices, upbeat Chinese economic data and continuing strong local economic numbers.
In the face of a generally stronger USD against all-comers as the Federal Reserve commences tapering next week, the Kiwi will again struggle to maintain gains above 0.8000.
Looking ahead over the next six to 12 months we estimate that there is a 60% probability of the NZD/USD rate remaining in the now established trading range of 0.7700 to 0.8100, a 30% probability of the Kiwi dropping out of the bottom end of that range as the USD strengthens and only a 10% chance of a rising Kiwi above 0.8100.
Having said that, a few more victories for the flying Kiwi cats racing around Alcatraz in San Francisco harbour might attract more global investment dollars our way and lift the 10% top-side probability rating!
Thursday's Monetary Policy Statement has more potential to push the Kiwi dollar higher than lower as the RBNZ are forced to lift their GDP growth and inflation forecasts.
The following Thursday (18th September) may well see the Kiwi dollar testing the downside as the USD makes gains as the Fed FOMC confirms the tapering programme and the NZ  June quarter's GDP figure has room to disappoint with meat and dairy production lower on the drought impact.
I have many clients asking as to what impact we could expect to see on the NZD/USD exchange rate if and when the US pushes the button on direct military intervention in Syria.
Generally, the US dollar strengthens against all currencies when Middle East geo-political tensions increase.
What is interesting so far with the Syrian issue is that global equities markets have not been that volatile as a result and perhaps international investment markets are not that spooked by what may transpire over Syria.
Oil prices have increased, however they have not continued to increase since the prospect of direct intervention in Syria has intensified.
The considered answer to the NZD/USD direction question on Syria escalating is that mild depreciation is more likely than anything else.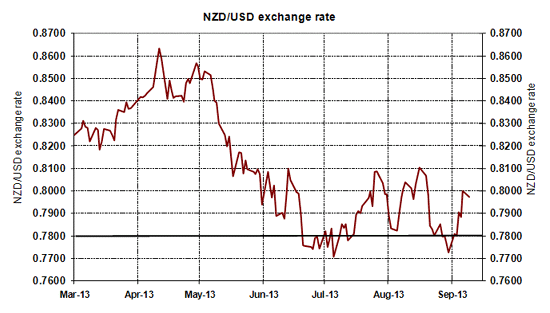 -----------------------------------------------------------
To subscribe to our daily Currency Rate Sheet email, enter your email address here.
Roger J Kerr is a partner at PwC. He specialises in fixed interest securities and is a commentator on economics and markets. More commentary and useful information on fixed interest investing can be found at rogeradvice.com