PM John Key says agrees with RBNZ that NZ$ over-valued; would not have a problem if RBNZ intervened to sell it down; but restates intervention not effective in long run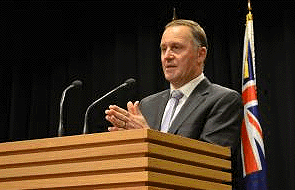 Prime Minister John Key has told his weekly post-cabinet news conference he would approve if the Reserve Bank intervened in currency markets to sell the New Zealand dollar lower.
He said he agreed with the Reserve Bank that it was over-valued, but he restated his view that intervention was not effective in the long run.
He said intervention was a tool the Reserve Bank had in its mandate and he would support any decision it took on using the tool.
Key was asked if he would be comfortable if the Reserve Bank intervened, given heightened speculation of intervention since the Reserve Bank's statement with its Official Cash Rate hike on Thursday that the New Zealand dollar was unjustifiably and unsustainably high, and could fall significantly.
"Yes. If they choose to do that. They have a mandate under which they can intervene. My views on intervention are very well known. As a long term tool they're not very effective, but they can have a short term benefit," Key said.
"I would agree with the Governor that the New Zealand dollar is over-valued if you compare that against the reduction in commodity prices, Key said.
"So you've seen some reduction since he's made those comments, but overall we'll leave it to them to decide if further intervention is a good idea," he said.
The New Zealand dollar fell from 85.4 USc shortly before his comments to 85.3 USc in the 15 minutes after his comments. It has fallen from 86.8 USc since the Reserve Bank's comments.
It is down from near post-float highs of over 88 USc from July 10-15.
(Updated with Key's quotes and more background, chart)